Jamie Caliri interview
designer: Jamie Caliri • studio: DUCK • 4 comments
To view any of the title sequences you need the latest version of Flash Player 10 plugin or higher. You can download the Flash Player plugin from
Adobe.com
about
the designer
links
comments
show all info
Main Title director Jamie Caliri won an Emmy award for Outstanding Main Title Design for his United States of Tara title sequence in 2009. We interviewed him earlier that year in L.A. about the making of that sequence and about his love for stop motion animation. And Caliri explains what's so great about Woody Allen's title sequences. (7 min.).
First in a series of video interviews with Main Title designers recorded at the Flux/Forget the Film, Watch the Titles event at the Hammer Museum, L.A.
To embed or download this interview: vimeo.com/5816586
Title designer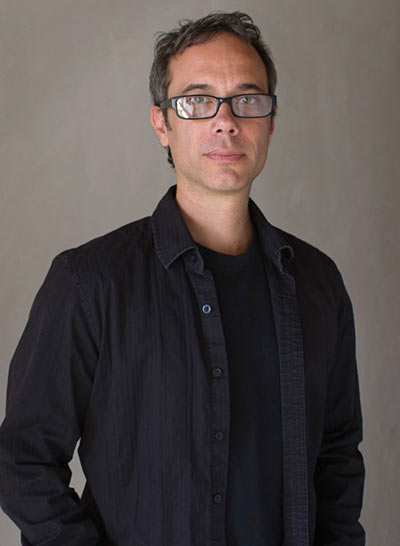 Jamie Caliri was born in 1970. After studying Animation and Filmmaking at Cal Arts, he directed several commercials and logo treatments in the early to mid 1990's. In the late 1990's Caliri left animation behind, for some time at least, to direct live action music videos for the likes of Marcy Playground. Caliri directed the 1997 promo for Morphine's 'Early To Bed', which earned him a Grammy Award nomination for Best Live Action Music Video.

Caliri's influential animated end credit sequence for Lemony Snicket's - A Series of Unfortunate Events has been in the top 5 of most viewed title sequences on Watch The Titles. In 2009, Caliri and his creative team were nominated for an Emmy for Outstanding Main Title Design for their main title sequence for HBO's TV series United States of Tara (Watch on Watch the Titles). Another highlight in his career is the stop motion animated commercial 'Dragon' for United Airlines (Watch on Jamiecaliri.com).

Full credits
Director
Remco Vlaanderen

Editor
Paul de Heer
Graphics
Madelinde Hageman, Raoul Matheron
Created and published by
SubmarineChannel.com

Recorder at
Hammer Museum, Los Angeles, May 2009

Links
Flux.net
Courtney Taniguchi's report of the event
show website

Jamie Caliri
show website

Watch the Titles event was a blast!
Report and photos of the event on SubmarineChannel
show website