Momoco interview
designer: Momoco • comment
about
the designer
links
comments
show all info
Momoco is arguably one of the most prolific UK studios specialized in creating main titles for film and tv. Their body of work includes main titles for tv shows, such as the crime drama Luther (BBC), the BAFTA-nominated titles for Misfits (E4), and more recently Strike Back (HBO). The list of movie titles is even longer and includes 30 Days of Night, Hard Candy, Dangerous Parking, Love Actually and recently The Three Musketeers. On the occasion of our feature about Momoco's sci-fi short Copelia, we're publishing the video interview with Miki Kato and Nic Benns.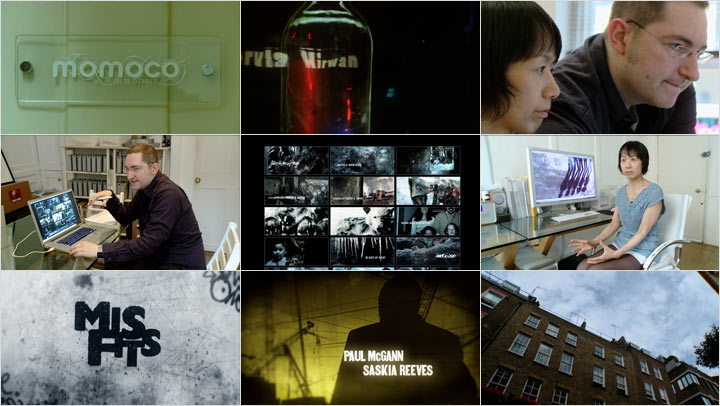 "I'm just very enthusiastic about each project. But we have never won a job on quantity. It's just about that singl;e idea. And I usually find that it's better to focus on a single concept and to do an elaborate, pure art direction for that"
Nic Benns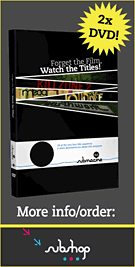 This interview is the third in a new series of 9 video interviews with title designers, taken from our Watch the Titles DVD box. The DVD and this interview was made possible with the support of the Mondriaan Foundation, SNS REAAL Fonds and the Prins Bernhard Cultuurfonds

Title designer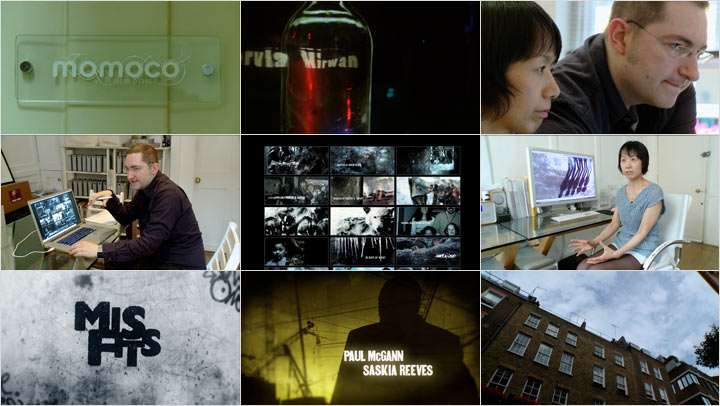 Watch the 10" mini-documentary we made about Momoco featuring Miki Kato and Nic Benns, shot on location at their tiny London studio.

Momoco is a multi-disciplinary design and live action studio in London specializing in title sequences for film and TV, commercials and music videos. Momoco UK was founded by Nic Benns and Miki Kato. Creative director Nic Benns graduated from Cambridge University and moved to the US to study film at Cal Arts where he met Kato, who was studying for an MFA in Graphic Design.
Momoco has been designing title sequence since 1996, starting off at Imaginary Forces and yU+co, before setting up Momoco offices in L.A. and London in 1999. Sister company Momoco L.A. (Harold de Jesus and Marcel Valcarce) rebranded in 2005 to become inMotion Studios.
Momoco wrote, produced and directed the short sci-fi movie The Shell (a.k.a. Copelia) in 2010. (watch on Vimeo).

Full credits
Director
Remco Vlaanderen
Camera
Niels de Roos
Editor
Paul de Heer
Producers
Femke Wolting & Bruno Felix
Line Producer
Willeke Steenbeeke
Motion Design
Jurriaan Esmeijer
Audio Post Production
Pastelle
Voice-over
Tommy Pallotta
Thanks to
Nic Benns & Miki Kato & Tom Bromwich @Momoco

Links
Momoco
show website