AVP: Alien vs. Predator
designer: Momoco • 2 comments
To view any of the title sequences you need the latest version of Flash Player 10 plugin or higher. You can download the Flash Player plugin from
Adobe.com
about
the designer
links
comments
show all info
Tiel designer Nic Benns: "I, personally, love horror, and although we've done several TV titles that are of that genre we don't get enough scary features to work on."

"In the movie, the environment is where most of the action takes place - the 'battlefield' on earth. The sets had been dismantled in Prague by the time we got to do the titles, so we had to reconstruct the interiors of 'Pyramid' from photos of the set. The spaces were composited in 3D. The main title 'AVP' echoes the way the pyramid moves in the film - shifting walls, reassembling - and it also reflected the typographic build of the original Alien movie. The type for the titles are in the Predator language and are then 'decoded' into English. The way the type is revealed also reflects the Mother computer screen in Ridley Scott's classic. There are lots of hidden messages in the red predator type which someone out there has yet to translate."

This is the beginning and the end sequence.
Title designer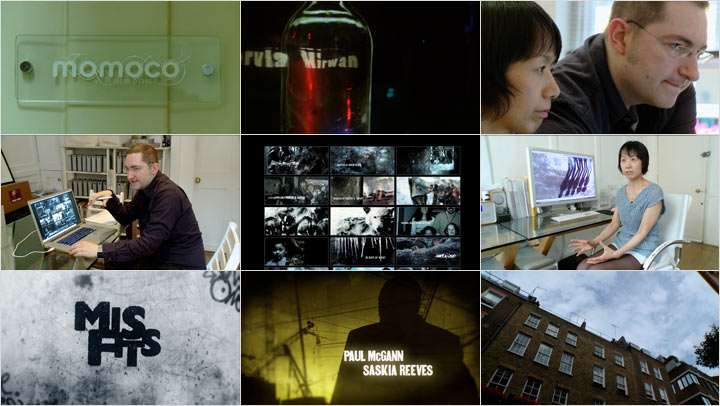 Watch the 10" mini-documentary we made about Momoco featuring Miki Kato and Nic Benns, shot on location at their tiny London studio.

Momoco is a multi-disciplinary design and live action studio in London specializing in title sequences for film and TV, commercials and music videos. Momoco UK was founded by Nic Benns and Miki Kato. Creative director Nic Benns graduated from Cambridge University and moved to the US to study film at Cal Arts where he met Kato, who was studying for an MFA in Graphic Design.
Momoco has been designing title sequence since 1996, starting off at Imaginary Forces and yU+co, before setting up Momoco offices in L.A. and London in 1999. Sister company Momoco L.A. (Harold de Jesus and Marcel Valcarce) rebranded in 2005 to become inMotion Studios.
Momoco wrote, produced and directed the short sci-fi movie The Shell (a.k.a. Copelia) in 2010. (watch on Vimeo).

Full credits
Director (film)
Paul W.S. Anderson

Title designer and animator
Nic Benns

Music
Harald Kloser

Links
Momoco
show website

Wikipedia
show website