eXistenZ
designer: Rob Pilichowski • studio: Cuppa Coffee Animation Inc. • 1 comment
To view any of the title sequences you need the latest version of Flash Player 10 plugin or higher. You can download the Flash Player plugin from
Adobe.com
about
the designer
links
comments
show all info
eXistenZ is a signature David Cronenberg movie, featuring the recurring theme that is more or less apparent in most of his movies, the merger between the human body and technology. Existenz is a sci-fi thriller that takes place in the near future in which the border between virtual reality and the real world is blurred. Most humans have a bio-port installed in their lower back which allows them to connect to game worlds via a direct connection to their central nervous system.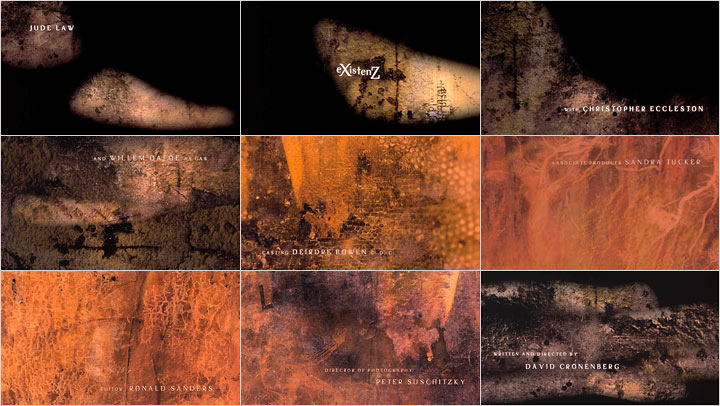 The movie opens with white titles against a black background. A beam of light illuminates what looks like several layers of organic textures sliding over one another - a poetic visual metaphor for the simultaneous existence of multiple realities.

The imagery is almost abstract, resembling space photos of the earth's surface or extreme close-ups of organic material. Occasionaly, a clear image appears and fades away. A human spine, a fishbone. Cuppacoffee's main title design evokes an overall feeling of mystery and suspense.
Title designer

Born in Gdansk, Poland, Rob Pilichowski currently resides in Toronto, Canada and takes on freelance projects around the globe.
For the past six years he has been the Creative Director for The Studio Upstairs, a visual effects & design company. Most recently he has re-designed Air Canada's instructional safety video, which won a Gold award at this years BDA awards. His portfolio also includes work for the NBA, Pratt & Whitney, VH1, HBO Family, Teletoon, YTV, W Network, TMN and Alliance Atlantis. Apart from the broadcast world, Robert has also worked on projects for the big screen, which include the opening title sequence for David Cronenberg's eXistenZ.

Full credits
Executive Producer (titles)
Adam Shaheen
Title designer
Rob Pilichowski, Cuppacoffee
Assistant Designer
Margaret Lee
Producer (titles)
Marlene Schmidt
Compositor
John Coldrick, AXYZ
(Source for credits: British Film Institute)
Director (film)
David Cronenberg


Links
Wikipedia
show website

Cuppa Coffee Animation Inc
show website