The No 1 Ladies' Detective Agency
designer: Airside • 1 comment
To view any of the title sequences you need the latest version of Flash Player 10 plugin or higher. You can download the Flash Player plugin from
Adobe.com
about
the designer
links
comments
show all info
The last film of director Anthony Minghella (The English Patient), before he died in March 2008. What you see here is the opening sequence followed by the closing credits.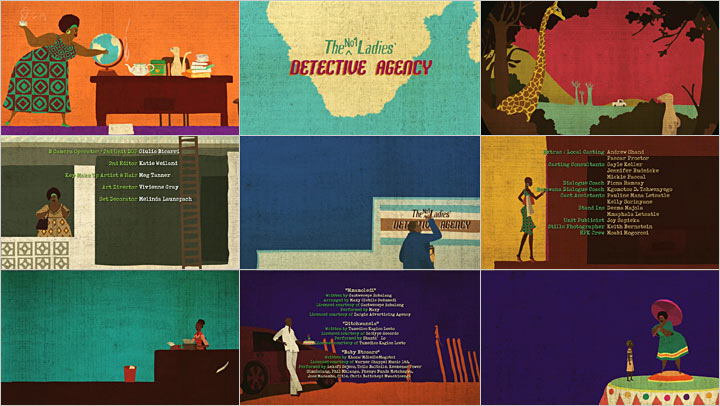 The No.1 Ladies' Detective Agency is based on a series of novels by Alexander McCall Smith about the first female private investigator in Botswana. By emulating the characteristic look of hand-painted wood (in some African countries signs for local shops and billboards are typically hand-painted), Airside established a certain African look-and-feel for both credit sequences. The color scheme was inspired by the bright colors of African textiles.

A character representing the leading lady, Mma Ramotswe (in the film played by Jill Scott), points out the location of the film – Botswana – in the opening credits.

The closing sequence is based on a horizontally scrolling animation that starts with white pickup truck driving through an African landscape inhabited by indigenous animals. The sequence is basically an animated reprise of key scenes and characters from the film with title cards simply placed on top.

Reportedly, Anthony Minghella more than pleased with Airside's contribution to the project. On Airside's website, he is quoted saying that their work on the titles was "meticulous, perfectly judged, beautifully executed and achieved with minimal fuss and a real sense of enthusiastic collaboration."

This TV film was the pilot for a TV series of 13 episodes produced in 2008.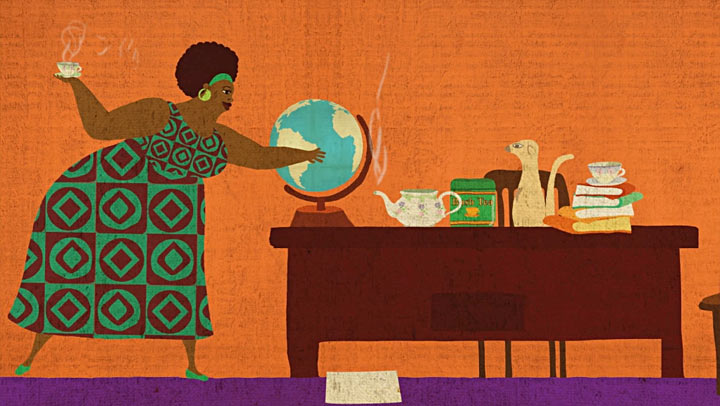 Article: Remco Vlaanderen, © Submarine Channel, 15 July 2008. Last update: 25 November 2011.
Title designer

Founded in 1998 by Alex Maclean, Fred Deakin and Nat Hunter, Airside is a London-based cross-platform design agency that covers a wide range of design activities - from (motion) graphic and website design, mobile content, illustration, music videos and commercials.

In 2009, to mark its 10 year anniversary, Gestalten published the book "Airside by Airside," a celebration of Airside's decade of design.

What is Airside? Profile produced by Gestalten to accompany the book.

On November 24, 2011, Airside announced on its website and on Twitter that it will be closing "shop" as of March 2012. "After fourteen years of working together we have grown into different people with different goals and despite all of our best efforts we can't see a way for Airside to move forward and accommodate all of our individual ambitions. You could put it down to musical differences if you like!"


Full credits
Title design
Airside
Film director
Anthony Minghella
Production Companies
BBC, Mirage Enterprises, The Weinstein Co.