Madagascar: Escape 2 Africa
designer: DUCK • comment
about
the designer
links
comments
show all info
In 2004, Jamie Caliri directed the beautiful animated end credits for Lemony Snicket's - A Series of Unfortunate Events. One of the most impressive credit sequences of 2004, we wrote.

The end credits of Madagascar 2: Escape to Africa are not as epic or as elaborate as the titles for Lemony Snicket's, nor do they share the same richness in terms of narrative depth, but Caliri and his team at DUCK created an entertaining sequence that carries Jamie's signature style.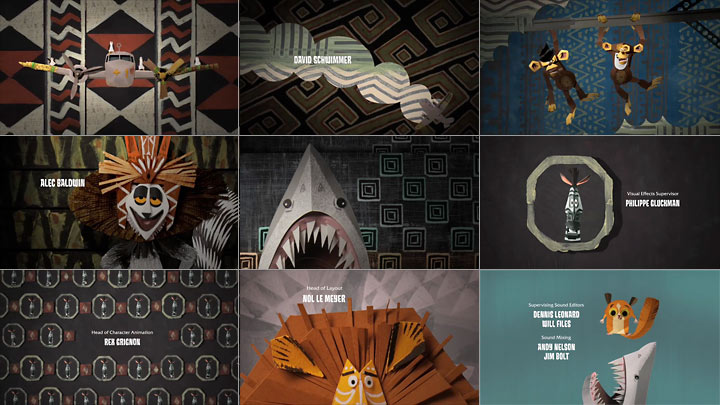 The movie's main characters - Marty the zebra, Alex the lion, Gloria the hippo, Melman the giraffe, along with some of the supporting cast; all reappear in the end credit sequence, albeit in a different form than in the movie. All characters are redesigned as animated 3D papercraft characters set against hand-painted backgrounds featuring geometric motifs that are unmistakably African.

From DUCK's press release: "'I Like to Move It,' one of four songs from the film's soundtrack created by Will.I.Am of Black Eyed Peas, moves the action along while the film's whimsical characters shamelessly provide their modern dance interpretations."




Article: 28 November 2008. Last update: 8 August 2013
Title designer


Full credits
Title design DUCK, Director Jamie Caliri, Animation Director Todd Hemker, Art director/Puppet design & fabrication Megan Brain, Storyboard & Background art Alex Juhasz, Prop design/Fabrication & Background art Pablo Grande, Animators Yorico Murakami, Scott Kravitz, Jinna Kim, Hsinping Pan, Hsin-I Tseng, Blake Robertson, Evan James, Jan Chen, Executive Producer (titles) Mark Medernach, Line Producer Dan Ridgers, Production Companies (film) DreamWorks Animation, Pacific Data Images, Producers (film) Mireille Soria, Mark Swift, Soundtrack Interscope Records Song "I like to move it" by Reel 2 Real, Director (film) Eric Darnell & Tom McGrath.