Aaron Becker is one of the most prolific title designers of the last ten years and founder of the Los Angeles-based studio Filmograph. In our interview, Becker dives into his process for the Titles for Aquaman, Swamp Thing and Mission: Impossible – Fallout.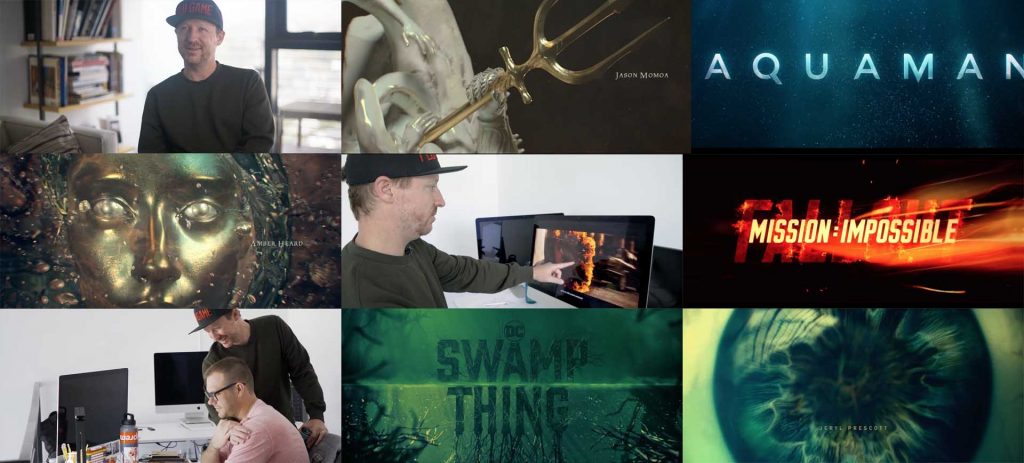 Becker has been all over the U.S. Born in Indianapolis, raised in Florida, and a graduate of Washington University in St. Louis with a BFA in Visual Communication, his career first started at Prologue Films in Los Angeles and later at Digital Kitchen in Chicago. During that time he got to work in various capacities on films like Speed Racer, Iron Man and Tropic Thunder.
In 2010 he founded Becker Design, which over the years evolved into Filmograph, entrepreneurship he co-founded with his longtime friend Producer Seth Kleinberg.
In just a decade the company has established itself as one of the go-to studios in Hollywood when it comes to title design, with contributions to films like Mission: Impossible – Rogue Nation, Aquaman and John Wick.
Becker has served as main title designer in over 40 films and TV shows, including The Conjuring, 10 Cloverfield Lane, Rambo: Last Blood and most recently, Mike Flanagan's Doctor Sleep.
His title sequences for Sinister received Title Design Finalist recognition at the SXSW Film festival in 2013.
credits
Director & interview:
Brad Klipfel
Camera:
John de Menil
Editor:
Niels de Roos
Commissioning editor:
Remco Vlaanderen
Assistant producer:
Jael Ragowan
Producers:
Femke Wolting & Bruno Felix