OFFF Barcelona 2013 - Mr. Emilton's Cabinet of Curiosities
designer: From Form • comment
about
the designer
links
comments
show all info
HOW TO CREATE YOUR OWN LITTLE WORLD
The Making Of the Main Titles for OFFF Barcelona 2013 by From Form, in bite-sized chunks

The fuss about the Main Titles for OFFF's flagship event in Barcelona each year might seem like a bit of a hype. But at least it's a substantiated hype – a daunting challenge for any designer to live up to. Especially for a newcomer to the scene, like Dutch studio From Form. But these guys delivered and caught everyone by surprise with a meticulously designed short live action film about a Victorian collector with 46 Titles embedded in the scenes. Here's our first hand recap of From Form's Main Title presentation at OFFF. Plus –sizzling hot off the press– the Making Of that shows the process from sketch to presentation in a nut shell.
An email… | Making Of Video | Use your Imagination | 
 Research and Inspiration | Sketching | The Story | Collecting the Interior | Building the Set | Making the Titles | Music and Sound Design | Was it all worth it?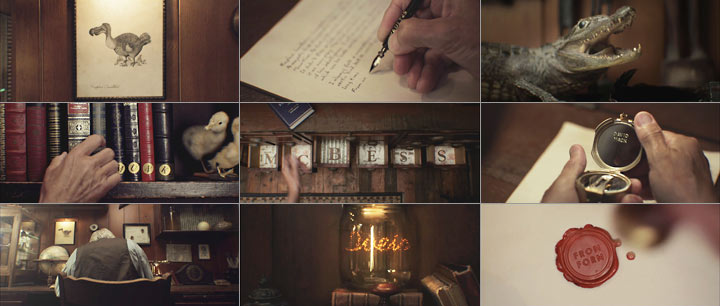 Recap!
For all of you unlucky ones who couldn't be in lovely Barcelona this year, this first-hand report neatly follows the sequence of From Form's presentation at OFFF, because we found their breakdown of their process both disarmingly entertaining and highly informative.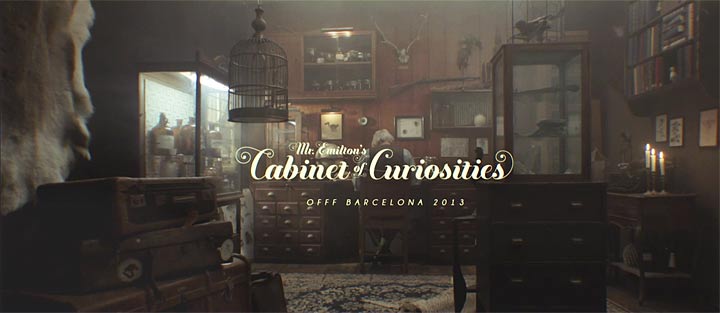 July 7, 2013 in sun-drenched Barcelona
The third and last day of the OFFF Festival. The Design Hub's Main Room seats around 2000-2500 (wild guess) creative boys and girls from all over the world - designers and illustrators for the most part. From Form is up next to present their Main Titles to a hungry crowd for the first time. You can almost taste the anticipation in the air.

An email…
To Héctor Ayuso, OFFF's end boss, is what kicked things off for 

From Form, a one year-and-a-couple-of-months-old studio based in Rotterdam, founded in 2012 by Vimeo Award winner Jurjen Versteeg (A History Of The Title Sequence) and interior architect Ashley Govers. Like any young design firm, From Form set their goals and theirs was bold and very clear – to work hard, deliver excellent stuff, and then, maybe, in 5 years time present their work at OFFF.

"Anything we can do for the upcoming conference?"
"Sure!" replied Héctor, almost instantly.

That one email was all it took to make From Form's future goal into a present day reality. 
Next thing you know, Ash and Jur were designing 14 bumpers for Saturday's program. When ManvsMachine, who were working on the 2013 Main Titles, had to cancel, From Form stepped in and offered to do the job. The rest is history. But watching Ashley and Jurjen share their story up there on the OFFF stage, it was like they were still not quite fathoming it. Being able to do the OFFF titles that early in a your design career is like the designer's equivalent of an upcoming singer who's asked to perform at the Super Bowl.

From the initial 14 bumpers, they now had to create a title sequence crediting 46 names. With only two months left to go, From Form realized they needed to shift gears now. Designer Wouter Keijzer picked the perfect time to leave his studio. He needed a new place to work and joined the project.

Making Of Video (the process in a nut shell)


Use your Imagination
Most good ideas start close to home. "Me and Ashley, we love to collect stuff," says Jurjen, showing snapshots of Ashley and himself browsing flea markets and thrift stores. Apparently 'collecting things' was popularized by the Victorians in the 19th Century, when collecting became an obsessive national pastime for the British middle and upper class. It was around the same time that Tourism was 'invented.' The Victorians loved to travel, and upon their return, they'd create all these fascinating indexes of all the exotic artefacts they brought home from their journeys, explains Jurjen. 

"We noticed a resemblence between those people at the time, and now, the way we work as creators. There is always the eagerness, for us, to find new things, to expore new things. And this was going to be the starting point for our film."

Research and Inspiration
The amazing Teylers Museum in The Netherlands, a great place to get lost in. Photos by From Form.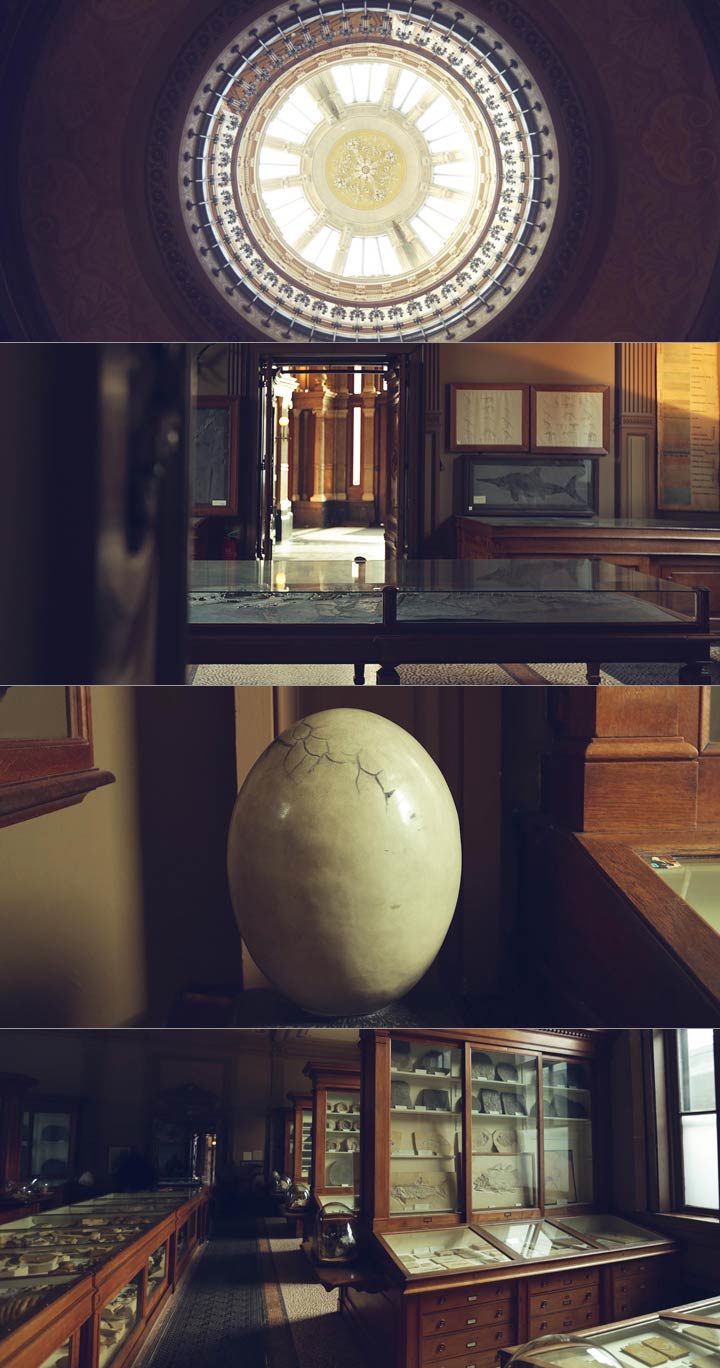 During their research, From Form came across various 'cabinets of curiosities,' which was used to display collections of unassorted but interesting objects before museums took over that role. Main purpose of these Cabinets was to imbue visitors with a Romantic sense of wonder, awe and amazement. The Teylers Museum –the oldest, and quite possibly the most beautiful museum in The Netherlands– hasn't changed much since it first opened its doors to the public in 1784. The Museum was the key visual reference for From Forms's film.

Sketching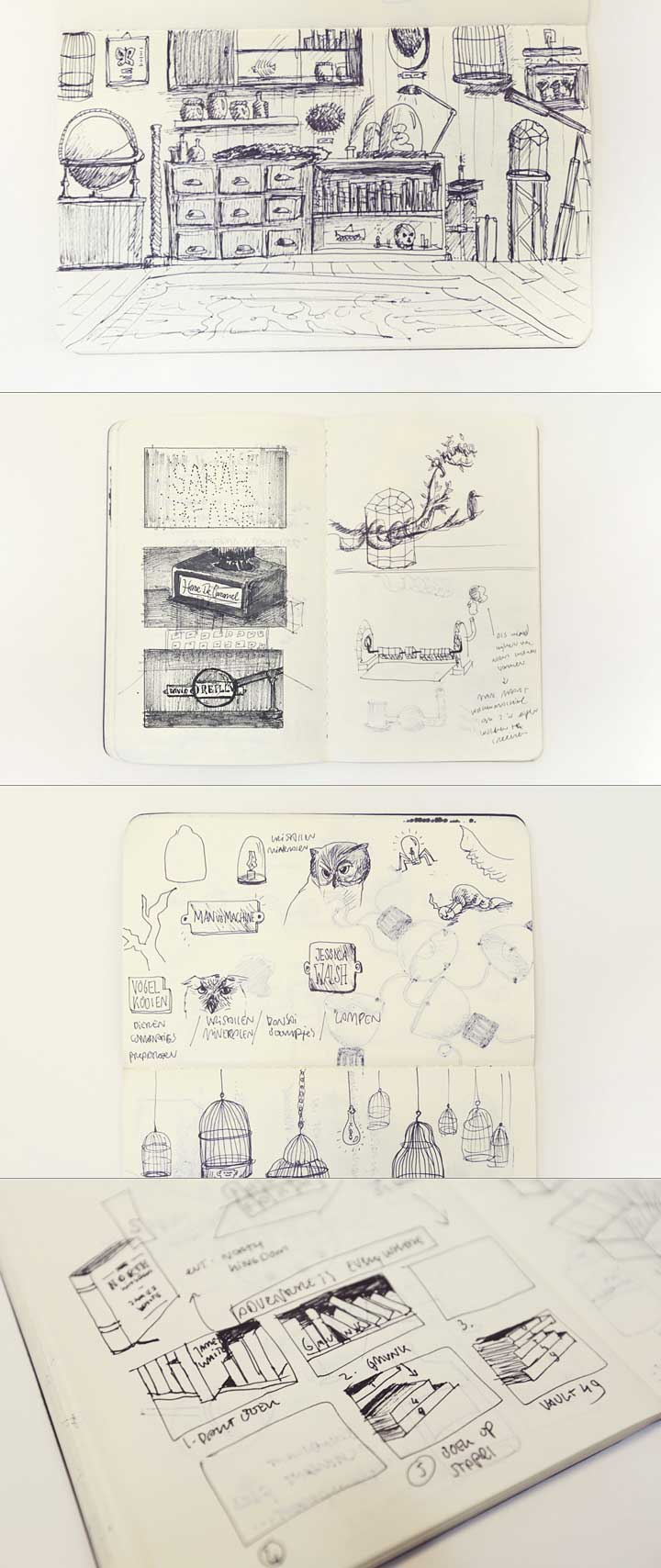 "Sketching was an important step in the production process and helped us get a better idea of what things should look like." 


The Story
Wouter Keijzer, who wrote an 8-page story about a Victorian collector, explains how they wanted to emphasize the resemblence between the creators of today and the explorers of that era. "Explorers in their time discovered and charted the world. The people in this audience are rediscovering the world, looking at the world we live in, and recreating it. This is why we put a big emphasis on imagination."

Storyboarding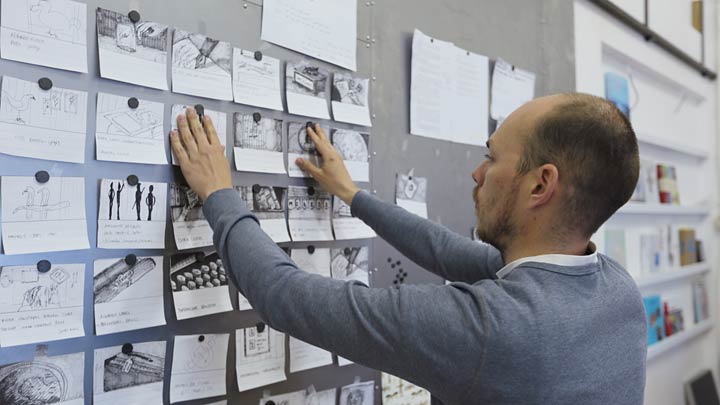 "For every title we had 3 variations, maybe more."

Time To Make It!
Filming at the monumental Teyler's Museum was not an option, so the From Form workshop was painstakingly converted into a 19th century Cabinet of Curiosity.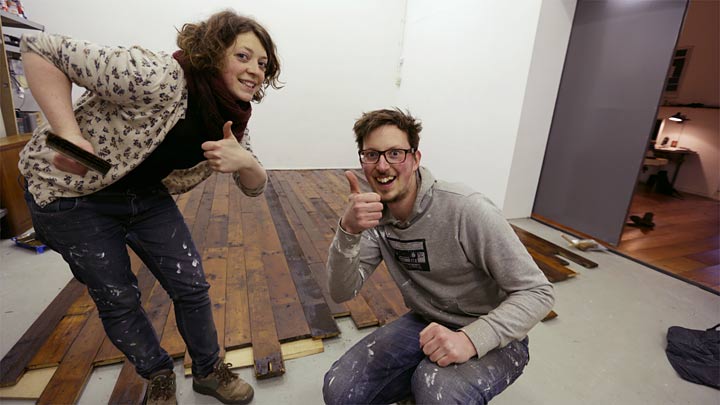 "The base structure of the set was done. We were happy.

Collecting the Interior
"Where do you find a 19th Century room? And for free?" Jurjen asks jokingly, summing up the designers' next big challenge. "At my parent's house!" says Wouter. Laughter in the OFFF room. But Wouter is not kidding and wows the crowd with snapshots of his parents place in the countryside, where they've got "barns filled with creepy stuff." Seriously, the place is like Harry Potter's set designer's wet dream. Wouter, Jurjen and Ashly load up everything they liked into their old van, from antique furniture, amazing display cabinets, Victorian-style leather suitcases... Trade parents please, Wouter? 

This was only the first part of the hunt, but it gave the designers a much clearer idea of the direction they wanted to go with the film, explains Jurjen. "The main character was collecting his whole life, so we needed a lot of stuff." The hunt for props was up next.

Marktplaats, a Dutch auction site, proved the perfect place to find lots of "little stuff," like ink jars, and notebooks, to old books, lamps, glass jars, stuffed snakes, and crocs, and globes.

Building the Set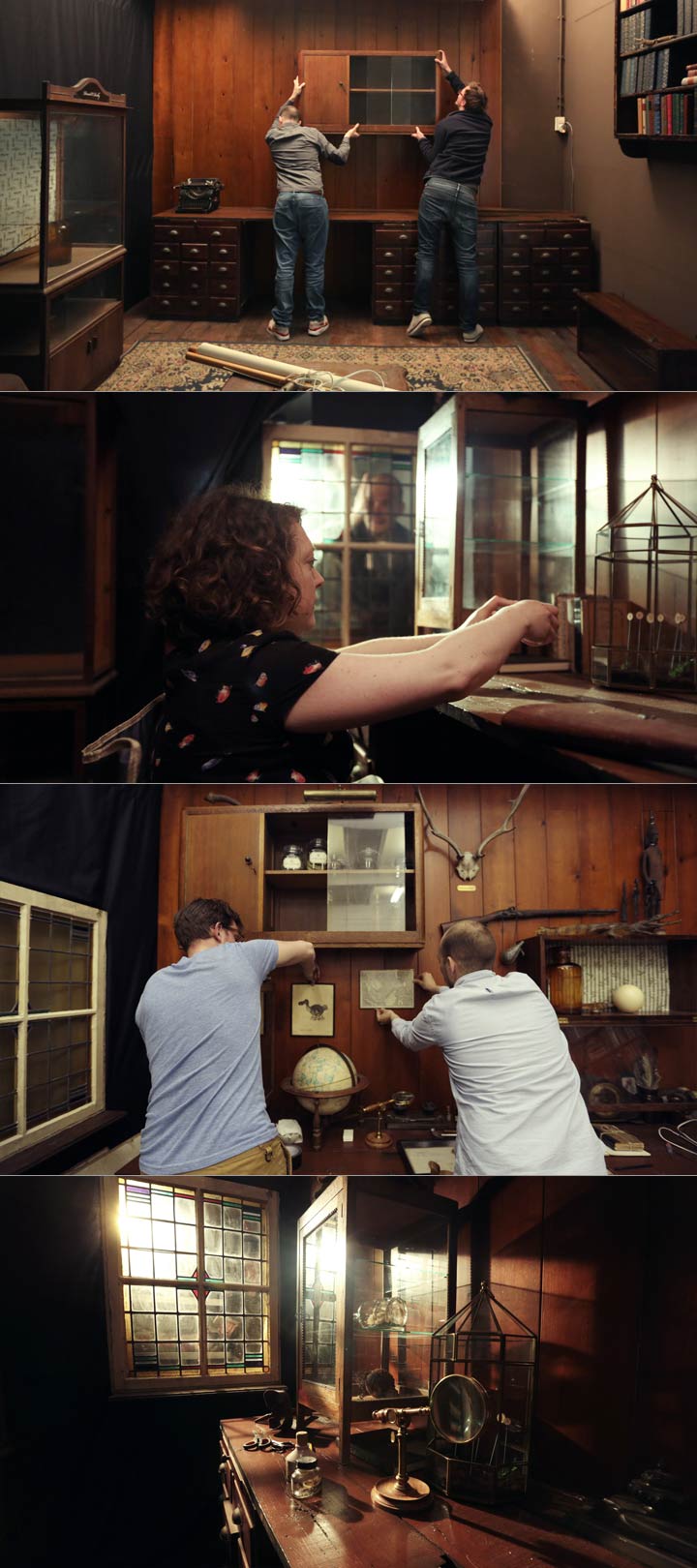 What struck me most about OFFF's Main Titles this year is not the ambition or the self assertion of these three designers –all recently graduated twenty-somethings– it is the sheer love that went into designing, dressing and finetuning the set. Incredible attention to detail shows in every aspect of this title sequence. The film iteself, and the way it was produced reflects a nostalgic longing for a different time and a different place – a sentiment that would have been far less potently evoked had the designer's instead chosen to build a virtual set using CG. From Form's appreciation for old school 'analogue' craftmanship has become an vital part of their creative process and this is what defines them as designers.

"The set was our playground at that time, we could do whatever we wanted."

Making the Titles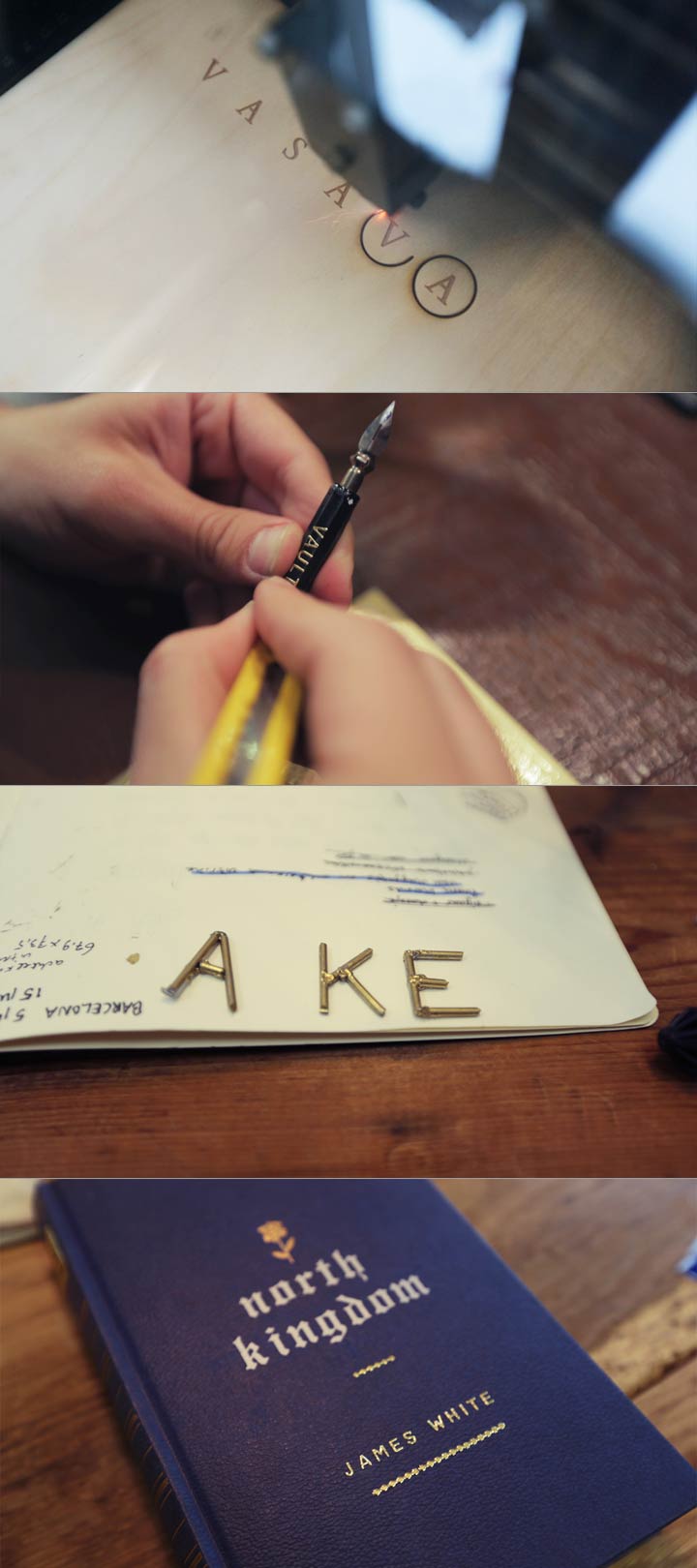 Then there's the daunting, and sometimes dirty task of making the actual Titles. 46 Individual names, almost all were integrated in the scenes (we love embedded Titles). A few Names and effects, like the fireflies in the jar, were later added in Post.

Music and Sound Design
Joining the stage is Ben Lukas Boysen, aka Hecq, a composer and musician who runs his own sound design studio in Berlin. Hector asked him to step in and work on the project with From Form. Boysen used mostly acoustic instruments and sounds of random objects around the house to score the piece. He also did the foley sounds, which always sounds like such a fun job to do. "A lot of the real things don't sound as real," explains Ben, using the sound of a pen writing on paper as an example. To compensate for the tangible dimension of using a pen and paper – the sensation of touch – you have to make the sound bigger than it actually is. "So what worked was cardboard and a corkscrew. That had a really intense sound, which worked wonderfully with the pen and paper images." The sound of 19th Century fireflies in a pharmacist's jar? Ripping fabric and gently recording a light reflector. Cut the low frequencies, and layer.
"Once we were happy with the composition, the sound design, and the music (…) we ran it through tape machines, virtuals and real ones, to give it a bit more 'age.'"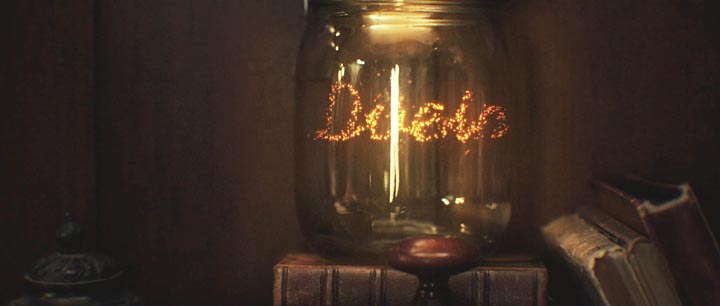 To conclude, I have to ask the question. Was it all worth it, months of friggin' hard work and no pay?
Jurjen, without reserve, says "Yes, absolutely! It's the best possible first job for a brand-new studio like From Form.
" The 'carte blanche' aspect of these kind of jobs is the best part, he says. "You're responsible for every choice you make, on every level, aesthetic, story, or technical. And when, after many months of hard work, people from the audience and on Vimeo and Facebook tell you how much they loved your film, that it moved them, or even made them shed a tear, that makes it all worth it."

And business-wise?
"Too early to say. We are still benefitting from the positive response we got on my graduation film A History of the Title Sequence (2011). We met a lot of nice people during OFFF, so who knows. Maybe something will come out of that."

You can cross off "Make Titles for OFFF" from your to-do list. And you did it in one year instead of the projected five. What's next on the list?
"We are currently working on a small, but very nice title project. And we'd like to continue on the road we're on now, as well as continue to develop the studio. We'd love to do a title sequence for a feature film. That would be quite the challenge. But let's just aim at five years again for that one!"

A word of advice for young designers?
"We started the project on our own initiative. We're a really small studio, it was just the three of us with the help of friends, zero budget, love for the project and wanting to make cool stuff. Go out there and start creating your own little world."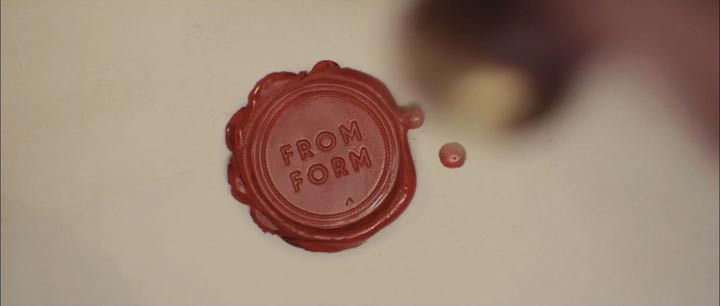 Article: Remco Vlaanderen, © Submarine Channel 10 July 2013. Last update 12 July.
Title designer

From Form is a design studio based in Rotterdam, The Netherlands, founded 2012 by Jurjen Versteeg and Ashley Govers. The studio focuses on (the combination of) film, motion graphics and title design. Projects often combine analogue and digital techniques. Jurjen Versteeg studied Interactive Multimedia and Audiovisual Design at the Willem de Kooning Academy in Rotterdam, The Netherlands. Versteeg met fellow student Ashley Govers, who studied Interior Architecture at the same school. Here they are, posing in their studio's workshop in what will eventually be the set of the OFFF 2013 Main Titles.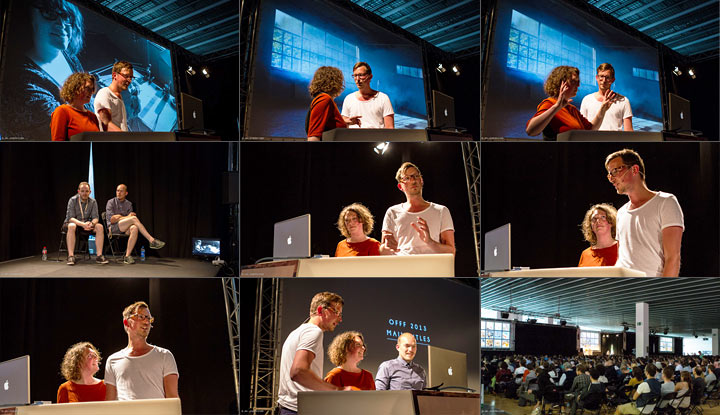 From Form's Ashley Govers and Jurjen Versteeg presenting at OFFF Barcelona 2013, with Wouter Keijzer and Ben Lukas Boysen. Photos by JM-Joseph.com

Full credits
Concept, direction and screenplay Ashley Govers, Jurjen Versteeg, Wouter Keijzer Edit
Wouter Keijzer Color correction and visual effects Jurjen Versteeg Set design Ashley Govers Music and sound design Ben Lukas Boysen Cello Performed by Cordula Grolle Recorded by Jochen Mader At Audionerve Drawings Jan-Maarten Nachtegeller Narrator
Nick Smith Actor Caspari de Geus Special thanks to Héctor Ayuso and the OFFF team. A From Form production in collaboration with Part of Something.