Camille Bovier Lapierre and Jean-Baptiste Lefournier are two upcoming French designers-directors based in Paris.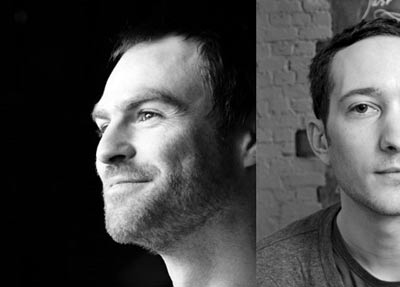 Jean-Baptiste Lefournier (on the right)
A French Graphic Designer who graduated from ESAG-Penninghen Paris. Evolving through various backgrounds, from video games to corporate films, Lefournier directed motion design films for couturiers and fashion brands such as Issey Miyake, Cartier, and Lancaster.
His passion for idents and title sequences started when he was shown Kyle Cooper's Se7en opening titles in art school. "From that day on, I considered title design as an art form," says Lefournil whose favorite studios are Imaginary Forces and Prologue." Favorite opening titles include Gattaca, Se7en, Catch Me If You Can, Zombieland, the end credits of Iron Man, 300, The Girl With The Dragon Tattoo.
Another passion is editing personal travel diaries from trips to the US shores or South East Asia, some of which you can watch on his website Ghostlayer.com. Ghostlayer, says Lefournier, is his secret identity. "It's partly a tribute to Ghost in the Shell, the animated movie, and it also refers to the alpha layer in digital compositing, which is sometimes invisible yet can be revealed and is thus a "ghost layer."
www.ghostlayer.com
Camille Bovier Lapierre
After a degree in architecture, Camille Bovier Lapierre finished SupInfoCom, a School of graphics and special effects, from which he graduated with honors. This opened doors for him at leading French special effects studios, such as Duboi and Mac Guff Ligne. In 2003, he directed his first music video "Alexis Hk, C'que t'es belle," which was screened at many international festivals and marked the beginning of his career as a director.
Mixing live action with digital effects, Lapierre's films are strongly influenced by graphic design. Lapierre uses 2D or 3D digital tools to alter or enhance reality. At the same time he invests in fiction with the completion of his first medium length animated film, Mice (A Cat) & Men which was released in 2011. The film is currently touring festivals.
c-b-l.net