The Amsterdam-based motion design studio Onesize has built a solid reputation for themselves in recent years. This is partly due to their eye-catching and technologically advanced opening titles for two design events back in 2009, OFFF and Playgrounds.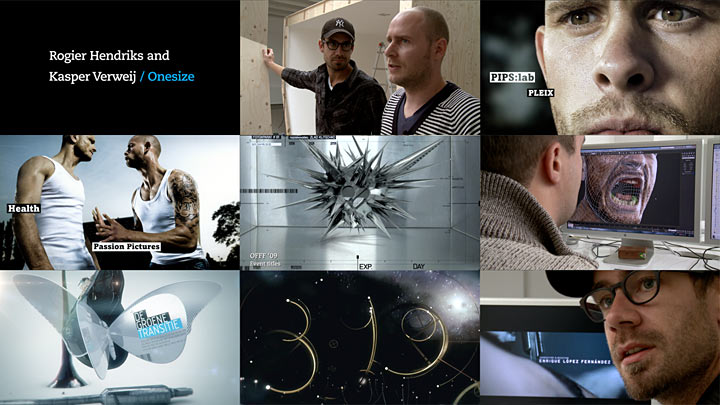 In 2010 we shot a video profile with Onesize founders Kasper Verweij and Rogier Hendriks in their, then, brand-new and freshly painted Amsterdam studio. This interview was first published on our 2DVD set.
"The fun of our business is creating new things. And if you do a trick twice, it's not as much fun…" says Kasper Verweij, referring to clients sometimes wanting the exact same pioneering technique they used in a free project, like the Playgrounds titles. "But we tend to do something and then not do it again. Or make it better."
Article: Lotje Sodderland © Submarine Channel 26 March 2013.
Full credits
Interview featuring Rogier Hendriks & Kasper Verweij @ Onesize
Director Remco Vlaanderen
Camera Robijn Voshol
Editor Paul de Heer
Voice Tommy Pallotta
Making Of Footage by Onesize used with kind permission