French Fridays wouldn't be complete without the "grandmother of the French New Wave," Agnès Varda. The smartly constructed title sequence for Varda's masterpiece Cleo from 5 to 7 serves just as much as a prologue to the film, and features immaculately composed close-shots of hands and tarot cards, punctuated by typography. "I wanted to make a very violent sequence that confronts the film with its contrast," Varda said.
Apologies for the lack of subtitles.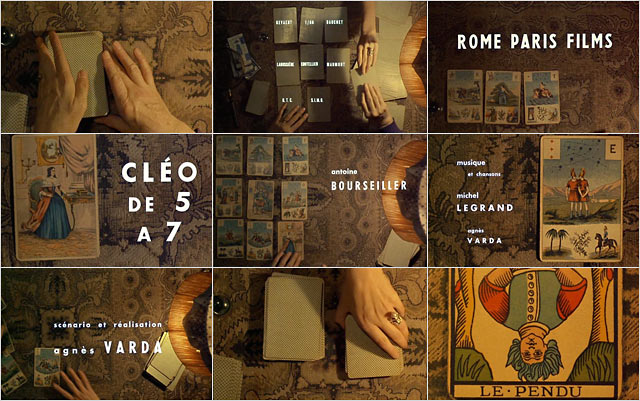 Cléo de 5 à 7 takes place in real time from 5pm to 6:30pm in Paris on June 21st, 1961. Cléo, a young singer, awaits the results of a medical test and fears being diagnosed with cancer – an hour and a half of her time spent in a state of anxiety, in pursuit of a spiritual quest.


With great resourcefulness Agnès Varda, who has been referred to by critics and scholars as the "grandmother of the French New Wave," addresses the key topics of the time: fear of cancer, the Algerian war, feminist empowerment… Varda is herself one of the women who signed "The Manifesto of 343 Bitches" in 1971, demanding free abortions. Here, she delivers a sharp, accurate story that is both sensitive and bubbly, serious and light-hearted.


Creating a narrative in real time was not new at the time, but Varda profoundly segments the film by adding the use of text. Like Godard, she punctuates her narrative using words and typography in a playful way. Contemporary directors like Wes Anderson and Quentin Tarantino drew much inspiration from this technique.


During the film we witness the screening of a mini-movie within the movie. Varda invited her friends to act in the film: director Godard, and actors Anna Karina, Sami Frey, and Jean-Claude Brialy, stalwarts of the New Wave, and Yves Robert and Danièle Delorme, representing the veterans of French cinema. For Varda it is, "A memory that symbolizes the New Wave as we lived it; the power of imagination and friendship in action."
The course of history begins with the title sequence. Cléo consults a fortune-teller, but the predictions are wrong. In full color we dive into structured, immaculately composed close-shots of hands and cards, punctuated by typography. Agnès Varda applied herself to the titles with as much dedication as the casting of her characters.


The card designs match the motifs of the tablecloth. As Varda explains, "The prologue takes place in a fortune-teller's den, a traditional, classical interior filled with small objects, clocks, and more. I wanted to make a very violent sequence that confronts the film with its contrast."


We move gradually from the title sequence to the film. Once all names have been credited, the fortune-teller reads a second deck in which she divines a clearer view of Cléo's fate. Once she has stated that she foresees a serious illness, the camera passes over the faces of the actresses and we realize with surprise that the film will be in black and white. Then, we move swiftly to Cléo's first emotional expression: a combination of fear and sadness. Varda starts alternating between black-and-white shots of card-decks, hands, and color-shots of faces. Her representation of real life in black-and-white is a completely arbitrary choice, but by placing color in the credits, she indicates that the tarot cards are merely an allegory for life. What the fortune-teller tells Cléo does not seem to be rooted in reality, appearing more as a fairy tale. Furthermore, the direction of the credits is a distinct departure from the rest of the film – more vivacious and closer to reality. The prologue is a bit like a false picture, almost overplaying the fate of Cléo, devoid of feelings and sensuality so that the images which follow seem like a real slice of life. Varda replaces the colored images with reality to demonstrate the complexity of life's essence.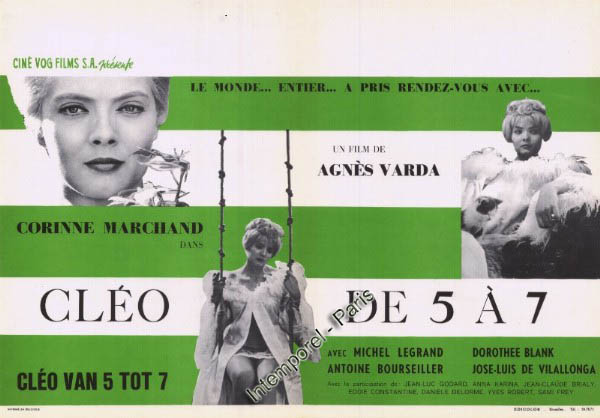 Text: Laure Chapalain, © SubmarineChannel 2011
Thanks to Bernard Bastide and Ciné-Tamaris for their additional information.
About Agnes Varda
Agnès Varda is a French photographer, film director, and artist, born in Belgium to a Greek father and French mother in 1928. In 1940 her family moved to France. In Paris, she studied photography at l'école des Beaux-Arts before starting her career as a photographer at the Theatre National Populaire, then led by Jean Vilar.
Full credits
Title sequence
Agnès Varda