For the end credit sequence for Kung Fu Panda, DreamWorks' summer blockbuster of 2008, Shine's creative director Michael Riley composed images of traditional Chinese landscapes, calligraphy and 2D character animation set in a 3D landscape all choreographed to a remix of Carl Douglas song "Kung Fu Fighting."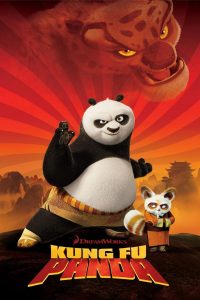 Hollywood loves China.
In, 2008, the year of the Beijing Olympics, Kung Fu Panda -DreamWorks' latest animated blockbuster- was one of several movies with a Chinese theme. (See also The Mummy III).
The 8-minute main-on-end credit sequence of Kung Fu Panda draws heavily upon traditional Chinese imagery. It was created in close collaboration with James Baxter Animation (who also created the opening titles) and the DreamWorks Animation team of animators, production designers and directors.
Kung Fu Panda tells the story of a lazy panda bear named Po who, against all odds, becomes a Kung Fu warrior.
Michael Riley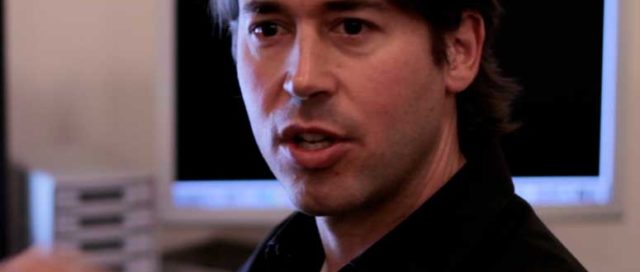 Michael Riley is the creative director of Shine, a design studio in LA. He has been directing and designing film and television main title sequences, theatrical trailers, television commercials and corporate identity packages since 1991.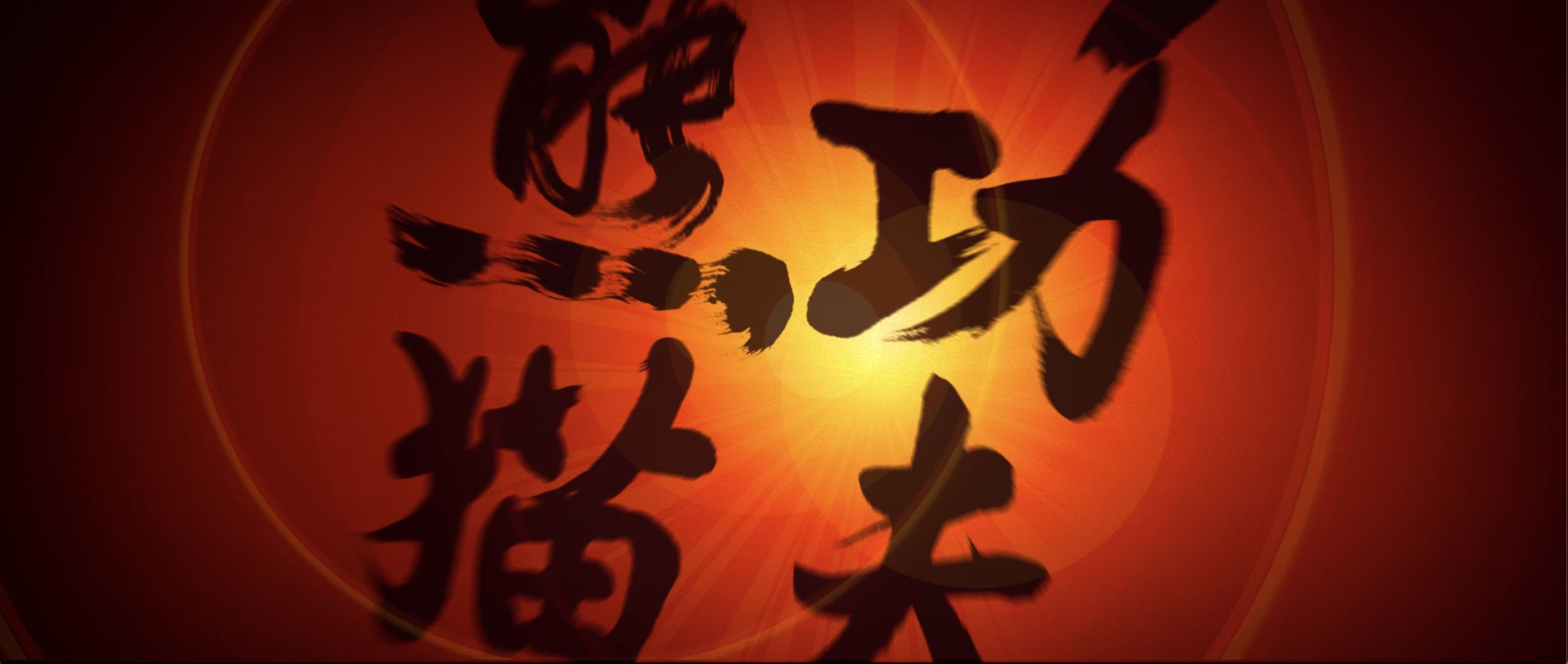 the scroll
"At the very first meeting we suggested an unusual creative device: a horizontal crawl," writes Shine creative director Michael Riley in an email interview. "It's one of those givens that title sequences crawl vertically, but we wanted to replicate the opening of a Chinese scroll in a nod to the movie's theme and an echo of the film's opening 2D sequence. The scroll is a big part of the story in Kung Fu Panda. We tried to make it feel big, and cinematic, and true to the feel of the film."
The brief
"Director Mark Osbourne, John Stevenson and producer Melissa Cobb were very articulate in their brief without constraining us creatively. They had been working on the film for four years, so they knew their story and characters inside and out. That served us well. They let us think freely, and asked us to present a range of ideas.
"We read the script and saw a rough cut of the film. Through face-to-face conversations we were able to develop a design that the filmmakers responded to and ultimately chose."
Treatment
"Our concept included reprising the film's main characters in original cell animations by finding them hidden in a gigantic Chinese calligraphy character. This mix of disciplines required a tremendous collaboration between Shine, James Baxter Animation and the DreamWorks Animation team of animators, production designers and directors. 
"As the Shine team developed the sequence pacing and composition, Jen Yuh Nelson, head of story for "Kung Fu Panda", provided story beats to establish each character, ensuring that the beats would express each animal's spirit and personality."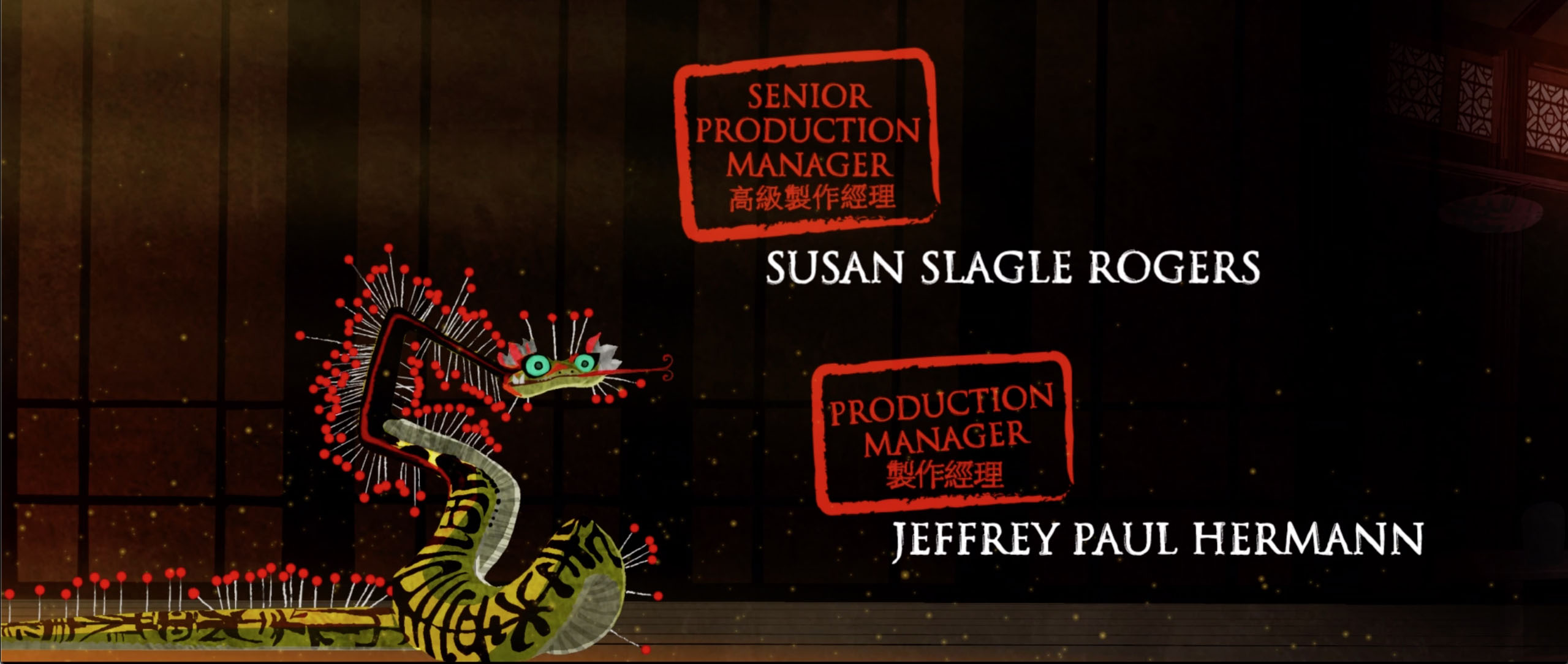 working with concept art from the film
Shine's artists enjoyed access to a wealth of additional resources in concept art renderings for the film; many of which were graphically modified within the scrolling background animation. working with concept art from the film.
Production designer Raymond Zibach and art director Tang Kheng Heng had done this exhaustive visual exploration, and had all these wonderful Photoshop illustrations. By having a lot of contact with DreamWorks, they were able to give us concept stills that had images of the characters, set illustrations and so on. Raymond and Tang are amazing, amazing artists and I felt so lucky to have had the chance to work with their material. That was the springboard for all the imagery we used.
"Working directly with the filmmakers was such a pleasure for us. Many of the people involved in making this movie have been a part of its creation for 5 years. Their insight into the characters was essential. They wanted the film to have a heart, and we tried to follow that direction. I think the collaboration led to a more emotional and visually interesting sequence."
credits
Creative Director
Michael Riley/Shine
Executive Producer
Bob Swensen/Shine
Designer/Animator
Dru Nget/Shine
Animator
Dan Meehan, Zee Nederlander/Shine
Music
Cee-lo Green & Jack Black "Kung Fu Fighting"
Production Studios (film)
DreamWorks, Pacific Data Images (PDI)
Director (film)
Mark Osborne & John Stevenson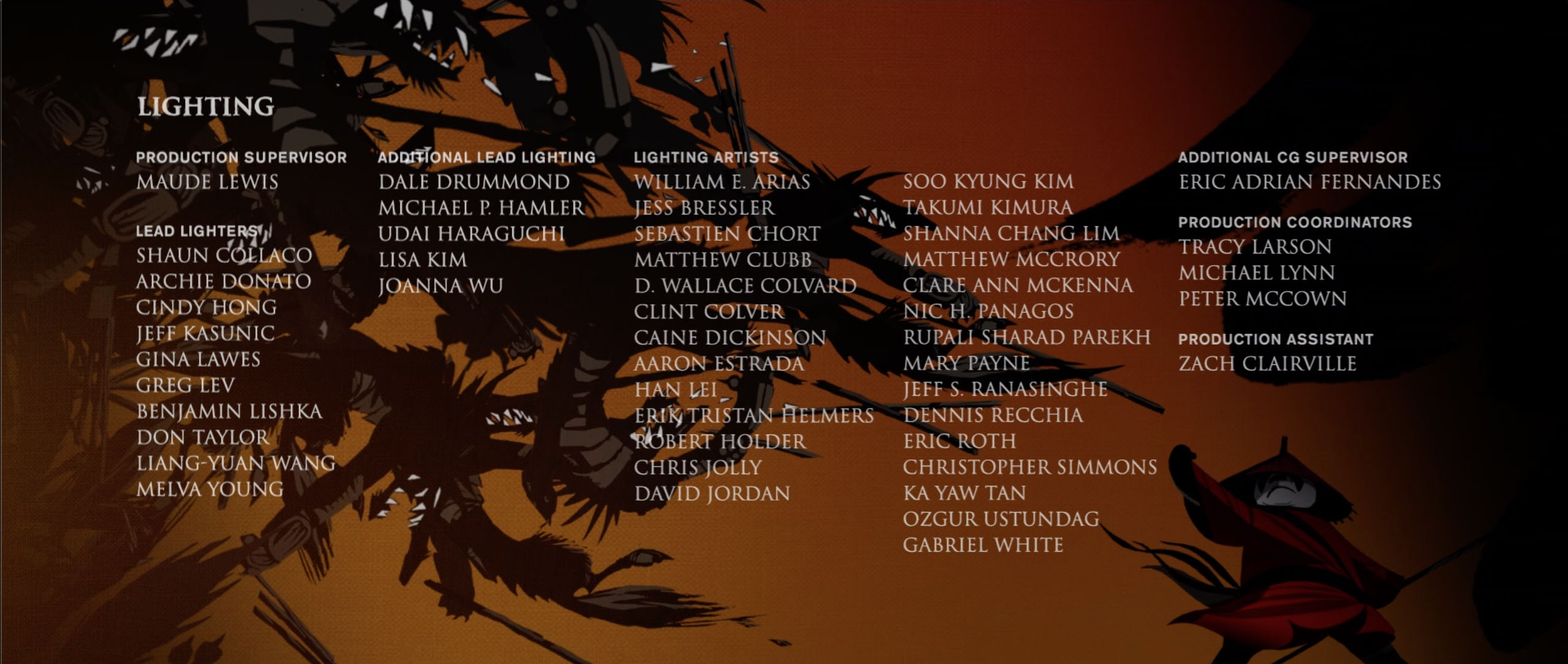 What sets this project apart from your previous title sequences?
Riley: "We had never worked on an animated film before. The sheer number of people involved on the production made the process richly collaborative. After the project was complete, we felt we came away with a broader perspective on animation, film, and design, after working with the amazingly talented people at Dreamworks Animation."
What was the biggest challenge?
"The sheer duration of it. We had to make sure all the images worked fluidly and, most importantly, that it was respectful to the 970 people who contributed to the film."
What software was used to create the sequence?
"After Effects was the primary camera tool. All the 3D camera moves were done in After Effects.
"The animators used Cambridge Animation Systems' Animo, and then imported the animation sequences into After Effects as TIFFs.
"At first, the illustrations were QuickTime movies we placed into 3D camera space, and once they were in color, they were TIFF sequences. They had perfect mattes cut, so we were able to move them around in 3D space."