Intimate Ennemies
designer: Laurent Brett • comment
about
the designer
links
comments
show all info
L'Ennemie Intime (original title) is a war movie that takes place in 1959 during the height of the Algerian war (1954-1962), that ultimately led to Algeria's independence from France. The movie ends with a scene on a road in Algeria. The text reads: "Two million French young people were mobilised in Algeria. 27,000 lost their lives. Between 300,000 and 600,000 deaths are estimated on the Algerian side. It wasn't until October 1999 that the French state officially recognized the war in Algeria."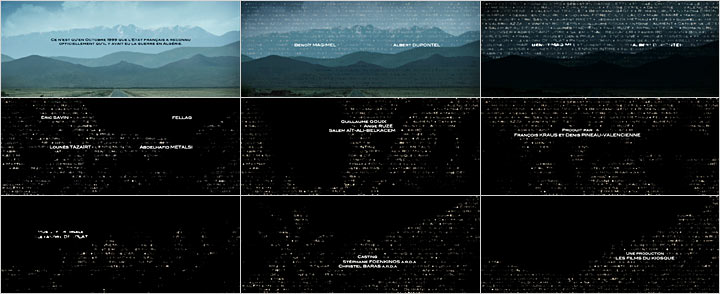 Motion graphic designer Laurent Brett, who you might know from his outstanding title work for Sky Fighters, OSS 117: Cairo, Nest of Spies and Hostage, shows yet another side of himself with the end credit sequence for L'Ennemy Intime. More subtle and contemplative than his previous work, Brett created a sequence that seems to serve as a metaphor for the futility of war. Hundreds of names are horizontally aligned next to each other, invoking the image of a memorial wall. "The 'memorial names' are the movie crew," says Brett. "The difficulty was to make a memorial style page with all the names well placed for their 'switch on'."

During production, the original plan was abandoned, as it didn't seem to work for the film. "Florent [the director] asked me to work on an opening sequence that uses stylized freeze frames of Benoit Magimel's [the main character] arrival in the military camp. But after one month of work, we - Florent and I - agreed that the effect of this kind of concept was like pausing the film every 15 seconds. This would have been disturbing for the audience. So I worked on the prologue text and the movie title with the memorial wall effect. This sequence was for me a way to add an abstract epilogue to the movie."


Article: Remco Vlaanderen, © Submarine Channel, 27 October 2008.
Title designer

Laurent Brett is a motion graphic designer from Paris, France who has a huge passion for creating film titles. His knowledge of French title design of the past 50 years is impressive. Brett studied two years at a school for communication, which sparked his interest in video editing. He gradually rolled into the motion design business in the 1990's, working as a post-production supervisor, editor and motion graphic designer on music videos and commercials. For several years now, Brett's primary focus is designing Main Titles for film and TV - ranging from simple "font work" to elaborate creative title sequences. He works a lot and usually on several projects at the same time.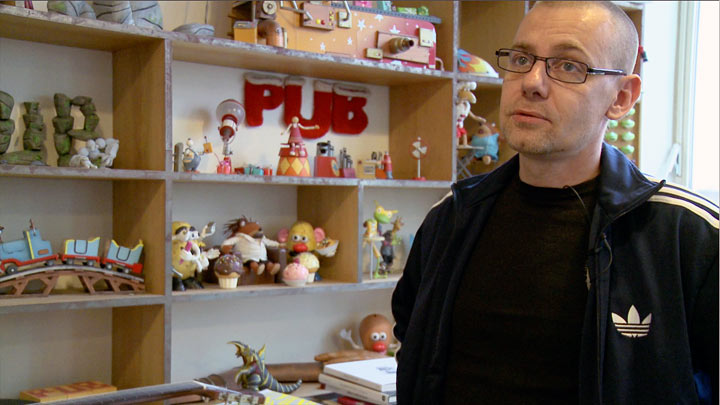 Laurent Brett had an office at the Sabotage studios in Paris, France, where we visited him in 2010 for a video interview. September 2013, Laurent will leave Sabotage to found his own studio Brett & Compagnie.
Laurentbrett.com

Full credits
Title design, editing, compositing
Laurent Brett
Production company
Les Films du Kiosque
Director (film)
Florent Emilio Siri

Links
Official Movie Site
show website

IMDB
show website