I've been staring at the screen for hours doing nothing. Make drawings on the dirty window. Watch the postman. I'm supposed to finish this, I have no idea how. I've tried everything…
– Quote from FITC's opening titles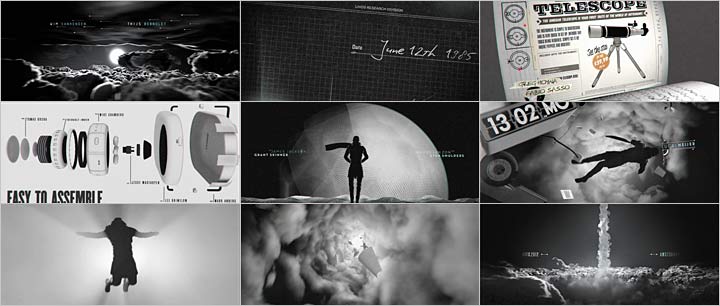 For the Amsterdam edition of the design and technology event FITC, Dutch motion designers Floris Vos of Soulbase and Menno Fokma harnessed the storytelling potential of the opening title sequence to maximum effect. The designers created a short narrative to remind the viewer how tough it can be to create something, and how ultimately rewarding the creative process can be in the end.
The opening titles introduce about 45 speakers that presented at the two-day event. It was first played at the opening of FITC. "Our job was to present those names in an exciting and engaging way and to prepare people for a great conference with new experiences and inspiring insights," says co-director Floris Vos. And what better way to engage people, then through a piece of dramatic writing they can personally relate to.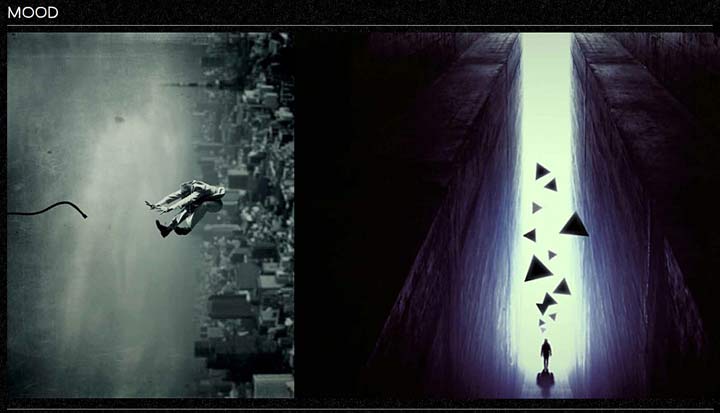 FITC Amsterdam 2012, mood board
At the beginning of the story, a narrator named Sam takes the FITC audience to that one place that every single individual in the audience knows and dreads – the creative block. Sam, an inventor, has been dreaming his entire life of discovering the universe. We follow him in his creative process as he realizes his life-long dream and builds an actual spaceship. But he gets stuck in a creative rut and is desperately looking for a way out. As his mind spins in circles, he starts to reminisce about his childhood, and in the process he re-discovers his drive. The story ends on a resoundingly positive note, with Sam realizing that "some people are lucky enough to do what they love in life. I am one of these people."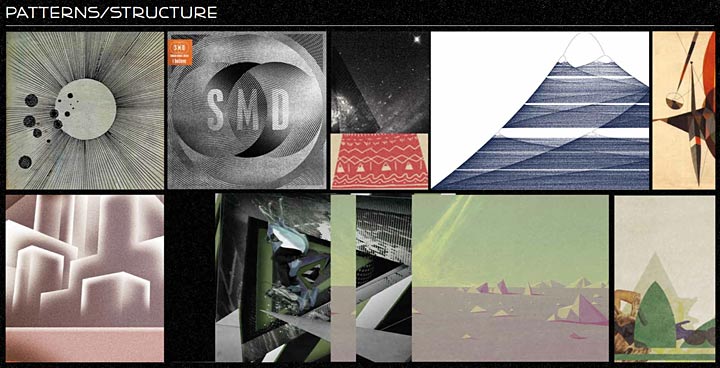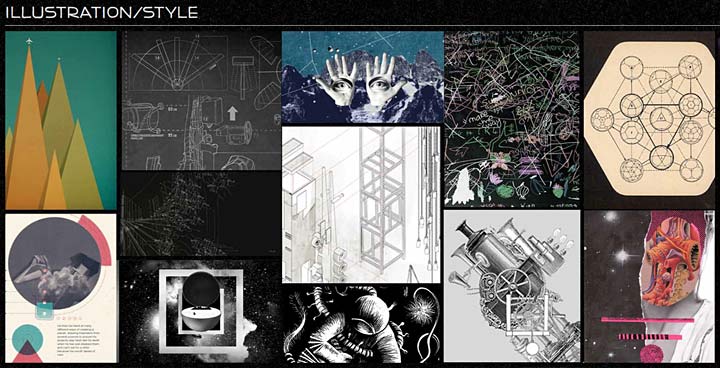 FITC Amsterdam 2012, mood boards
"We chose a story, because we wanted to do more then 'just' create beautiful images with some titles added," Vos continues. "We wanted to tell a personal story which reflects our experiences." Vos laughs when I ask him if he suffered from writer's block himself during the making of the titles, "Not per se, but there were moments when we did we did indeed struggle. And then you realize that you're living your own film, hahaha."
In their treatment, the designers describe how they structured the story according to the different stages of the creative process:
Being a child – Innocent creation free from insecurities and obstacles
Inspiration – Being emotionally touched. The urge to express and create
The Search Process – The strugge, the frustration
The Experiment – Open to change and surprises
Uncertainty – Measuring yourself to others
Flow – Being in a mental state in which all barriers disappear. Creating instinctively.
Vos then contacted creative writer Tifene Huchet, who came up with the story of Sam.
"Every scene starts with a date, ranging from Sam's past life till his current age, which us around 40. The date of the last scene, the lift off into space is February 27, 2012 – the date of FITC."
FITC Amsterdam 2012, Animatic/moving storyboard
PRODUCTION
After creating an ambitious moving storyboard, Vos and Fokma realized that –with just two and a half weeks untill the deadline– they needed a few extra hands. "We posted on Facebook, e-mailed a few people that were already freelancing for us, and our studio fellas were also reaching out," Vos recounts. "It really helped that we had the moving storyboard and treatment to enthuse people for our plan." Eight additional animators joined the team, with people working from Sweden and Los Angeles, and Vos and Fokma working in The Netherlands. "We divided scenes, so everybody could do his own bit."
As is almost always the case with event titles, the budget was close to zero. "Some people are now working on new projects with us that do have budgets. So after all, it does pay off for all. We are loyal to the ones who helped us out."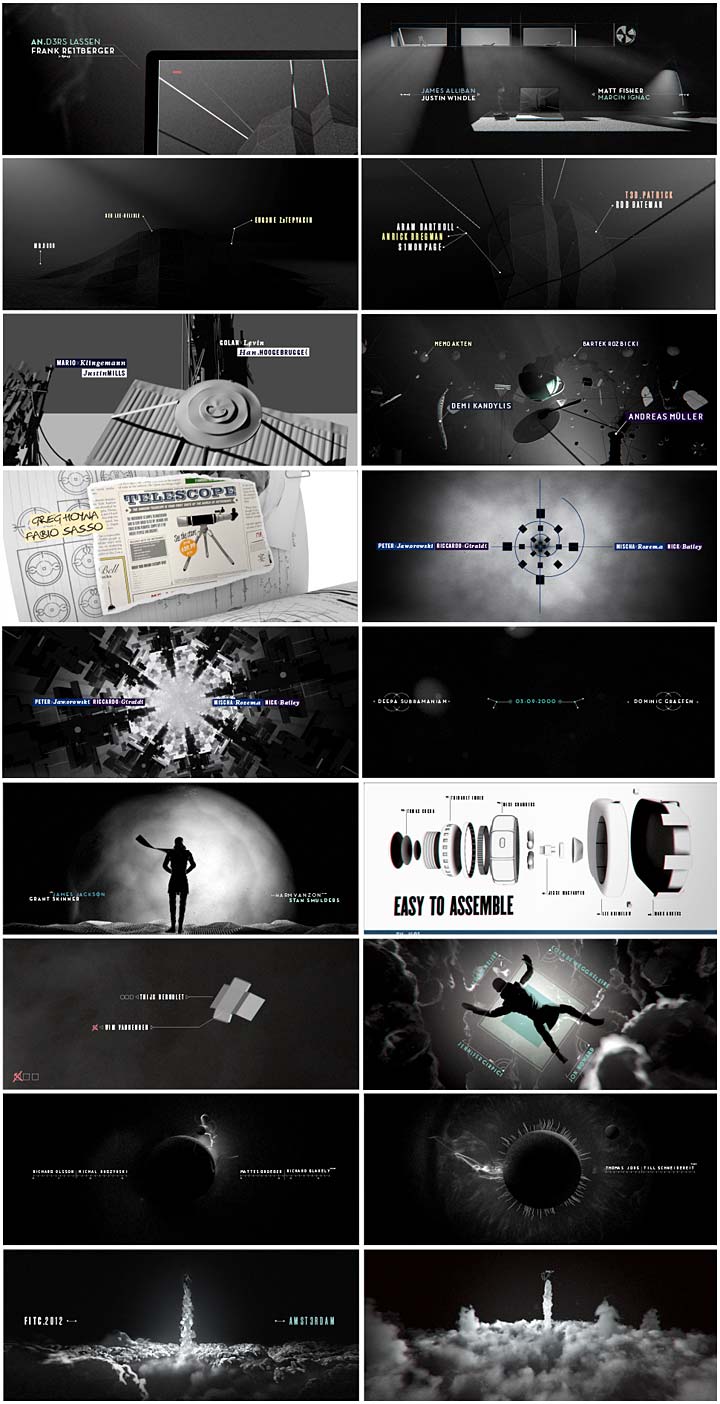 FITC Amsterdam 2012, story board
Article: Remco Vlaanderen (email), © Submarine Channel March 21, 2012.
About Menno Fokma and Floris Vos
An occasional collaboration between two motion designers from The Netherlands.
Full credits
Direction & Design
Floris Vos (Soulbase) & Menno Fokma
Creative Writer
Tifene Huchet
Music & Sound design
Joris Van Grunsven (Studio Takt)
Narrator
Terry Mann
Boy
Mick Lefevre
Animators/Designers
Fredrik Ekholm, Heerko Groefsema, Kevin Megens, Sander Van Dijk, Ton Mikkers, Wouter Kroese, Marius Denisse, Johannes Matsson