IF THERE IS A THEME TO THIS FEATURE, IT HAS TO BE COLLABORATION
You can't really tell, but the Opening Titles of this year's Playgrounds Digital Arts Fest in The Netherlands are, in fact, an exquisite corpse. And by that I mean the 20th century Surrealist technique, also known as 'cadavre exquis', where creators consecutively work on a piece of art in collaboration.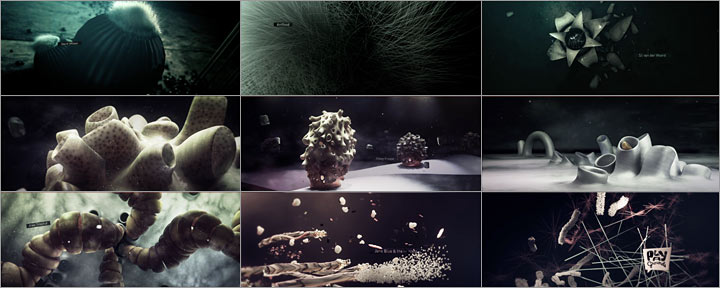 Three London-based creators working on the forefront of 3D visuals, in the field where art, technology and design converge, each created a segment of the atmospheric titles. They are Gabor Ekes who made the first part of the sequence, followed by 'middle man' Jordi Pagès, and with MRK concluding. We talked to the designers about their fantastical video and about collaborating.
Playgrounds director Leon van Rooij suggested to involve a fourth studio, Echolab, for the soundtrack. Echolab is a renowned creative audio studio that has provided sound design for visuals by Onesize, BUCK, Superfad, Shilo, Logan, PostPanic, The Mill, and the likes. "Gavin Little from Echolab is one of the most talented sound designers out there," comments London-based motion designer Jordi Pagès.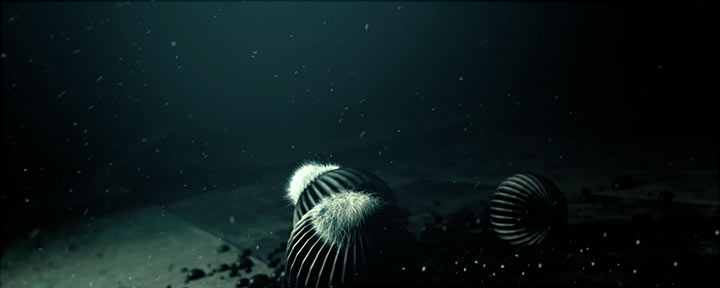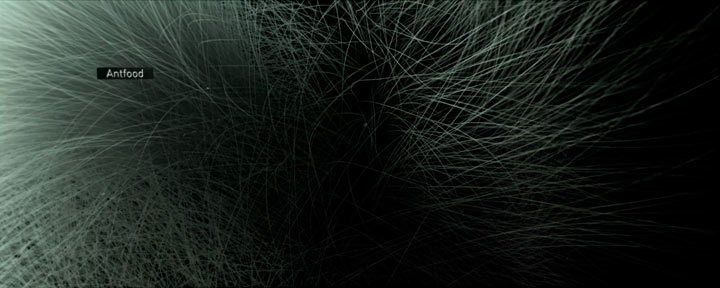 "Most people in our industry who are passionate about what they do, would agree that these kind of collaborative projects are some of the greatest projects you could possibly get involved in," continues Pagès." The fact that there was no pay, as is almost always the case with titles for events, was not an issue, "When you take a project like that on board, it is not for the money, is because you love what you do."
Designer Gabor Ekes explains that the benefits of taking on open brief projects on a regular basis is purely creative, "they allow me to evolve my thinking and skills, try out new ideas and tools."
"MRK and Gabor are really passionate about what they do," adds Pagès. "I learn a lot each time I work with them."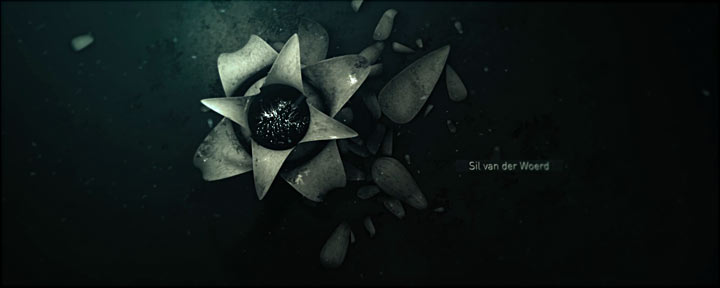 WHAT DID YOU GET OUT OF THIS COLLABORATION?
Even though each designer has his own distinctive style and approach, Gabor Ekes believes that "working both collaboratively and individually allowed us to develop our own ideas and feed off the sparks that were created while sharing those. It is always important for me to let the project evolve during the process of making, so the first challenge is to lay down enough ground and research that will allow the idea to grow but leave enough room for surprises."
Gabor met MRK and Jordi on a previous project. "We have very similar interests when it comes down to motion graphics and also we are using the same tools, softwares. Probably that is why the end result feels like one piece.
"We created the whole project remotely by setting up a Dropbox folder. During the process of making this video we all borrowed ideas from each other, sharing each single visual and styleframe so we could see the bigger picture, making the creative process more consistent throughout the whole piece."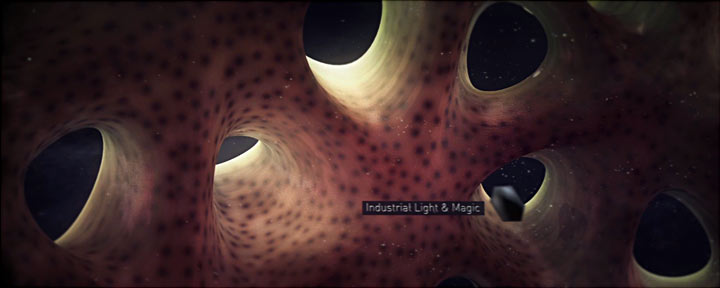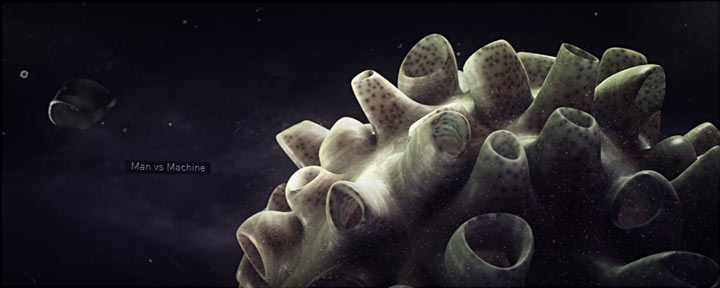 SUBAQUATIC DFREAMSCAPES
Jordi Pagès prefers to leave the interpretation of the piece open to the viewer, "some people told me they where remote subaquatic aliens and other people considers them microscopical landscapes from our brain, they are both right.
In terms of motion or movement, underwater references would be the right place to look at, for that flow of the movement and the absence of gravity, which creates that atmosphere of calm and wander.
"I started by creating a number of natural forms and organic objects and later followed on by enthusing each one of them with their own sense of character, movement and an element of playfulness."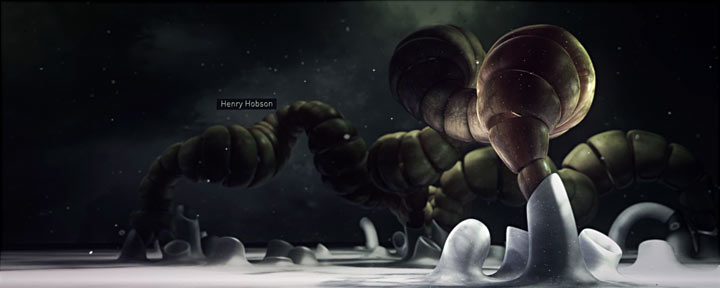 The third London-based director in the project, Markos Kay a.k.a. MRK, who worked on the last segment says he was referring to "a distant, silent sub-cellular world," when he created the piece. A place "where organelles and molecules are larger than life and molecular interactions happen very rapidly. In this world, large structures are assembled and disassembled spontaneously and information is communicated between these rapid processes. It is an informational world."
These ideas and concepts make for a great metaphor for the inspirational dynamics that exist between the creators speaking at the event, their work, and the audience.

PLAYGROUNDS FESTIVAL

In addition to a sold out two-day event in Tilburg, Playgrounds collaborated with Submarine Channel (that's us!) on an additional one-day edition of Playgrounds in Amsterdam. The program featured a series of inspiring artist talks by the likes of Jorik Dozy, Environment Lead Artist at Industrial Light & Magic, Sil van der Woerd with Rutger Hauer who premiered their brand-new short 'Requiem 2019', Justin van der Lek and Jaqueline Makkee of Digital Domain, designer and director Henry Hobson, motion design studio ManvsMachine, popular illustrator Alex Trochut, character designers PepperMelon, BAFTA-award-winning animator Mikey Please, and many more…
The speaker's credits are not superimposed afterwards, but are integrated into the mysterious subaquatic dreamscape, adding to the coherency of the piece.

SOFTWARE
Production schedule for the titles was only three weeks, which didn't allow for much pre-production and concept creation before heading into 3D, says Jordi Pagès, "I always like to start with pen and paper, doing some sketches to avoid technological constrains. Although in that particular case, and considering the time given, I had to jump straight into production with the 3D software."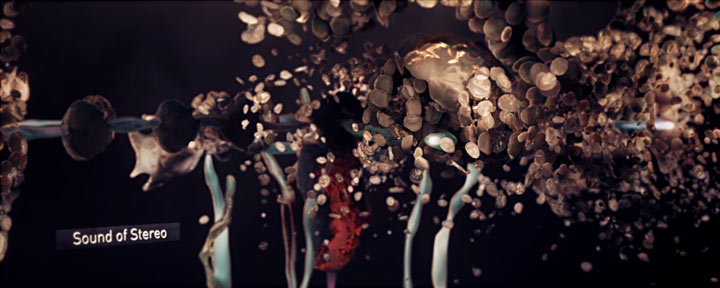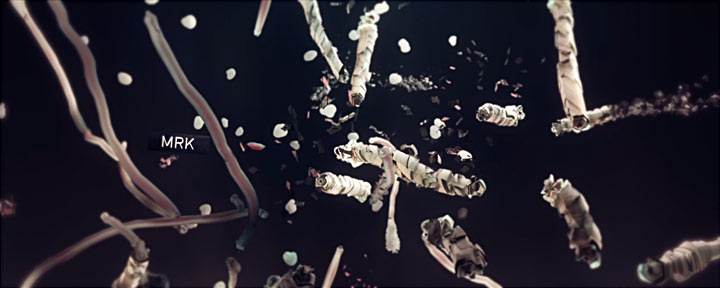 It helped with the production pipeline that all three designers worked with the same tools, Cinema4D for Modelling, Texturing and Animating. Compositing and Grading in After Effects, Photoshop was used for some of the texturing.
It was all worth it concludes MRK, "Playground Festival was a great opportunity to experiment with forms, objects and colours and explore the ideas that have been brewing over the past few months."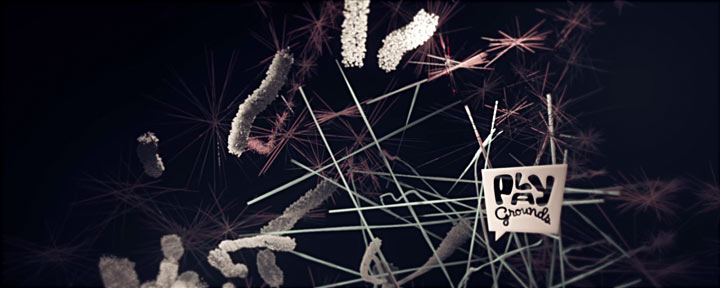 Article: Remco Vlaanderen, © Submarine Channel 27 November 2012. Last update: November 28 2012.
RELATED POSTS
About Jordi Pages with MRK and Gabor Ekes
Gabor Ekes
Gabor Ekes is a freelance digital artist based in London who combines his love of storytelling with technical expertise to create cinematic experiences. Working on experimental projects for both brands and individuals, Gabor actively collaborates with a number of creative agencies to create work that take the viewers beyond the static image.
Recent Projects include Beneath the Surface, Parasite Choi, t1/2, Crysis and Skyfall.
gaborekes.co.uk