The documentary 'Tel-Aviv-Jaffa' investigates the urban history of the city that celebrated its 100th birtday in 2008. The title sequence shows the evolution of Tel Aviv in a stylized form, from a small village to a large scale modern city.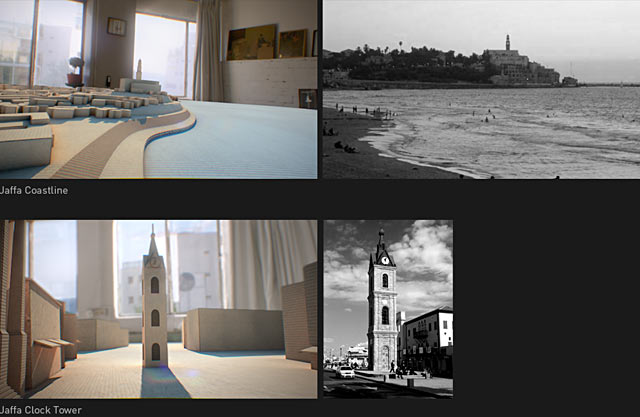 Title designer Liron Damir: "Because the documentary sort of dealt with the "making of" the city, the decision was to parallel this by creating a title sequence that uses "making of" aesthetics that show the city being built."
"We created a scaled-down, abstract architectural model of Tel-Aviv, including several landmarks that had significant historic and cultural value, especially ones that would capture the spirit of the time they were built in. We had a lot of discussions arbout what landmarks to include, so as to keep the story layered. If you don't know a thing about Tel-Aviv, you'll take the title sequence at face value. But if you are a bit familiar with the history of the city, you'll recognize the references to stories and controversies."
You made it look like a time-lapse movie. Did you ever consider creating cardboard models and shoot it on set?
"Yes, that was the original idea. We started experimenting with ways to craft a set as complicated and detailed as we wanted for this piece, and came as far as starting to build a home made version of a camera motion control rig. Quite a crazy idea really. Eventually we realized we couldn't afford the time it would take to produce the sequence that way and humbly double-clicked the rest of the way through. But we constantly referred back to the original materials and the organic feel it had. So it's nice to see people react to it as if it was actually built."
Can you explain a bit about the production process?
"After pinning down the concept and design, the process was kind of straight forward. When the storyboard was finished, I started off with modeling the specific landmarks in 3ds Max, then moved on to incorporate them into a videoboard. The major technical question was how to create a procedural 3D system that would let me easily animate the creation of the large cityscape shots, seen in the middle of the sequence. In these specific shots I definitely didn't want to animate each and every model by hand. I tried some very complex particle system rigs, where each particle served as a building with self contained animation. That was very cumbersome and took ages to compute. So, instead I decided to create one big model of the city, and used a very simple set of modifiers with a greyscale map to control the animation. That worked fantastically!"
"Basically there are three layers of action taking place: the background, the actual model and the hands. The background is a panoramic shot taken in a friends' studio. The hands were shot very simply against green screen while watching the videoboard and trying to emulate a convincing posture. All the layers were composited inside Nuke."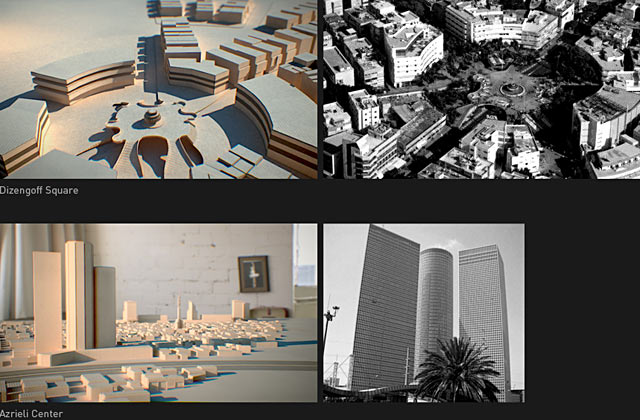 Interview: Remco Vlaanderen © SubmarineChannel, 2008. Last edit: 11 Oct 2010.
About Liron Damir
Liron Damir is an Israeli designer. He studied at the Bezalel Academy of Arts and Design in Jerusalem, Graduated with this project for Icelandic band Sigur Rós. Worked as a freelance motion designer creating title sequences and commercials. Recently he finished a two year work as (one of two) head creatives of GUI design for this new generation cellular phone.