Forget child prodigy wizards with lightening shaped birthmarks and hipster glasses. Children's books of yesteryear used to be a touch more quaint. Mary Norton's 1952 children's novel, "The Borrowers" was a 159 page literary hit for a knee high demographic in the UK and has since sparked numerous movie adaptations. For this most recent made-for-tv movie, Austrian motion designer Clemens Wirth created a sparkling opening title sequence with an air of innocence and melancholy to introduce the revamped storyline.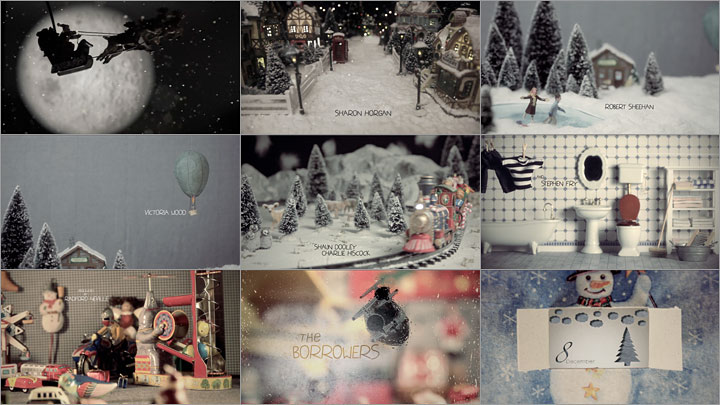 An Icelandic rendition of the sweet and delicate Christmas tune "Have Yourself a Merry Little Christmas" tinkles ever so softly as little toys flutter, twirl, and chug across the screen. The song that was made famous by Judy Garland and Frank Sinatra in the 1940s and 1950s initially sets the scene for a winter wonderland of miniatures before music boxes, clowns and robots take center stage.
It is through these toys that we are introduced to things of miniature proportions – a fitting introduction to a movie which centers around tiny people that live in the floorboards of a house occupied by humans. With themes of dreams contrasting with reality, and innocence contrasting with a troubled heart, the opening sequence for "The Borrowers" subtly starts the film's story.
Motion designer Clemens Wirth landed the job based on his SXSW Title Design Award-nominated title sequence for Herbst. Director Tom Harper discovered them at Art of the Title and immediately got in touch, says Clemens, "He felt that the tiny scale of the miniature sets of the Herbst would fit perfectly to the world of the Borrowers." The designer is still grateful for the opportunity, as the production studio usually hires an established facility to do the titles, instead of a young motion designer who is fresh out of school.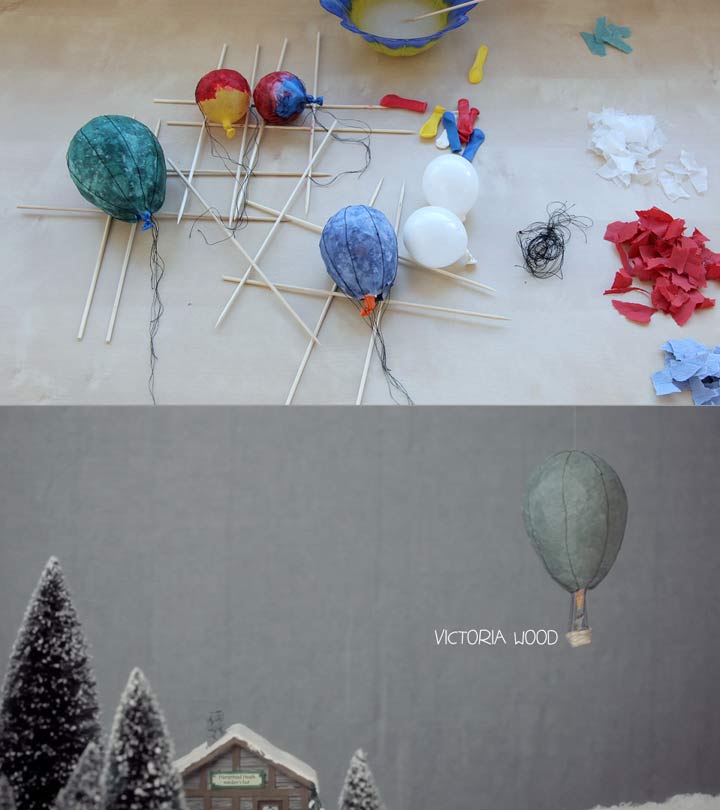 August 2011. The sun is shining, the asphalt melting, but Clemens Wirth is inside watching Christmas movies and playing cheesy Christmas songs just to get into that good old December holiday spirit. "Dean Martin kicked me into the right mood! I also flew to London to visit Tom Harper and to see the first rough cut of The Borrowers. This helped me a lot to get a feeling of the style and atmosphere of the movie."
Working with miniature sets and tiny props is challenging and requires a lot of patience, but Clemens loves it, "creating dioramas and analogue work with handcrafted objects makes me really happy.
"I didn't have an office at that time so I built and shot the title sequence in the limited space of my apartment. I built a set, filmed it, edited it and sent the clip over to the director and producer. Once they accepted the scene, I removed the set and started to work on the new scene."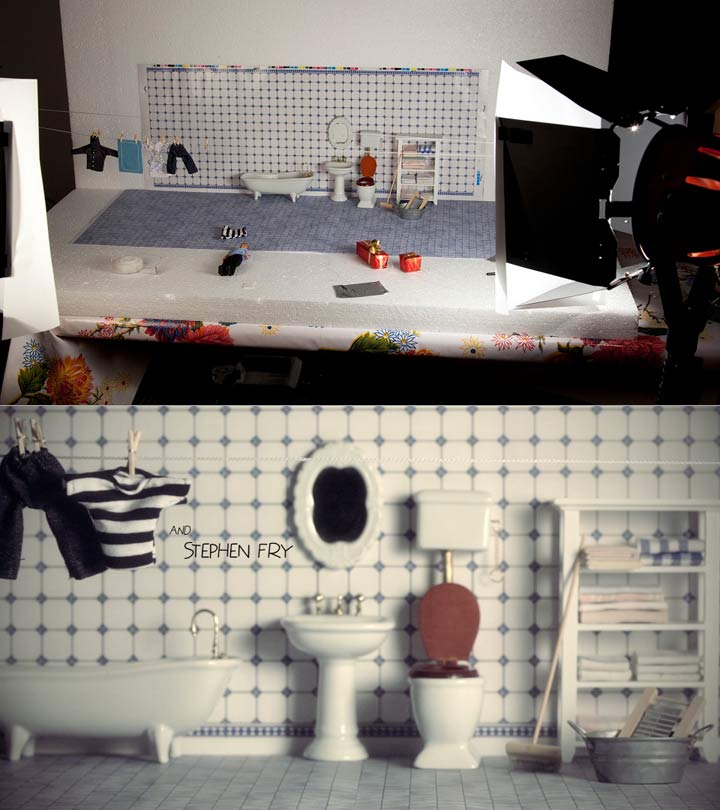 Thank you Clemens for your wonderful title sequence and for sharing your thoughts. What will you be doing for X-mas this year!?
"Very classic, I will be Driving Home For Christmas of course with Chris Rea in the ears and spent some time with my family, eating eating eating and watch The Borrowers of course. Fondue it is…
Article: Rani Nugraha and Remco Vlaanderen © Submarine Channel December 19, 2012. Last update: December 20.
About Clemens Wirth
Clemens Wirth is an Austrian filmmaker and motion design artist. After graduating from the University of Applied Sciences FH-Salzburg in Austria with a bachelor of arts degree in multimedia art, Clemens earned attention with his Macro Kingdom series and the Herbst title sequence. This led him to doing the main titles for the 2011 BBC remake of The Borrowers. He was recently nominated for the SXSW 2012 Title Design Award for the Herbst title sequence.