Run, Man, Run
designer: Iginio Lardani • comment
To view any of the title sequences you need the latest version of Flash Player 10 plugin or higher. You can download the Flash Player plugin from
Adobe.com
about
the designer
links
comments
show all info
Corri, Uomo, Corri (original title) is Sergio Sollima's sequel to The Big Gundown.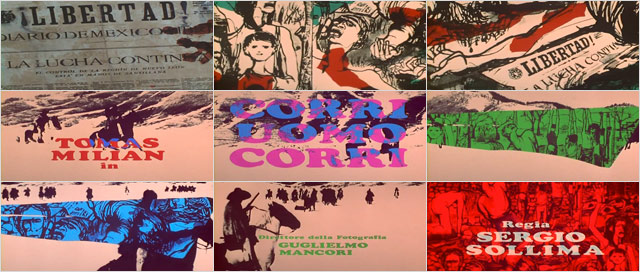 The opening title sequence sets the tone. This is said to be Sollima's most political western. The opening sequence starts with images of a worn down, blood stained Mexican newspaper. A dramatic cut sequence follows, made up of close-up images of a sinister, expressive ink drawing that depicts the victims of some violent atrocity, referring to the Mexican revolution. In the next scenes, these images are juxtaposed with classic Spaghetti Western scenes featuring gangs of men on horses engaged in battle. Title designer Iginio Lardani applies his trademark duotone style showing his talents as a colorist. And again, Lardani's admiration for Pop Art and Warhol's early silkscreen works is obvious.
Title designer

Not so much is known about Iginio 'Gigi' Lardani, the designer of iconic title sequences such as The Good, The Bad and The Ugly and A Fistful of Dollars. After a long search, I managed to get in touch with Iginio's son Alberto, a film editor, who has worked with his father for more than twelve years. In the email interview, Alberto tells me that his father didn't attend any kind of graphic design school. "He was an autodidact with a great interest in painting. He entered the film world as a film poster designer and created the Italian poster of 'High Noon', among others."

"Besides the 'Dollars' trilogy, my father designed the title sequences of many other Italian films, but his main activity was the editing of film trailers. His trailers of 'Mogliemante' by M. Vicario and 'Una Giornata Particolare' by Ettore Scola were awarded first and second place among five hundred trailers within the Cannes film festival of 1978. And Iginio created TV ads. He was allowed an entirely free hand when designing title sequences and film trailers and he worked from his own study."
Alberto also clarified the confusion surrounding Lardani's name, who was sometimes mistakenly credited as Eugenio Lardani. "My father's name was not Eugenio, but Iginio Lardani, but everyone called him Gigì."
Since 1986, the year my father passed away, I have continued his work," Alberto concludes. He also mentioned that he was working on a website about his father's work, as well as his own. Alberto Lardani sadly passed away in 2010.

Text: Remco Vlaanderen, last update: July 14, 2011

Full credits
Director (film)
Sergio Sollima
Title Designer
Iginio Lardani
Music
Bruno Nicolai, Ennio Morricone (as Dan Savio)
Voice-over
Tomas Milian

Links
IMDB
show website