WILD IS THE WIND!
When title sequence maestro Kyle Cooper was a kid, he used to pick words from the dictionary and make graphic drawings out of them, to illustrate their meaning. A fitting foundation for his work on Twister, the tornado-chasing blockbuster that swept cinema audiences worldwide off their feet (ba-dum-ch!). Cooper created the main title sequence with Garson Yu back in 1996.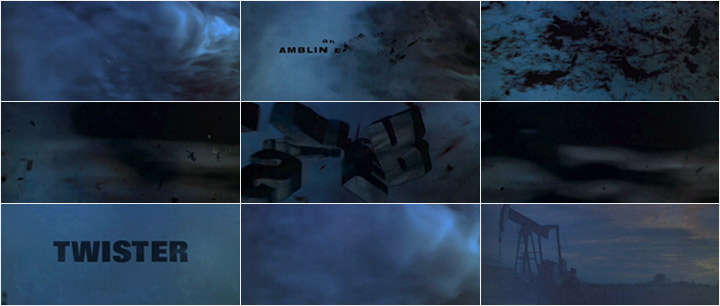 In the vein of Cooper's early graphic experimentation, the chunky, three-dimensional typeface for Twister exploits mid-Nineties state-of-the-art CGI to manipulate the letters as they materialize in the eye of the storm, disappearing all at once from the screen, in a dark'n'stormy flourish of meteorological drama.
Accompanied by a grimly forbidding soundtrack, the tension builds as an ominous cloud looms in the centre of the screen. And as the audio builds, the cloud swirls, explodes and vanishes, taking with it a million tiny fragments of Oklahoma trailer park debris.
Cooper's Twister title sequence reflects in a moment the exquisite beauty of Mother Nature's madness – and her power to wreak devastation on silly little humans like us.
Text: Lotje Sodderland, © SubmarineChannel

About Kyle Cooper
Title designer Kyle Cooper has been credited as the man who revitalized the title sequence as an art form. His groundbreaking title sequence for Se7en (1995) changed the way we look and think about title design today and is arguably the most imitated main title ever made. The work was hailed by New York Times Magazine as "One of the most important design innovations of the 1990s".
Full credits
Title designers
Kyle Cooper, Garson Yu
Production company (main titles)
RGA/LA
Digital production assistant
Christina Drahos
Production company (movie)
Amblin Entertainment, Warner Bros., Universal Pictures