Director Roman Polanski directed Che? in 1972. It's the last movie he made before heading off to the US to shoot Chinatown – the movie he is now most known for. The subtle and poetic handwritten title sequence for Che? was designed by Jean-Michel Folon – a Belgian artist living in France. It's a lovely ode to the classic Hollywood title sequences of the 1930's and 1940's, set to Schubert's "Death and the Maiden."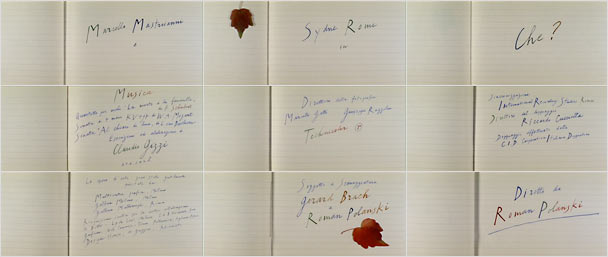 Che? (English title: What?) is an Italian-French-German comedy directed by Roman Polanski, released in 1972. Performed among others by Sydne Rome and Marcello Mastroianni, the film is a burlesque comedy with some eroticism inspired by Alice in Wonderland.
Nancy is a young American hippie who, after an attempted rape, seeks refuge in the villa of the old eccentric billionaire, Noblart. She meets an extravagant and hysterical cast of characters and writes down her rather naive account of her adventures in the villa in her private diary. The film did not do very well at the box office, and Polanski starts filming his most famous movie, Chinatown, in the United States.
Polanski has always been very aware that the graphic design and typography of film titles deserve attention as well as aesthetic refinement. The titles for Che? have a certain ironic quality that you just can't ignore. The director put his trust in the Belgian artist Jean-Michel Folon, who has lived in France for many years. Polanski recalls, "I loved Folon's work and I thought his style would be very suitable for Che? He came up with the idea of a book of which the pages are turned, like in the movies of the 1930s and 1940s. He actually wrote each title by hand himself. The garish and naive colors of the handwritten typography were also a way of representing the silly-gullible-cutesy side of this young American girl's character." Still, Folon's round and somewhat childish handwriting is much more serious than that of the young American in the film.
In terms of music, the very playful interpretation of Death and the Maiden by Franz Schubert accentuates the irony. The somewhat somber composition, is played here in a very joyful way. The theme of Death and the Maiden, which has its origins in the Greco-Roman mythology, is full of meaning. Since the Sixteenth Century it's been a source of inspiration for artists. The image of the young woman in the song evokes associations with the promise of life. Her beauty, the object of contemplation and desire, renders her fragile and vulnerable to the ravages of time and aging, as she becomes subject to death. These scenes of seduction by death and the young girl in his arms, are usually made up by men from their perception and fantasies of the woman as an object.
An interesting side note: in 1994, Polanski directed a film called Death and the Maiden.
These opening titles, with Schubert's composition combined with the calligraphy blend a certain candor with seriousness, making this comedy perhaps seem more dark than it actually is.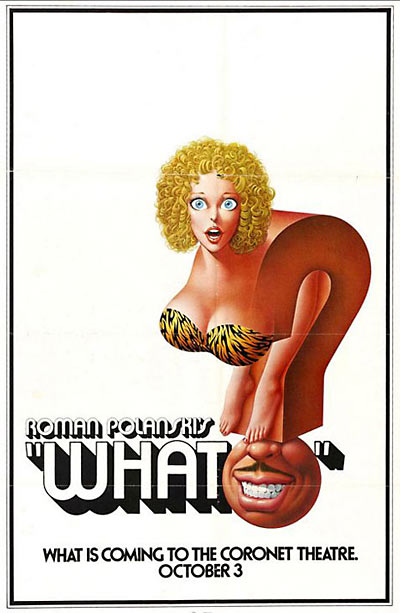 "Che?" English poster
Text: Laure Chapalain, © SubmarineChannel 2011. Thanks to Generique & Cinema – the French title design website by Alexandre Tylski
About Jean Michel Folon
Jean-Michel Folon was born in 1934 in Belgium and died in 2005. He used a wide variety of media in his work, which includes watercolors, printmaking, sculpture, animation, wallpaper designs, painting, designing stamps and stage sets. His initial training was as an architect, but he abandoned his studies in the mid-1950s and moved to Paris. He stood out with his work as an illustrator, famous for creating characters with lost expressions on their faces, floating in baren landscapes or in oppressive urban spaces. His illustrations questioned Western society, which was in line with the spirit of the decade. Folon worked for magazines such as Esquire, The New Yorker, Time and Le Nouvel Observateur. He has worked extensively with his friend, Milton Glaser. In France, he made his mark on the world of television with his opening and closing sequence for channel Antenne 2, in collaboration with composer Michel Colombier, broadcast between 1975 and 1984. He has exhibited worldwide, from Japan to Australia, most notably in the Grand Palais in Paris and the Metropolitan Museum of Art in New York. The artist has its own museum, the "Folon Foundation," which he founded himself in 2000 in Belgium.
Full credits
Title designer
Jean-Michel Folon