The emphatically French-flavored title sequence for this 2009 film adaptation of vintage illustrated children's book Le Petit Nicolas, brings to life the original drawings by veteran cartoonist Jean-Jacques Sempé to project a nostalgic 1950s aesthetic.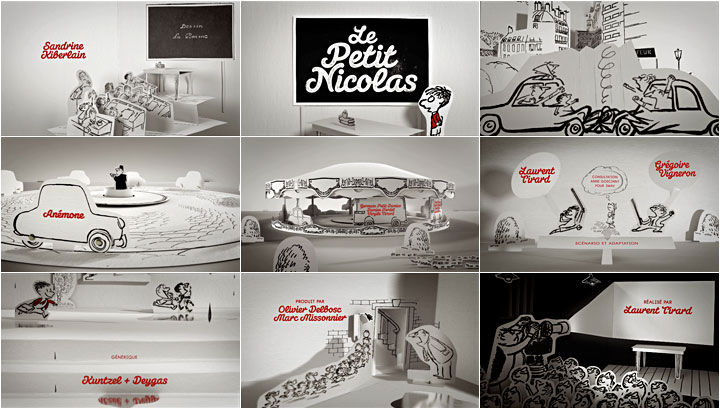 The work of seminal creative duo Kuntzel + Deygas, the animation portrays a 3-D paper-cutout, pop-up book world, where the characters are introduced in a series of naïve caricatures that hint at what we can expect from little Nicolas, our child protagonist. It's a simple world, populated by mummies, daddies, and small discoveries, where the only splash of color in an otherwise minimal environment is reserved for the credits – and Nicolas' sweater, so we know just who he is!
A clear departure from the ingenious and much-loved title sequence they created for the Spielberg movie Catch Me If You Can, Kuntzel + Deygas' work for Le Petit Nicolas demonstrates the breadth and scope of this unstoppable duo's talents.
Other recent examples of title sequences that explore the pop-up book or paper cut-out concept:
United States of Tara
Bedtime Stories
The Starter Wife
Nanny McPhee and the Big Bang
Article: Remco Vlaanderen, © Submarine Channel 2010.
About Kuntzel and Deygas
Artist duo Kuntzel & Deygas live and work in Paris, from whence they operate their innovative design studio which now encompasses award-winning and globally-recognized works in illustration, animation and product design, including the ubiquitous Caperino & Peperone characters, which became the mascots of Parisian hipster mecca Colette.
Full credits
Title designers
Kuntzel & Deygas
Director (movie)
Laurent Tirard