In little over 10 weeks, Paul Donnellon and his team of animators at VooDooDog had to deliver a fabulous happy-go-lucky end credit sequence for Nanny McPhee and the Big Bang, whilst working with a director more used to drama than animation. A story about the lasting appeal of stop-motion animation in the CG age, about having to make creative compromises, and about childhood inspirations.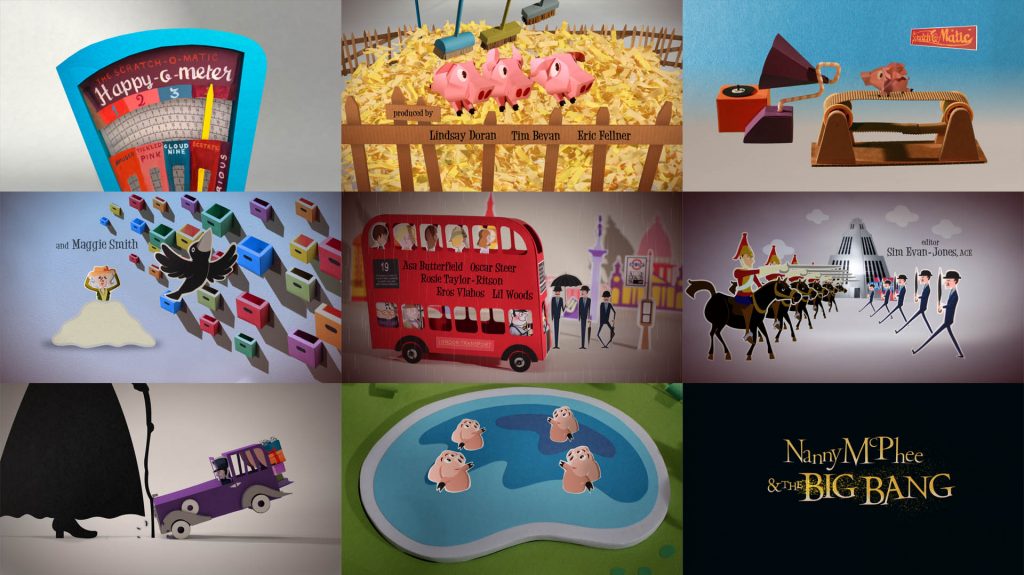 THE MAKING OF THE TITLE SEQUENCE FOR NANNY MCPHEE AND THE BIG BANG
An interview with Paul Donnellon
Title designers always want to explore their boundaries and try out something different. "We were in that trap aswell," says creative director of VooDooDog, Paul Donnellon calling from his London studio. After doing the end credit sequence for the first Nanny McPhee movie, which was flatter and had a cut-out animation approach, Donnellon wanted to make it 3-dimensional. And he knew he wanted to do stop-motion. With little over ten weeks from concept to execution, he didn't exactly pick the easy way out.

"For about 10 years or more, everything's been so 3-D," says Donnellon. "The problem is that nobody is pushing the technology further. Everything's got that same old 3-D look. When Toy Story 3 came out, it didn't look any different to Toy Story from 1995. I think that said everything."
Creating a 3-D sequence can be frustrating because you have to go through so many stages, says Donnellon, "it never feels intuitive. That's why we wanted to do a stop-motion sequence. It's a bit more like playing, like being a kid and making your own 8mm films. Nanny McPhee is children's film, and it's almost as if children made the title sequence."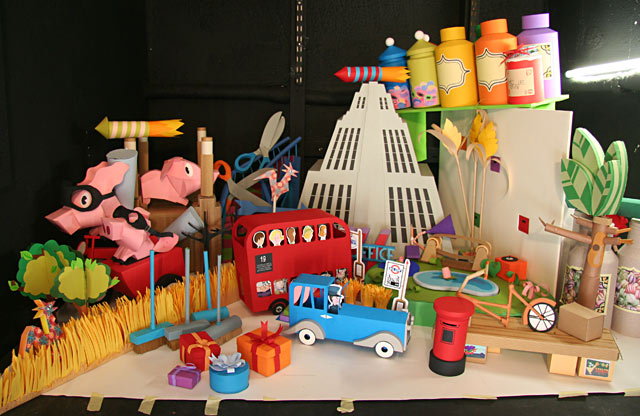 THE PROCESS
Creating a stop-motion title sequence of this length (2'56") is a long and arduous process, with a very specific workflow that can be hard to grasp for the uninitiated. Emma Thompson, who wrote and produced the film, hired a new director, Susanna White. "It was her first feature film," says Donnellon, "and she had her own people she liked to use. We were the only ones left over from the first film." And even though VooDooDog made the end credits for the first Nanny McPhee film, Donnellon still felt like he was "starting from scratch."
Donnellon first made big drawings on A3, putting out a lot of different ideas.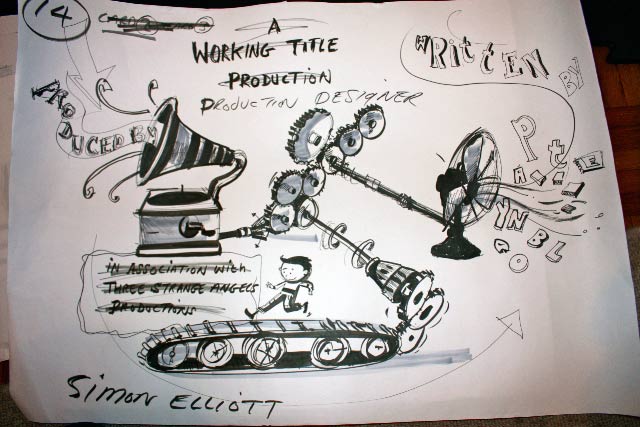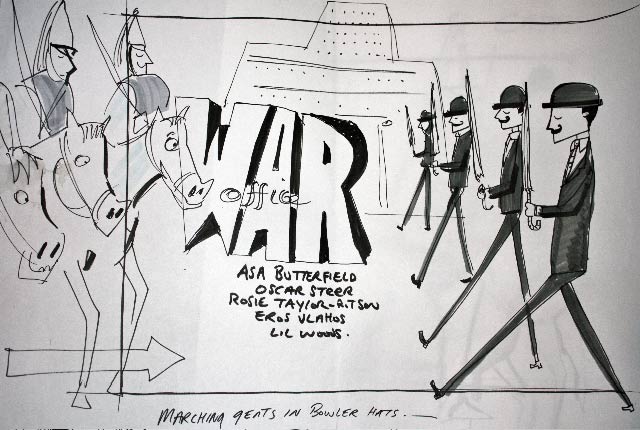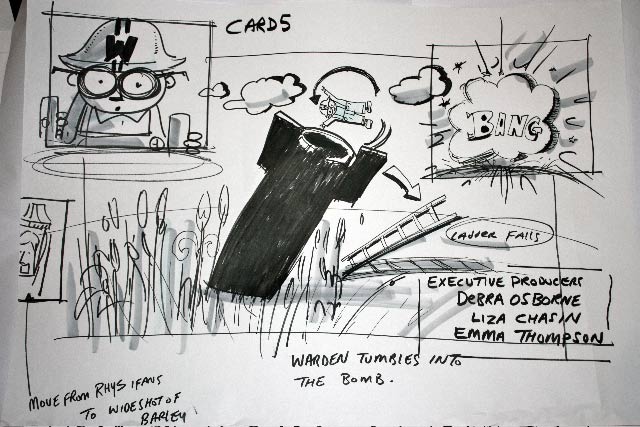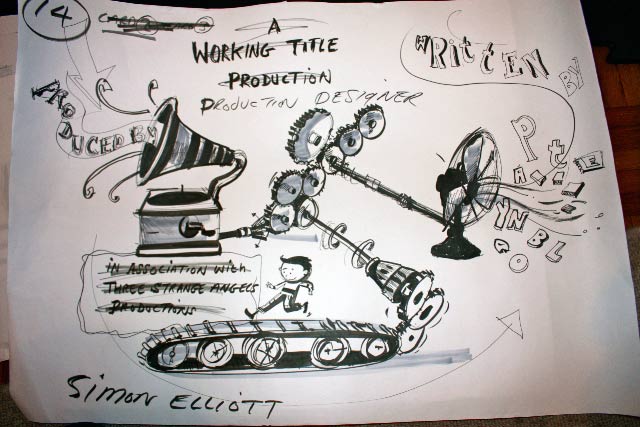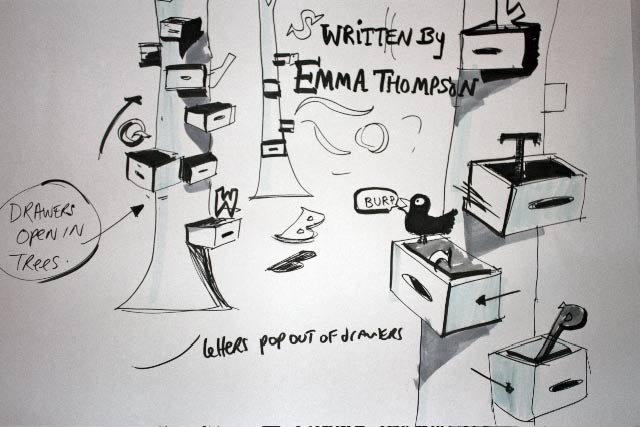 "The hard bit in the pitching was to reassure the director. The project needed a lot of trust, because we had to wait and shoot things, build models…
"The director wanted some tests, which were a bit darker. But she thought it was going to be all black-and-white and gloomy. That caused a bit of stress in the process."
"This test is in two parts: the boy on the treadmill, then followed by the black dog in the forest. This was done months before we got to work on it, so you can see the time lag between talking about the job and it being made."
VooDooDog only had little more than ten weeks to finish the credit sequence, including all the model building. Not that much time for a stop-motion project. "The funny thing is, we met the director a year before she started shooting. But it wasn't until after the edit that they got us back in. It was left to the last minute. That would be the one thing that I would change. Because it's really not a money issue. You just want more time to do better work."
COMPROMISES
Even though Donnellon is happy with the final result, there were a few artistic compromises, he explains, "In the London scene, we were only going to have the red bus. Everything else was going to be sort of black-and-white. But that got changed. It had to be more colorful. We also wanted to make the animation look a bit more 1940s, but they were worried about it looking too old fashioned."
"We tried to keep a few references to Eastern European stop-motion animation, like the winter trees we had in the background – very black and silhouetty. They looked good, but the director freaked out and we had to reshoot it and remove the trees."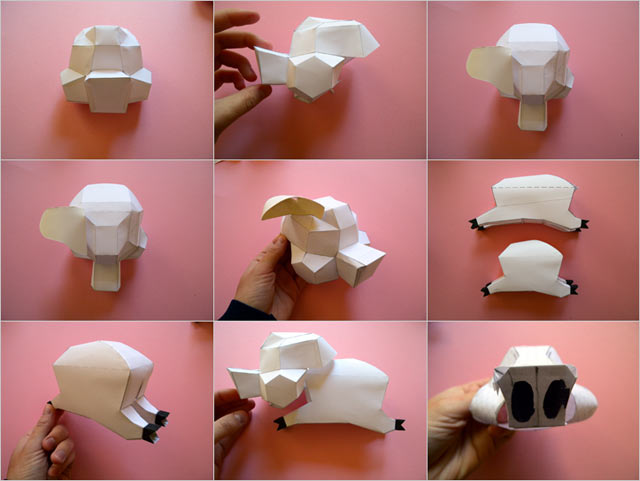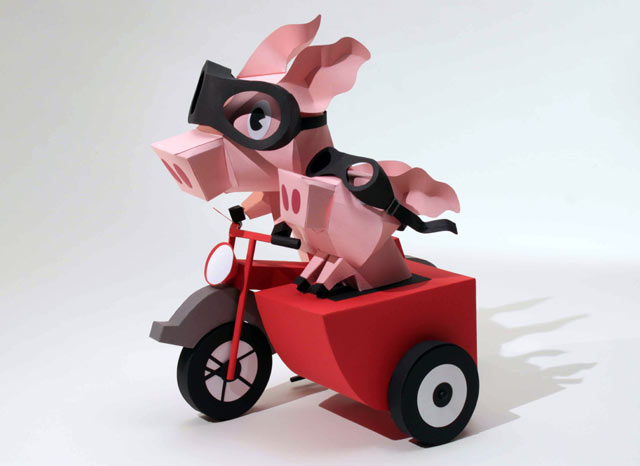 The majority of the 3D paper models for the project, such as the pigs, motorbike, Rolls Royce, bus, war office, trees, gramophone were made by freelance model makers Amy Burnand, Fiona Barty and Angela Kiely. Extras like grass were made later by VooDooDog, as were all the 2D characters.
"We animated the paper models in Flash, and we printed them all out so they had a printed texture. Then we cut them out, stuck them in the set and rephotographed them."
The film was released as Nanny McPhee Returns in the US. "That's how peculiar the marketing sometimes is," Donnellon comments, laughing, "in the film, there are kids defusing a rocket from World War II, but they got all nervous of children and bombs and didn't want anything associated with explosions. But Nanny McPhee feels more like Chitty Chitty Bang Bang or Bedknobs and Broomsticks" – movies from the late '60s, early '70s that Donnellon saw as a kid. They were an inspiration during the making of the McPhee titles, he says.
Paul Donnellon is 40 now, and VHS didn't come until the 1980s. The stuff that influenced him were animations on 'the telly' or in the cinemas, "I guess cinema was a bit more special in those days. In some ways, the internet has diminished the power that cinema had."
Growing up, Donnellon watched a lot of Disney, but he had an epiphany at age 10, after watching Yellow Submarine – the psychedelic animated Beatles musical. "That gave me nightmares," he recounts, "but then it stayed with me – the strangeness of it. I thought, Oh, you can do animation that's not Mickey Mouse!"
It wasn't until Donnellon first saw the animated Pink Panther title sequences in the cinema, that the 'animator inside' was triggered. "For me it was the best bit of a film, great humor and writing. It made me feel really amazed, like you're in another world and it made me want to do animation."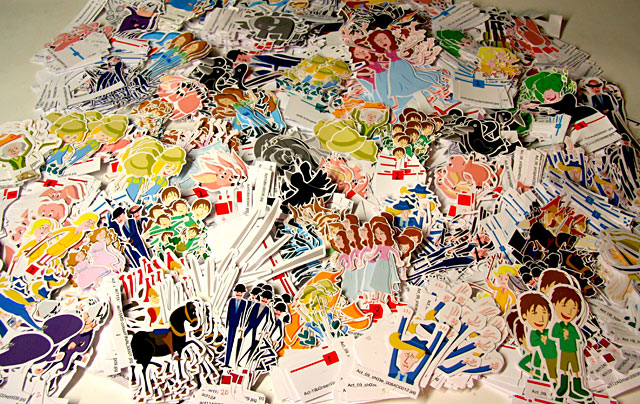 Photos used with kind permission by VooDooDog and Amy Burnand.
Article: Remco Vlaanderen, © Submarine Channel 2010. Last update: May 30, 2011
About Paul Donnellon
Award winning London-based studio that specializes in animation and live action. VooDooDog was founded by Paul Donnellon and David Z. Obadiah in 2003. The studio has created a number of striking animated title sequences with a classic handcrafted feel for movies such as Love in the Time of Cholera, Smokin' Aces and both Nanny McPhee movies. Senior Designer at VooDooDog is Andrew White.
Full credits
Title Designer
Paul Donnellon/Voodoodog
Senior Designer
Andrew White
Producer
David Z.Obadiah
Director (movie)
Susanna White
Model makers
Amy Burnand (website), Fiona Barty (website), Angela Kiely (website)