"For me, Silent Hill is about sadness, anxiety, flesh,
sex, beauty and craziness"
Kook Ewo

Whatever you thought about the movie, I'm sure you'll agree that this is one hell of a title sequence. Directed by French motion designer Kook Ewo, with 3D animation and visual effects provided by Chez Eddy, the end title sequence of Silent Hill: Revelation is designed to keep you spellbound in your seat. The Spider-Monster will make sure of that…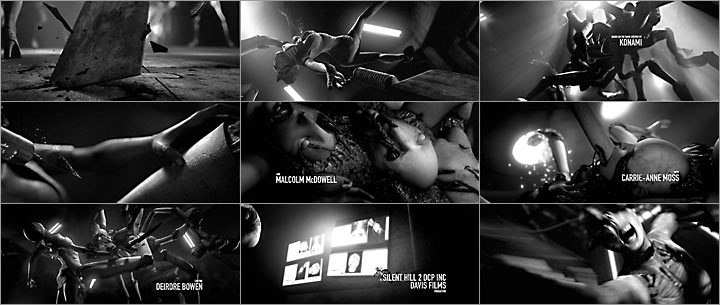 The sequence starts with a camera creeping over a crooked hospital floor. The subjective camera then pans up via a rusty cleaver that has just been hacked violently into the floor, leading our gaze straight into the trap of a gruesome death scene that is frozen in time. Then a jump-cut to the first credit.
Like a 360-degree rollercoaster ride in slow motion, the inquisitive camera takes the viewer on a two-minute exploration into the epicenter of some kind of battle scene of sheer unfathomable horror. Rendered in grainy black-and-white, the viewer is presented with unholy panoramas of liquified brains oozing out of petrified skulls, syringes being plunged into unwelcoming veins, and slim limbs in the midst of being severed. There is a terrifying sense of beauty to this stone cold mass of intertwined, mutilated humanoids. Suspended in time, the scene acquires an almost sculptural, eternal quality.
"That was the concept behind the titles," says Paris-based title designer Kook Ewo, "to slightly break the grammar of this kind of 'violence scene' by creating a beautiful, slick and 'sexy' moment in a surgery room."
The fluorescent light coming from above symbolizes the recurrent themes of hospitalization and insanity that run through the Silent Hill games and movies.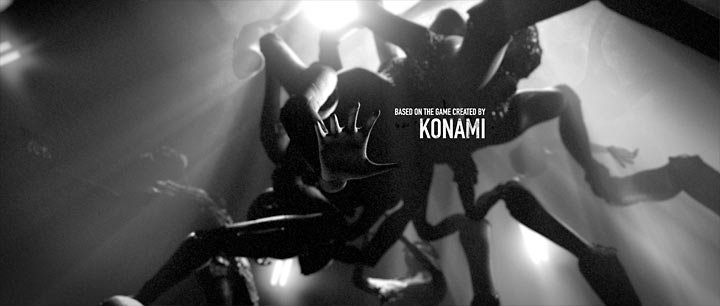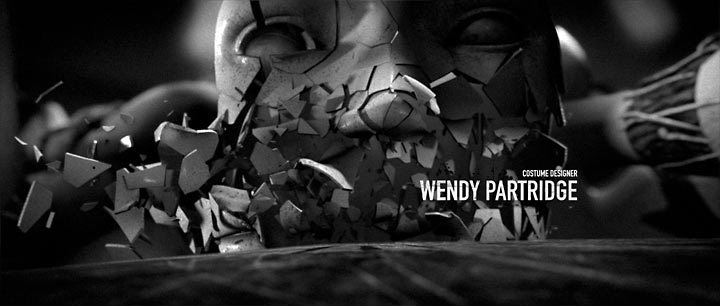 LINKING VIOLENCE, CONTEMPLATION AND SEX

In the parallel dimension where the fictional town of Silent Hill is situated, monsters are physical incarnations of the subconscious mind. They are manifestations of deeply rooted fears, anxieties and childhood traumas.
Revelation's title sequence features two of the many monsters that inhabit Silent Hill, The Nurses and the Spider Monster. The latter is quite the beauty, made up of mannequin heads and legs.
There's a complete Wiki site devoted to Silent Hill's multifaceted horrorverse featuring extensive character background stories, as well as speculations about what the monsters might represent. But Ewo agrees that the world of Silent Hill is too complicated to summarize in a title sequence. He chose instead to focus on some aspects of its world, "violence, contemplation and sex were linked in the sequence to create a fascinating, strange and unconfortable feeling.
"The interesting thing is that all those aspects put the player in a very strange moral position. For example [in the game], you have to kill creatures that are suffering, or you have to kill these faceless nurses that are also very sexy. That's very orginal for a game."
Ewo agrees that the camera movements are similar to those in his titles for Splice. "For me, the work of the title designer consists of bringing a new note without betraying the main score. And in my point of view, camera motions are one of those 'keys' that allows me to bring some of Kook's style, without betraying the movie."
TYPOGRAPHY
Notice the interplay between the static and simple credits and the 3-D images – subtle, but strikingly effective. Like the main title reveal, for example. As the camera pans to the right, the movie title in the center of the composition appears to be propelled forward, riding on the X-axis of a big knife, 'kicking' an evil Bubble Head Nurse in the stomach.
PRODUCING A FULL CG, STEREOSCOPIC SEQUENCE IN ONE MONTH
"The time, just the time!" answers Kook frantically when I ask him what the biggest challenge was. "We did a 2'30" sequence in one month, full CG, stereoscopic. Epic!"
"The production process was pretty unusual this time. I did a first proposal in which the camera was carried, crushed, pushed and thrown by creatures in a rollercoaster sequence."
Pages from the storyboard from the initial concept
"We made a test with Chez Eddy –which is the last animated shot you see in the final title sequence– and everybody loved it," continues Kook. "Then for different reasons, we ran out of time and I was asked to find another idea."
Silent Hill Revelation, storyboard version 2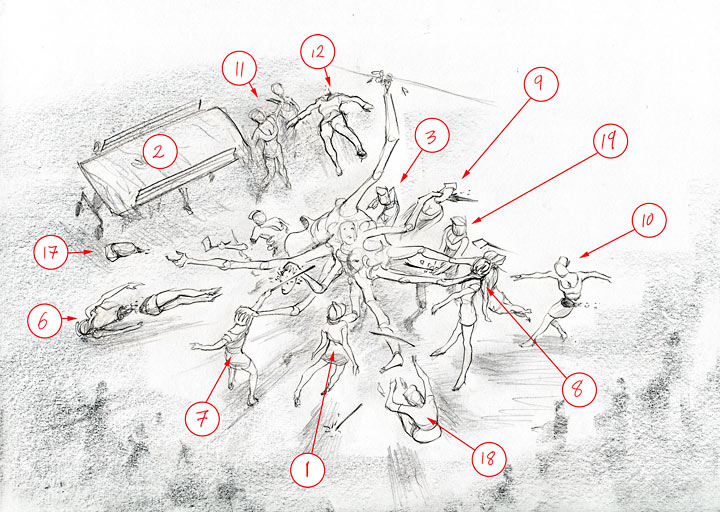 Over the weekend he write down twenty shots, so Chez Eddy's line producer Davy could use what little time he had to quantify all the work for each shot. Kook then picked 7 shots to present to the producers on Monday morning. "The 7 shots I chose all got the green light. On Tuesday we began to make the previz (animatic of camera motions and poses), so we could show it to the production next Monday…
"Then four weeks of hard work with a great team of 12 to make the light and renders. I came over to validate shots two or three times a week."


PRODUCTION: MAKING OF
Featuring interviews with Kook Ewo, vfx supervisor Quentin Marmier, and vfx producer Jean-Francois Bourrel, as well as animatics and storyboards, Chez Eddy's Making Of gives a good insight in the production process.
KOOK'S FUTURE PLANS

Meanwhile, the future looks bright for Kook Ewo. "I'm producing two projects, working on a big title sequence, writing a feature script with a amazing French writer and taking care of Motion Plus Design."
Motion + Design is a French initiative whose goal it is to establish the world's first museum dedicated exclusively to motion design. An ambitious plan. But will it ever happen?
Kook is optimistic, "Yes, I think it will happen. Of course we will need big and visionary sponsors. To convince them, we need to have different tools. One of them is to create a not-for-sale book to explain exactly what the project is and what it would look like – and a cost estimate. We are woking on that now.
"Parallel to that, we've just set up a school section onto our website and we are regulary invited to some shows to present the project."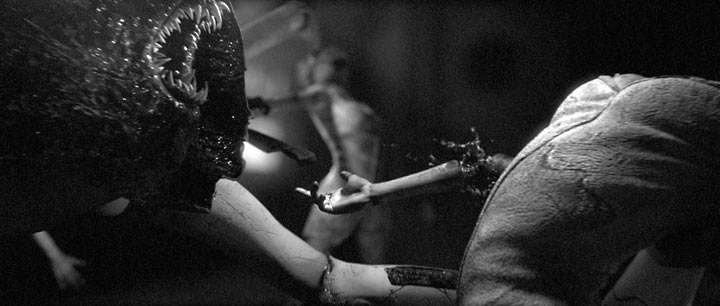 Article: Remco Vlaanderen, © Submarine Channel 29 November 2012.
About Kook Ewo
Born in 1979, Kook Ewo is a Paris-based title designer and director, who first came to prominence with his work on Silent Hill. He has since started directing commercials, shorts movies including Sept. and Black Night is Falling. Ewo's main titles include Splice, Fracture and Solomon Kane. He is a teacher at Goblins School of the Image (Paris' school of Visual Arts) in the Motion Design section. In 2010, Watch The Titles interviewed Ewo in his studio in Paris. In 2011, Ewo co-founded Motion + Design, a fascinating initiative to found the world's first physical center for motion design.
www.title-designer.com
Full credits
End Title Designer/Director
Kook Ewo
End Title Visual Effects
Chez Eddy
Writer/Director (movie)
Michael J. Bassett
Client
Davis Films
Distributor
Metropolitan Films

VFX Producer: Jean-François Bourrel VFX Supervisor: Quentin Marmier, Jean-Charles Kerninon Production manager: Davy Koskas, Karine Friang Character Modelers: Vincent Boutry, Stéphane Dufournier, Selim Mondzie, Nathalie Gatto Set & props modelers / textures: Laurent Fortin, Matthieu Ringot, Olivier Guedj Rigging artist: Maxime Granger, Matthieu Ringot Stereo Supervisor: Tim Mendler Layout artists: Gaétan Louët, Mikael Lynen Animator: Rémi Parisse Lighting / Compositing / shading artists: Quentin Marmier, Jean-Charles Kerninon, Vincent Hochet, Bertrand De Becque, Jonathan Cohen, Mathieu Krysztoforski Editing: Bertrand Le Cabec