The Starter Wife was a successful six-part TV mini-series that launched in the US in May 2007 on USA Network.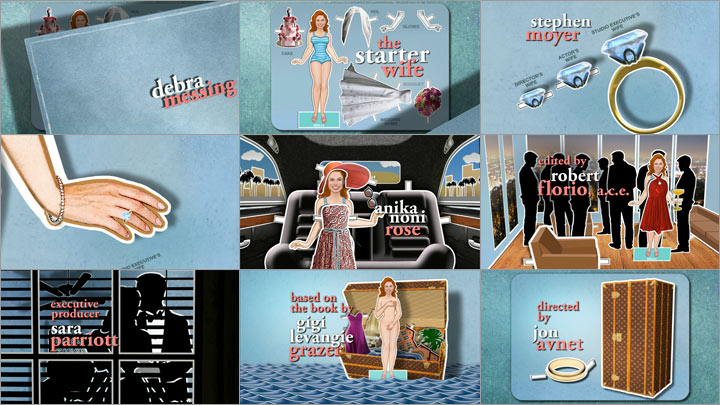 Bruce Schluter: "The Starter Wife was fun. It was my first 2 and-a-half D sequence. The director asked me to design a sequence that showed someone (Debra Messing) having everything… then it all going away. Well, I took it literally. I created a cut out doll set, and showed all her accessories. Then striped her of them. Actually we had a problem with this opening similar to xXx: State of the Union. The director wanted a two minute sequence at first. After it was near completion, the network informed us that they needed to cut it down to one minute, saying, "But don't loose anything. They like it as it is."
About Bruce Schluter
Bruce Schluter has been designing title sequences since the late 1980s. He learned the tricks of the trade at R/GA, had his own company for a while and he teamed up with Richard Greenberg to form Greenberg/Schluter. Nowadays, Schluter designs for another prolific company that specializes in title design, Pacific Art & Title Studios. He worked on the title sequences of The Last Boyscout, Star Trek First Contact, The Long Kiss Goodnight, The Matrix, Miami Vice (the movie), Ricochet xXx: State of the Union and The Starter Wife.
Full credits
Director (film)
Jon Avnet
Title Designer/Company
Bruce Schluter/Pacific Title & Art
Production Companies (film)
3 Arts Entertainment
NBC Universal Television