Greenberg/Schluter's main title for the 1991 thriller Ricochet has suspense written all over it – metaphorically speaking. As a white line crawl across the screen, someone or something casts a mysterious shadow on the dark blue background. Alan Silvestri's score spells crime and horror. The opener's finale in which the movie title is revealed is quite spectacular.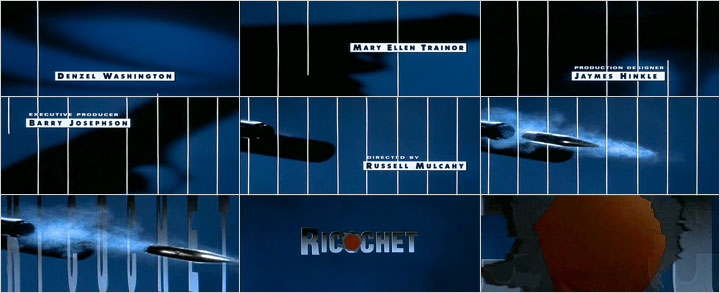 This title sequence was done in the days of optical compositing, a few years before CG became the standard use in the industry.
Title designer and director Bruce Schluter, of Greenberg/Schluter at the time, barely remembers working on it. "It was a Joel Silver picture, and Joel often had a vision of what he wanted. We would refine it and make it work. I remember shooting the bullet element at a place called PMP. It was a fast and painless production."
The bullet motif returns in a similar fashion in Bruce Schluter's titles for 'xXx: State of the Union'.
Bruce Schluter's profile includes a short interview about his work as a title sequence designer.
About Bruce Schluter
Bruce Schluter has been designing title sequences since the late 1980s. He learned the tricks of the trade at R/GA, had his own company for a while and he teamed up with Richard Greenberg to form Greenberg/Schluter. Nowadays, Schluter designs for another prolific company that specializes in title design, Pacific Art & Title Studios. He worked on the title sequences of The Last Boyscout, Star Trek First Contact, The Long Kiss Goodnight, The Matrix, Miami Vice (the movie), Ricochet xXx: State of the Union and The Starter Wife.
Full credits
Director (film)
Russell Mulcahy
Title Sequence
Bruce Schluter for Greenberg/Schluter
Music
Alan Silvestri
Producers
Joel Silver and Michael Levy