Jamie Caliri (Lemony Snicket's, Madagascar 2) directed the opening title sequence for United States of Tara, and he won an Emmy Award for Outstanding Main Title Design for it. The show, executive produced by Steven Spielberg, premiered in January 2009 on the American network Showtime. We asked Caliri a few questions…
Who came up with the idea for the pop-up book?
Jamie Caliri: "The pop-up book idea came from the writers on the show. Dave Finkle drew up some lose boards as a starting point. Later, Steven Spielberg asked for a sequence with the cockroach and the handkerchief."
What do you think is the benefit of creating real pop-up pages as opposed to creating them digitally?
"If you need to make a giant monster tear down a skyscraper, that's hard to do practically, so get the computers. Folded paper on the other hand is not too tough to deal with. Doing paper digitally would have been silly in this case. Paper is easy to work with and I enjoy lighting with real lights. I also love stop motion animation. I think of it as a life style choice because you get to tinker and play with fun stuff. I think it ended up being a fun mix of pop-up and animation."

MAKING OF UNITED STATES OF TARA
How did you come up with the visual style?
"We looked at the show and decided on a heavy lined comic book/graphic novel approach to the illustrations. Alex Juhasz created a few variations and we quickly settled on what you see. For the lighting, I went for hard light when possible. I tried to keep the light as real as you can in a miniature house of paper."
What were the main challenges you and your team faced?
"We had some tough folding challenges, like the house. Morgan Hay built the sets. The house took him the longest. Most of the challenges were in the rigging. We tried to make as many actually working pop-ups as possible. Even so, the timing of the animation had to be right."
"We were lucky to work with stop motion animation great Anthony Scott. He had just finished up supervising animation on Coraline. Anthony would rough out the shot first. We would cut that in to our animatic and make decisions on timing and animation there. Then he would usually shoot one or two takes after that."
"We shot using a Canon 40D and a Nikon D300. We ran Dragon Stop Motion software on a new iMac."
United States of Tara is a 13-episode drama/comedy. The main character is a working mother named Tara Gregson who suffers from a dissociative identity disorder. Tara has three alternate personalities: a rebellious pot-smoking teen named T; a male character, Buck – a beer-guzzling biker and Vietnam vet, and Alice – a 1950s-style homemaker. Caliri's titles reflect the theme of the show and each character's main personality traits.
The credits are set in a simple white typewriter-style font that doesn't seem to blend in with Alex Juhasz' beautiful hand-painted illustrations.
Article: Remco Vlaanderen, © Submarine Channel, 17 March 2009.
About Jamie Caliri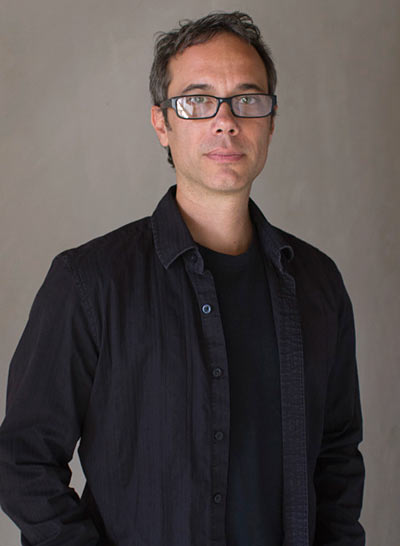 Full credits
Title Sequence
DUCK/LA
Title director/designer
Jamie Caliri
Creative Directors
Dave Finkel, Brett Baer
Lead Animator
Anthony Scott
Illustration
Alex Juhasz
Art Department Lead/Title Producer
Morgan Hay
Art Department Assistant
Yoriko Murakami
Executive Producer
Mark Medernach
Line Producer
Daniel Ridgers
PA(s)
Amanda Belden Scharnberg, Ashley Calhoun, Richie McCord
Series created by
Diablo Cody