The Back-up Plan
designer: Michael Riley • studio: Shine Studio • 4 comments
about
the designer
links
comments
show all info
Shine designed the gleeful and stylish animated Main Title for Jennifer Lopez-vehicle The Back-Up Plan - a rom-com about a woman who dreams of getting pregnant but hasn't found the right man yet. Her back-up plan is artificial insemination, but on the very day of the procedure she meets "Mister Right".

Reminscent of the illustration style of the 1960s and 1970s and, the title sequence shows a woman strolling the streets, as "New York icons graphically morph into baby iconography."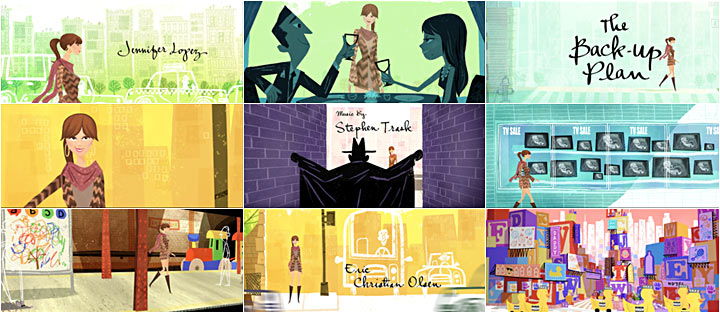 The gleeful and stylish animated title sequence for the new Jennifer Lopez movie The Back-Up Plan was designed by Shine. We see a woman strolling the streets, as "New York icons graphically morph into baby iconography," explains Shine's creative director Michael Riley.

"Director Alan Poul knew he wanted an animated title sequence from the start," recounts Riley. "He wanted a title sequence that would clearly set up the audience for a romantic comedy."

The stylized design of the title sequence echoes the visual language of "limited" animations of the 1960's and 1970's period. "When Alan gave us the brief before pitching ideas, he said he wanted to reference the graphic language from some of the great classic romantic comedies," Riley says. "The movie is set in present-day, so it couldn't be too nostalgic or retro. We looked at a lot of old title sequences from film and television for inspiration but didn't reference any of them specifically. We wanted to be original."

The Back-Up Plan, title sequence, concept 3 (exerpt), Michael Riley/Shine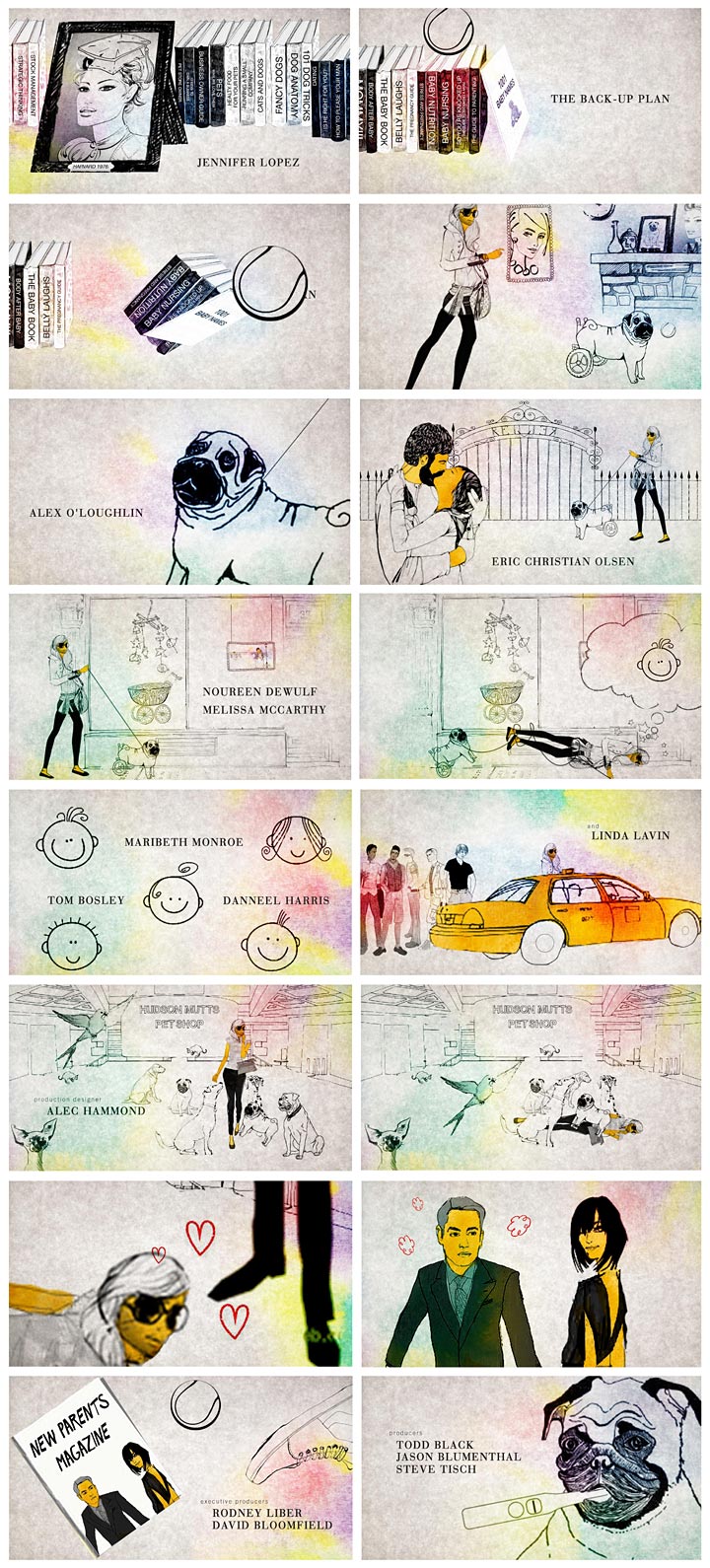 Shine pitched four ideas total, and Alan picked one, says Riley. "The first idea we pitched told the main character's life story before the movie started."

"I remember when we showed this first idea to Alan and editor Priscilla Nedd Friendly in the cutting room, they both said "Uh oh" when they looked at the first frame. That first board was totally off base, because the script had changed by the time we arrived to present the boards.

"Then, we walked through the second of four boards, which was a very stylized, graphic board of a silhouette walking through frame as New York icons graphically morphed into baby iconography. Alan thought the concept showed promise, but he thought it was too cold and stylized. So we came back for a second presentation with a board that had a much lighter, playful feel. That solved the design challenge for Alan.

The Back-Up Plan, title sequence, concept 4 (exerpt), Michael Riley/Shine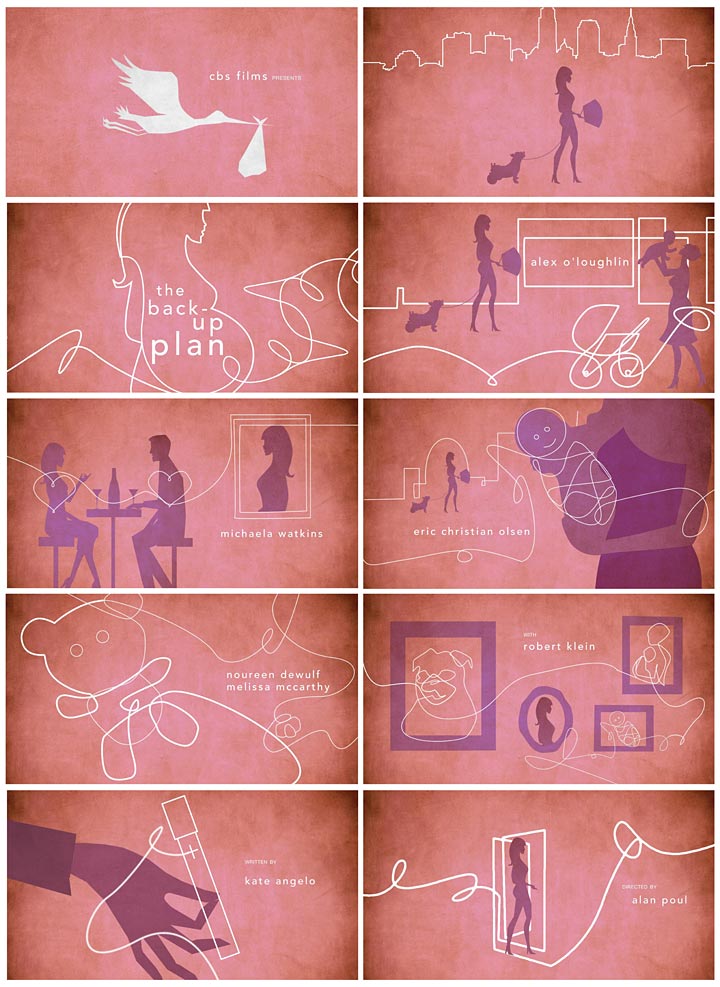 The final project evolved quite a bit from the original storyboard. "Many of the jokes from final piece were in this second board. But many of the ideas and additional gags for the sequence came about through subsequent lively brainstorming sessions with Alan, Priscilla, Shine executive producer Bob Swensen, and myself. Many other ideas came about through collaborative conversations with the team at Shine.

"The character design and the illustrations were all original. Nate Wragg was our illustrator. He has many great styles, but this particular style felt just right to us. He drew many in-between frames so we were able to animate the characters in a simple, graphic way. Dan Meehan and Cory Shaw were instrumental in designing motion and transitions.

Who did the typography?
"Ryan Miziker was our calligrapher. He has a very natural, spontaneous style. Ryan also did calligraphy for us on Taking Chance, an HBO film."

The Back-Up Plan, title sequence, concept 2 (exerpt), Michael Riley/Shine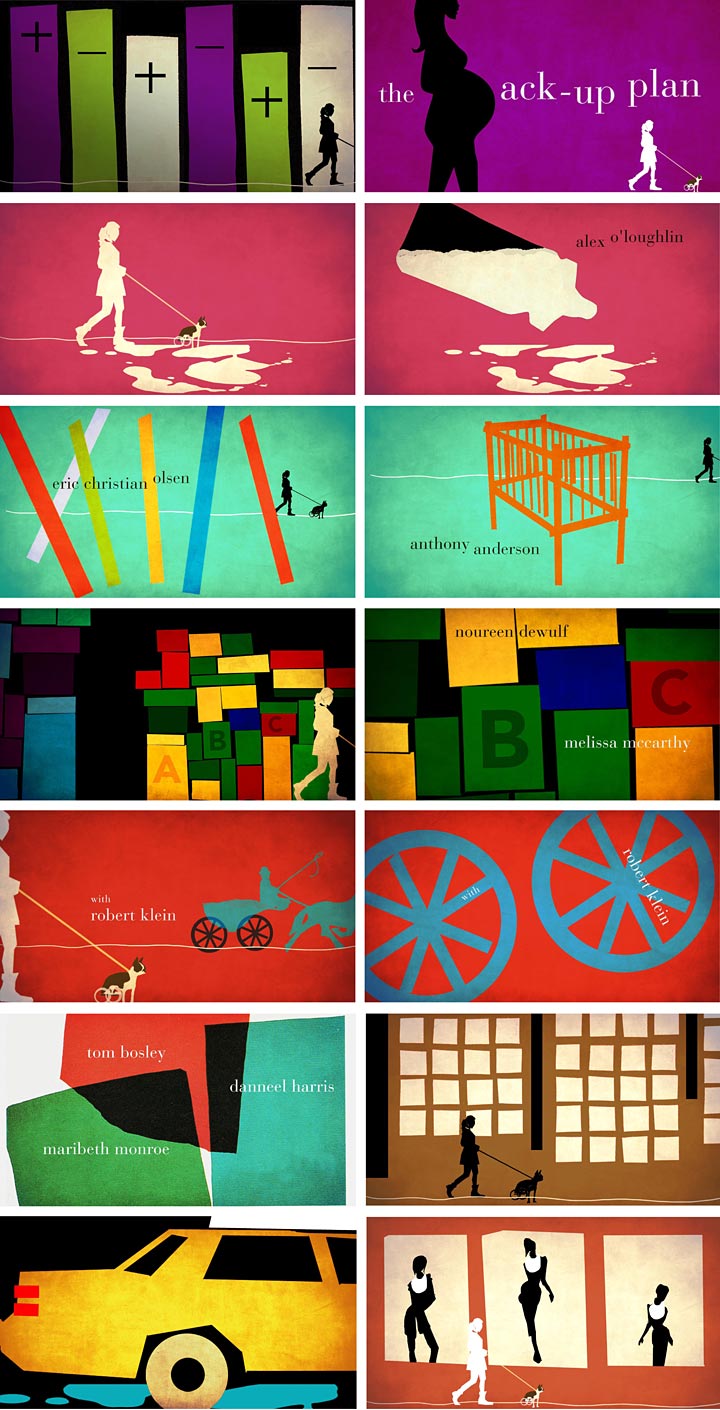 Title designer

Michael Riley is the creative director of Shine, a creative design studio in LA. He has been directing and designing film and television main title sequences, theatrical trailers, television commercials and corporate identity packages since 1991. He has designed main title sequences for Traitor, Signs, Mad Money, and television title sequences for Terminator: The Sarah Connor Chronicles, Blade: The Series, Criminal Minds, Karen Sisco, Ally McBeal, Saturday Night Live, and many more. "I was very happy to work for DreamWorks on Kung Fu Panda. Maybe Gattaca, for Andrew Niccol; Band of Brothers for Steven Spielberg; or Standoff for Fox; or 21st Century for The United Nations," Riley answered, when asked what title sequences he is most proud of.

Full credits
Main title designed and produced by
Shine
Creative Director (CD)
Michael Riley
Executive Producer
Bob Swensen
Designer / Animator
Cory Shaw
Designer / Animator
Dan Meehan
Designer / Animator
Dru Nget
Illustrator
Nate Wragg
Calligrapher
Ryan Miziker
Director (film)
Alan Poul

Links
Official movie site
show website

Shine Studio
show website

Wikipedia
on The Back-Up Plan
show website