The Good, The Bad and The Ugly
designer: Iginio Lardani • comment
To view any of the title sequences you need the latest version of Flash Player 10 plugin or higher. You can download the Flash Player plugin from
Adobe.com
about
the designer
links
comments
show all info
A pastiche halfway between a collage of photos, Hollywood kitch, and true cinematic creation, Lardani's credits are worthy of recognition,, even if only for representing the quintessence of the Spaghetti Western.
- Gemma Solana and Antonio Boneu in "Uncredited"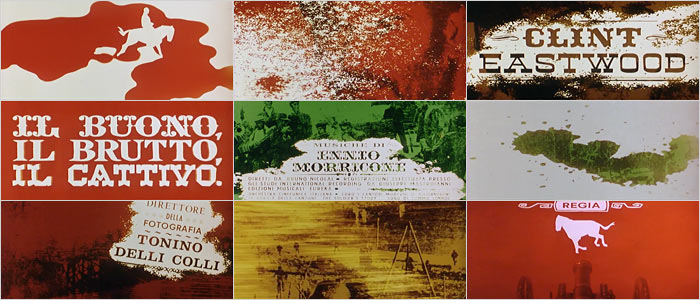 A legendary film with a legendary title sequence. Il Buono, Il Brutto, Il Cattivo, also know as The Good, The Bad and The Ugly is the last film in Sergio Leone's legendary "Dollars" trilogy. We wanted to show you the original title sequence of the Italian version of the movie.

Iginio Lardani was a self-taught motion designer with a background in graphic design, who created the iconic title sequence on virtually no budget. Lardani never revealed what methods or processes he used to created these images. Since he mostly worked from his home studio, we can only assume that he taught himself how to create visual effects on film by closely examining the work of other artists and filmmakers, and through literature. He might have built and used a system for optical printing on 16mm film. This is all speculation, but grounded in the notion that optical printing was the most commonly used technique for creating the kind of transitions, dissolves, blurs and superimposed multiple images that Lardani uses in this title sequence.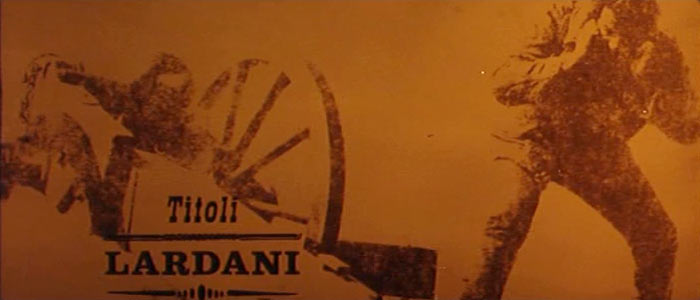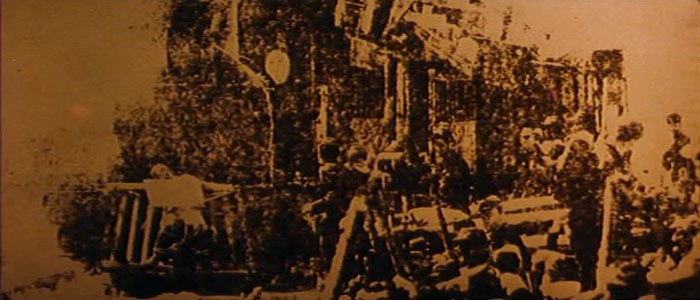 Il Buono, Il Bruto, Il Cattivo (stills)

Numerous traditional serif and sans-serif typefaces are used. A hodge-podge perhaps, but Lardani makes it work. Most typefaces are of the "Wanted" variety that we have come to associate with Westen movies.

The gritty monochromatic photos of the main characters and of archetypical "wild west" subjects are processed to look like the "most-wanted" photos as reproduced on posters and in 19th Century newspapers. To create the naturalistic motion of the stylized animated scenes with the galloping horses, Lardani probably used the rotoscoping technique.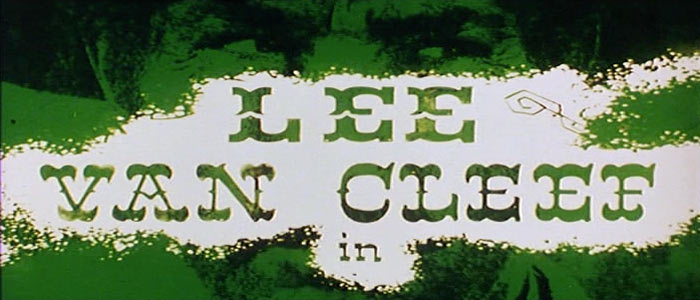 Topping it all off, Ennio Morricone's enigmatic score contributes greatly to the iconic status of Lardani's title sequences for the "dollars" trilogy.



Article: Remco Vlaanderen, © Submarine Channel, 9 May 2007.
Title designer

Not so much is known about Iginio 'Gigi' Lardani, the designer of iconic title sequences such as The Good, The Bad and The Ugly and A Fistful of Dollars. After a long search, I managed to get in touch with Iginio's son Alberto, a film editor, who has worked with his father for more than twelve years. In the email interview, Alberto tells me that his father didn't attend any kind of graphic design school. "He was an autodidact with a great interest in painting. He entered the film world as a film poster designer and created the Italian poster of 'High Noon', among others."

"Besides the 'Dollars' trilogy, my father designed the title sequences of many other Italian films, but his main activity was the editing of film trailers. His trailers of 'Mogliemante' by M. Vicario and 'Una Giornata Particolare' by Ettore Scola were awarded first and second place among five hundred trailers within the Cannes film festival of 1978. And Iginio created TV ads. He was allowed an entirely free hand when designing title sequences and film trailers and he worked from his own study."
Alberto also clarified the confusion surrounding Lardani's name, who was sometimes mistakenly credited as Eugenio Lardani. "My father's name was not Eugenio, but Iginio Lardani, but everyone called him Gigì."
Since 1986, the year my father passed away, I have continued his work," Alberto concludes. He also mentioned that he was working on a website about his father's work, as well as his own. Alberto Lardani sadly passed away in 2010.

Text: Remco Vlaanderen, last update: July 14, 2011

Full credits
Director (film)
Sergio Leone
Title Designer
Iginio Lardini

Links
The Good, The Bad and The Ugly on Wikipedia
show website