"The arrival of After Effects has democratized special effects and the creation of motion graphics. And it was also responsible for the revival of the film title sequence."
— Laurent Brett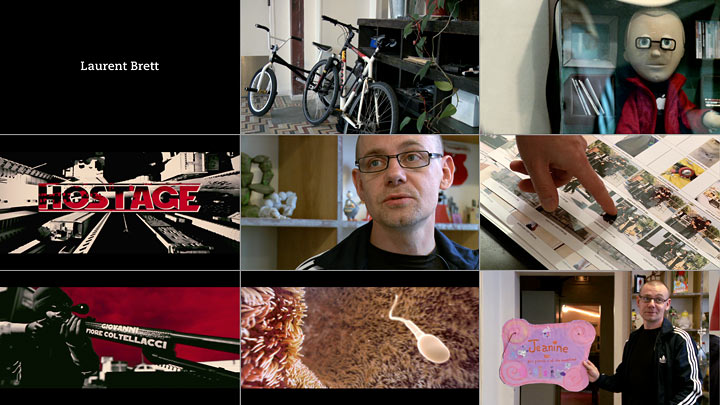 Not only is he the most productive title designer working in France today, Laurent Brett is also the only designer we ever met, or know of, who has had a puppet made of himself.
As a designer, he's proven to be somewhat of a chameleon, able to master any style and technique — from full CG for Hollywood blockbusters to live action VFX for indie French films.
Laurent Brett talks about his Main Titles, from the elaborate 3D sequence he did for Hostage to the cutesy live action Main Titles for the short film, Jeanine, and other works.
His graphic design heroes are Peter Saville and Vaughan Oliver – both prominent designers in the 1980s and 1990s, whose works (record sleeve designs) have had a big impact on graphic and motion design.
In the interview Laurent references the title sequences by Jean Fouchet and Michel Saignes made in the 1960s and 1970s for French comedy's – unbelievably experimental and psychedelic work.
This video interview was first published as part of the Watch the Titles 2 DVD set, which also contains Laurent's Main Titles for the Saul Bass and Maurice Binder-inspired OSS 117: Le Caire, Les Chevaliers du Ciel and L'Ennemi Intime. We filmed the interview in his office in Studio Sabotage in Paris' 10th district, also known as the film district.
See also our interviews with Parisian title designers Kook Ewo and Olivier Marquezy of Studio Deubal.
Laurent Brett mentions Michel Saignes title sequence for L'Aile ou la Cuisse, which we featured as part of our French Fridays themed series.