After having struggled with the opening titles for his documentary about the audiovisual collaboration N.A.S.A. The Spirit of Apollo, animator and director Syd Garon had somewhat of an epiphany when he saw Simon C Page's posters for The International Year Of Astronomy. Like a tailored suit, Page's stylishly minimal geometric shapes representing celestial bodies in orbit proved to be the perfect fit for the titles. Watch the Titles talked to Syd about the spirit of creative collaborations.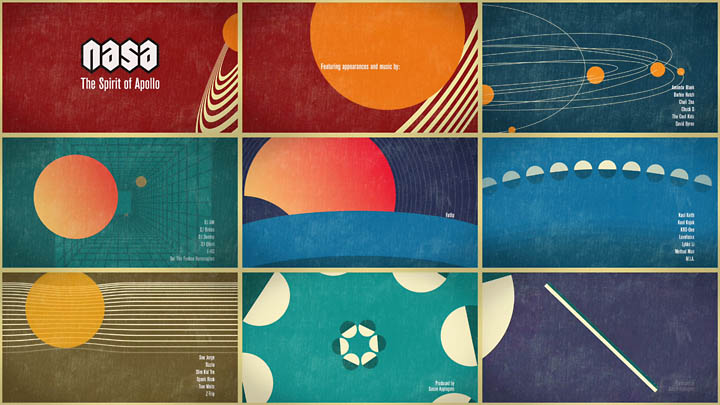 Released a couple of weeks ago, this gritty (lots of handheld camera work) but inspiring film N.A.S.A. The Spirit of Apollo (Vimeo: trailer | teaser) documents the manifold musical and visual collaborations that are the heart and soul of the project that Syd Garon and co-director and N.A.S.A. musician Squeak E. Clean (Sam Spiegel) have been working on for years.
N.A.S.A's debut album was built around the concept of musicians collaborating. "The stranger the combination the better," ads Syd. "It was only natural to extend the concept of collaboration to the visual aspect of the film."
"My co-director Sam was one of the first people I met when I moved to L.A. I started working with him almost immediately. N.A.S.A. was not only my introduction to L.A., but how I made friends," says Syd, who co-directed the majority of the 18 music videos for the album – one for each track – collaborating with luminaries such as Marcel Dzama, Sage Vaughn and Shepard Fairey (watch on 2Pause). "When you spend a day working with those talented people you go home energized and excited to start making things."
Syd compares the experience to being in a band, as opposed to a solo artist, "I prefer to be in a band, I think they have more fun. It's a nice bonus when they have a complimentary skill I'm missing, like painting or 3D."
What would be the best piece of advise to our readers about creative collaborations?
"I would say, try to remember you are on the same team and sometimes the other persons idea is better than yours, don't take it personally."
THE PROBLEM OF THE OPENING TITLES
Meanwhile, Simon C Page –a then up-and-coming self taught graphic designer with a background in mathematics– self published a series of 12 prints for the International Year of Astronomy 2009. These posters embrace the influence of minimalism on graphic design of the second half of the 20th Century, linking his designs to work by the likes of Saul Bass, Wim Crouwel and others. After publishing the series on his blog, the images went viral. In fact, the prints were so popular that the International Year of Astronomy committee ended up adopting these as official posters for the campaign.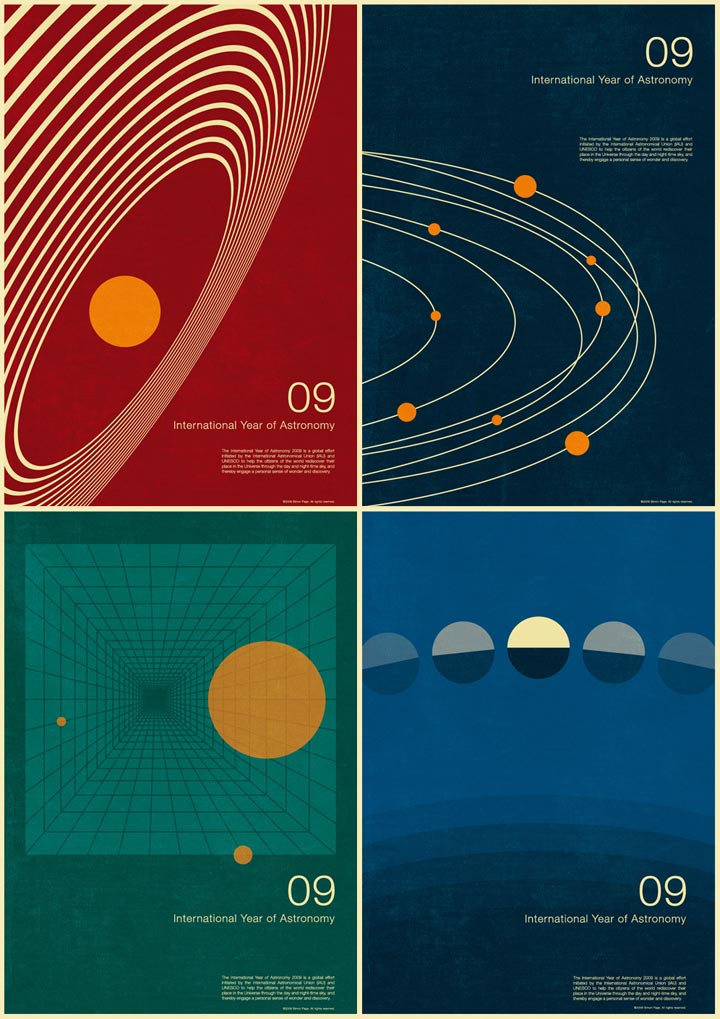 Simon C Page, The International Year Of Astronomy 2009 posters
Syd had been struggling with the opening titles. His initial concept was based on the Voyager space mission, but he tossed everything once he saw Simon Page's posters. "In retrospect, I think my first version had too much concept; the Voyager space probe would be playing the Golden Record and I was going to inter-cut real images from this record with relevant opening credits info – sort of like unscrambling Voyager's transmission into the credits. "The Voyager version was a little soulless and for lack of a better word it wasn't 'fun,' continues Syd, "especially compared to Simon's version. It also had just enough of a narrative that the viewer wanted a resolution and I never quite figured this out."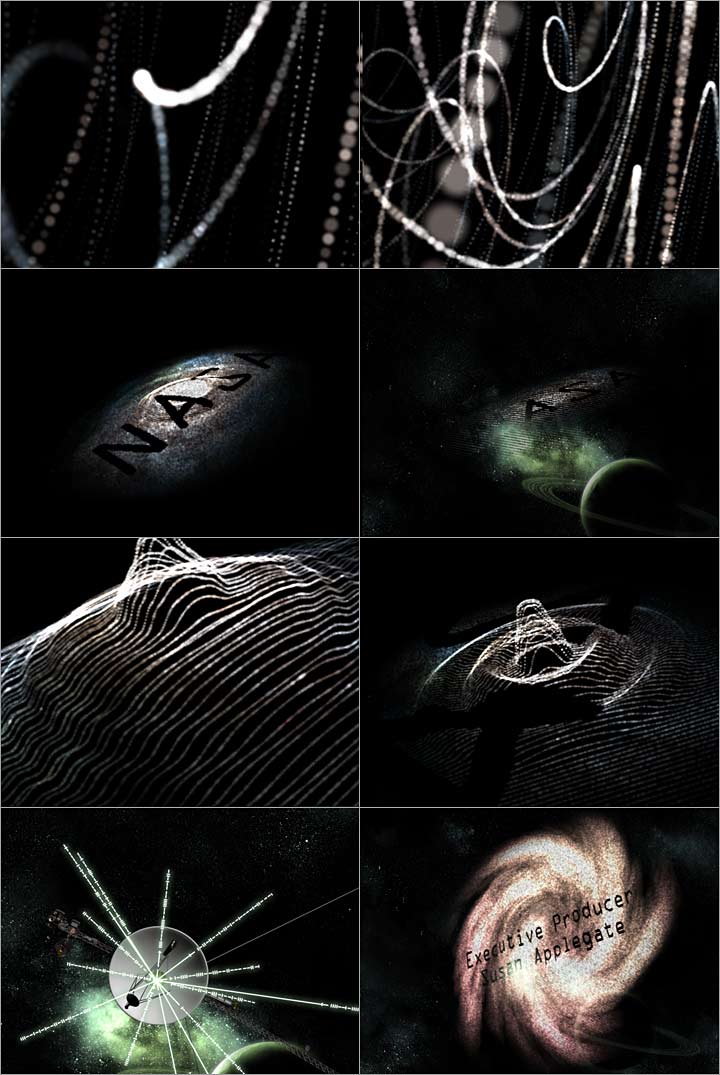 Syd Garon, N.A.S.A. The Spirit Of Apollo, original styleframes
"It was like a bolt of lightning, the second I saw Simon's posters I knew they would be perfect. You can see they were meant to move (says an animator…) I had the first animation pass roughed in a day. I screen grabbed them and kind of flicked between them while playing some N.A.S.A. tracks, it was as if they were pre-destined to be the titles. I sent Simon some fan mail a few minutes later."
"It was really fun working with Syd on this," ads Simon C Page. "I remember him showing me the first rough draft and even then thought how great they looked animated. Syd was also quite perceptive in that he thinks my work is made to be animated as I think to some extent subconsciously I like my work to look like that and try to create it that way." Note to movie producers: Simon says he would love to get into animation, and create titles, "I would love to do a full title sequence with geometric shapes for a movie – but for now I'll leave this to the experts like Syd."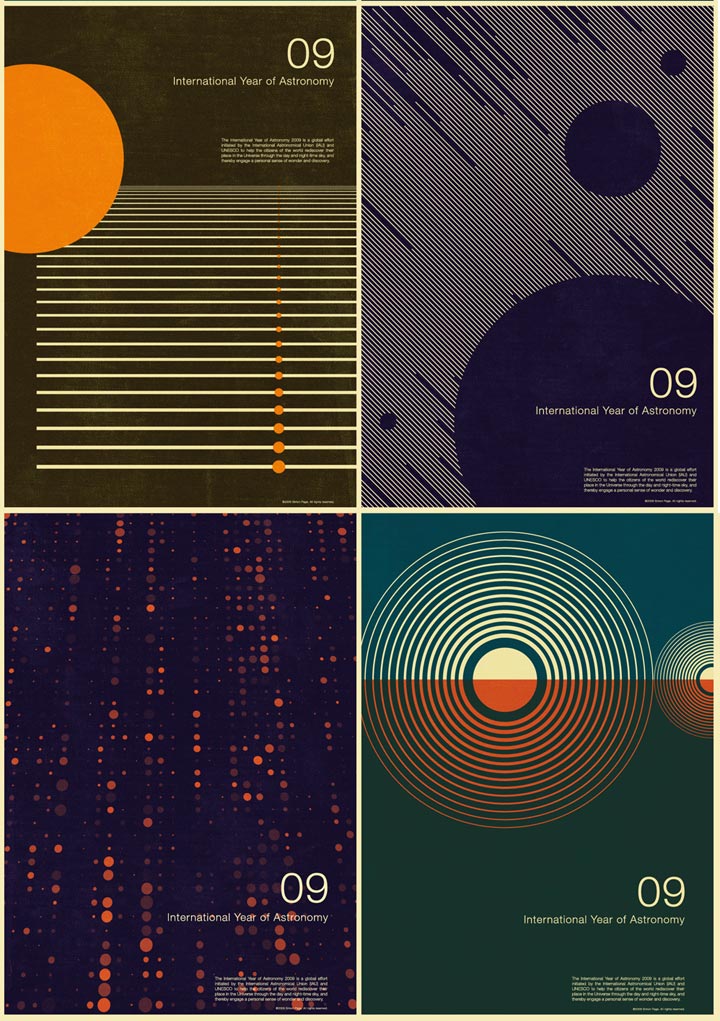 Syd's preferred animation tool is Adobe After Effects (AE). He was an early adopter, creating groundbreaking animated films with AE, such as the first animated turntablism musical Wave Twisters (with Eric Henry) in 2001. "I've been using AE for so long it's like an extension of my body, I can't imagine doing anything without it. That being said I seem to prefer animating things that were originally 'real' like paintings versus completely CG. And I also tend to use simple camera moves as if the art was created on a copy stand."
Even though he worked on The Spirit Of Apollo for so many years, Syd has an appetite for more. "Right now the N.A.S.A. project lives on in other collaborations. I've done several post N.A.S.A. projects with both Sage Vaughn and Sheppard Fairey, and I am currently planning a collaboration with Gregg Gun formally from Three Legged Legs. Sam and Ze [DJ Zegon, the other member of N.A.S.A.] just started a second N.A.S.A. record, I talk to Sam almost every day and I'm pretty sure I'll be signing up for a second round.
Syd is currently working on a project that sound like music with a capital M to the ears of cult film lovers and graphic novel readers (like myself). "I am animating the storyboards from a lost version of Alejandro Jodorowski's 'Dune' for a new documentary. Moebius drew the boards and they are fantastic."
TITLES ARE ADDICTIVE

Visit Syd Garon's Vimeo to see some of his other animations and title sequences, including his Main Titles for the HBO doc Superheroes, for which he was nominated for an Emmy Award in the category Outstanding Individual Achievement in a Craft: Graphic Design & Art Direction. "Lately I have found myself drawn to creating title designs for films, I've done about ten now and it's my new favorite thing. I tend to get a huge amount of creative freedom and, unlike a music video, you can actually make a living doing them.
"A good title design is like a short film and we are absolutely in the middle of a new golden age for titles. It's gotten to the point if I so much as hear about a film in production my first question is 'do they have a title sequence yet? They are addictive."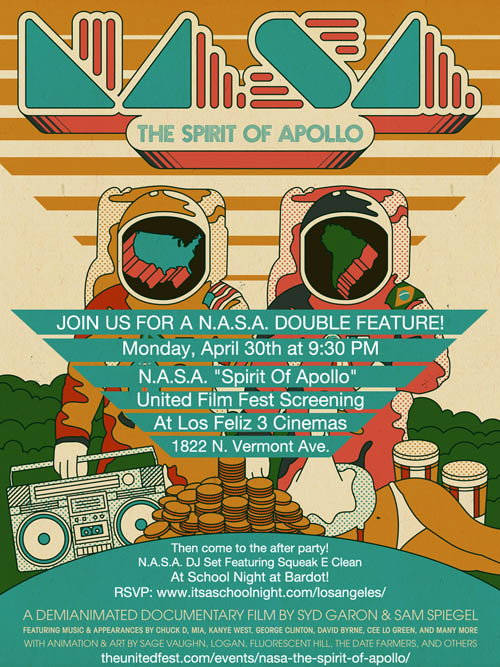 Poster/flyer by Burlesque design.
Article: Remco Vlaanderen, © Submarine Channel 17 April 2013.
About Syd Garon and Simon C Page
Animator/director Syd Garon's first film, the epic and acclaimed music film 'Wave Twisters' premiered at Sundance in 2001 and won Best Midnight Movie at SXSW. In 2003 Syd moved from Miami to L.A. where he met Sam Spiegel with whom he embarked on the epic collaborative animated film and music project N.A.S.A. The Spirit of Apollo. A documentary about the project was released in 2013. In between his collaborations for N.A.S.A., Syd worked on ads, music videos and title sequences. He received an Emmy nomination for his animation work and opening title sequence for the HBO documentary Superheroes. Currently, Syd is animating storyboards created some 40 years ago by legendary comic artist Moebius (Jean Giraud). The animations will be part of a "sci-fi documentary" by Frank Pavich that covers cult film director Alejandro Jodorowsky's attempt to create a big-screen adaptation of Frank Herbert's seminal science fiction novel, Dune.
Full credits
TItle sequence director and animator Syd Garon Graphic design Simon C Page Music N.A.S.A. (Squeak E. Clean and the DJ Zegon) Executive producer Susan Applegate