Topkapi is a European film by the American director Jules Dassin who, during the time of the Hollywood blacklist, left the US for France and later became an honorary citizen of Greece.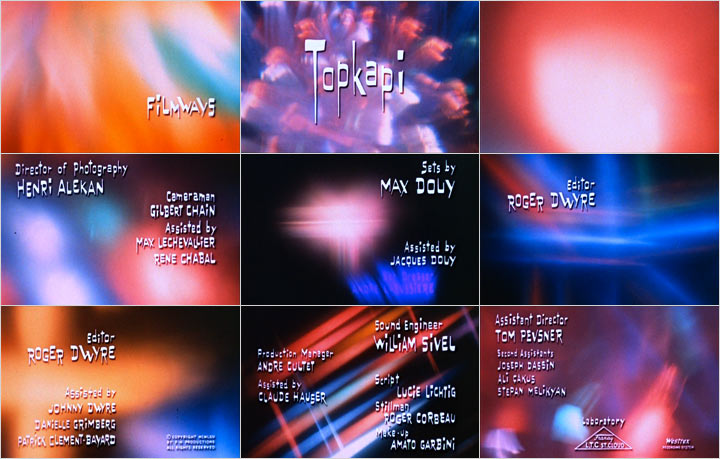 Topkapi is the epitome of the stylish, European crime caper and more or less established the genre of the heist film. Stylish, glamorous and tongue-in-cheek, the film tells the story of an internationally renowned thief and great lover of gemstones, Elizabeth Lipp (Melina Mercouri). Lipp hatches a scheme with her lover, Walter Harper (Maximilian Schell), to steal a famous dagger inlaid with precious emeralds from the treasury of the famous Topkapi museum in Istanbul, Turkey.
I met with Jacqueline Fouchet, the widow of Topkapi's title designer Jean Fouchet, who turned out to be a very nice woman. Fouchet was more than happy to talk about her work with her husband – a man she admired deeply.
Having studied Pharmacology and Law, Jacqueline Fouchet was not destined to work in film. Her movie-loving friends from medicine school sparked her interested to work in cinema. She started out by taking several internships in film editing before meeting Jean-Fouchet at Lax – a company specializing in film titles and special effects. Together they founded the company F.L., where Jacqueline worked "in the shadow of her husband" until his death, helping him with his title and special effects work and editing film trailers by his side. They spent 26 years of their lives full-time together.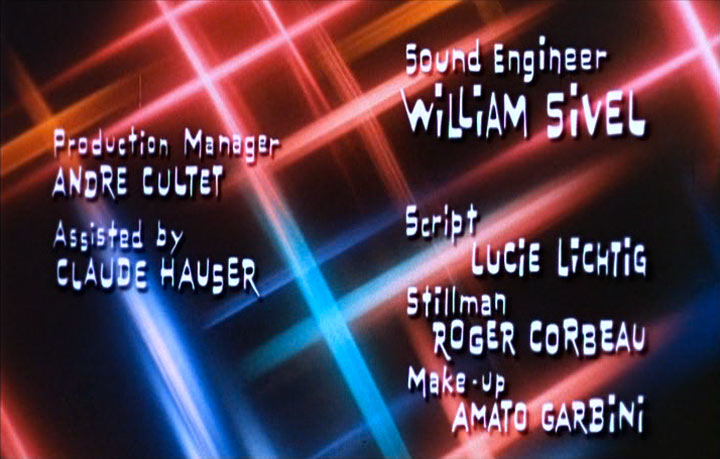 Jacqueline Fouchet remembers that she and her husband first heard about Dassin's new film just before leaving on vacation. The director wanted the title sequence to give the audience the impression as if they were entering the film through the very soul of a gem stone. As the couple bronzed in The Berlengas archipelago off the Portuguese coast, they admired how the sun's rays striked their glasses of white port, and how it reflected on the marble. Mesmerized by the effect, they said to each other: "You're thinking what I'm thinking? There it is, the soul of the stone!"
Upon returning, Fouchet started to bounce light of colored acetate overlays (French: feuilles rhodoïdes) that were coated with a thin layer of vaseline. By spreading the vaseline horizontally or vertically and then illuminating the sheets, Fouchet was able to produce the glossy effect. He used an animation stand and a Truca to reach the final result. Fouchet even created his own truca which allowed him to work much more comfortably seated in front of his machine, instead of having to use it standing up.
Example of a homemade Truca.

"Manufactured by André Debrie, the Truca was a kind of early-day optical printer. Crude and not very precise, but capable of rephotopgraphing and processing film strips." Cinefex Visual Effects Magazine, via Google books.
The alphabet was drawn entirely by Fouchet, who then gave directions to a designer, who then followed his instructions in terms of composition, the size and the line spacing of the credits.
Fouchet once again created a "musical" title sequence. The composition of the Greek composer Mános Hadjidákis was of paramount importance to how Fouchet edited the sequence. Hadjidákis previously wrote the music for Dassin's film, Never on Sunday, for which he won an Academy Award for Best Song in 1961.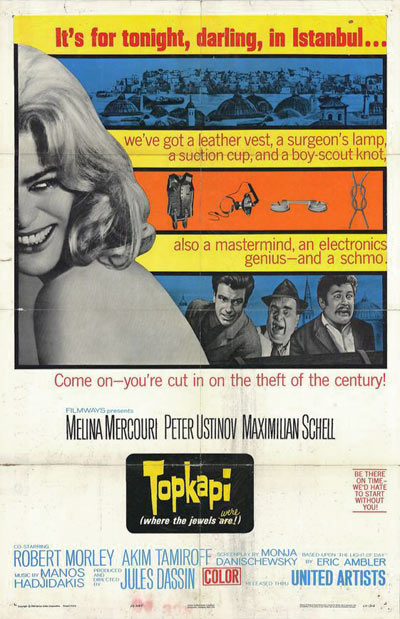 Topkapi, English poster
Text: Laure Chapalain, © SubmarineChannel 16 March 2012.
About Jean Fouchet
Jean Fouchet was born in France in 1918. He graduated in graphic arts and began working in the film industry as a set designer, decorator, assistant operator. In 1950 he was hired by the Lax company to handle special effects and credits. Shortly thereafter, he founded his own company, F.L. He started creating title sequences, trailers and special effects. Among others, he made the special effects for the film The Longest Day in 1962. The last film he worked on was The Tenant by Roman Polanski in 1976.
Full credits
Title design
Jean and Jacqueline Fouchet
Music
Mános Hadjidákis