An ethereal soundtrack accompanies a continuous zoom through a sequence of dark and atmospheric dreamscapes, ending in the black void of the protagonist's pupil.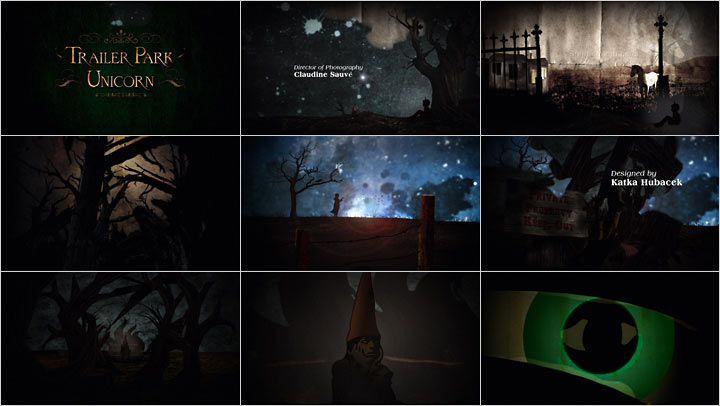 Trailer Park Unicorn is an independent short film – a fairy tale about a young unicorn boy who struggles to find a sense of belonging in the surreal environment of the trailer park where he lives.
Vincent Scotti: "I was hired to do the credits before the filming began. At that time the credits I presented were story boarded by myself and Michelle Perez as a extensive 3D fly through going from the sky to the town over a lake, into the village and right up to the opening scene. But once I saw the footage and the fantasy feel the film was taking on I ditched the heavy 3D and decided to go with a more children's picture book feel. My big inspiration was old circus posters. Plus, who wants to do all that rendering. I think the one thing that really helped was the soundtrack by Patrick Watson. I was given the track when I was almost seventy-five percent complete in the design, and once I lined it up with what I had it really kicked."
About Vincent Scotti
Vincent Scotti is a motion graphic designer based in Montreal, Canada.
Full credits
Film Director
Sid Zanforlin
Title Designer
Vincent Scotti
Soundtrack
Patrick Watson