Tipped off by the mere hint that Hollywood heavyweight actor Edward Norton would be directing a feature based on Jonathan Lethem novel, French designer Remy Le Rumeur rolled onto an ambitious venture to create his version of the opening titles to the anticipated Motherless Brooklyn movie. Immersing himself in research and taking cues from Dadaism and the book's Tourette syndrome suffering protagonist, Le Remeur created titles centered around intrigue and gritty side to Brooklyn's landscape.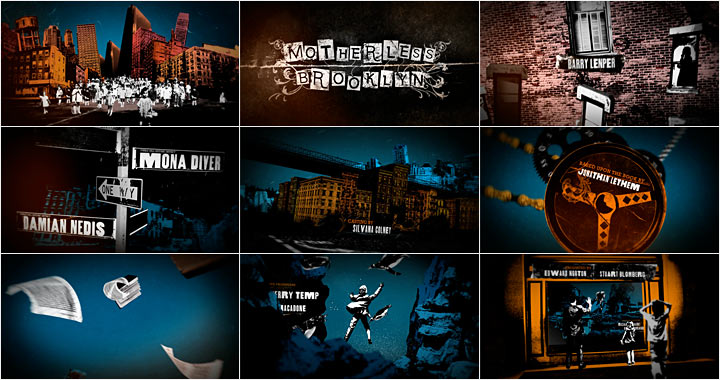 Motherless Brooklyn, stills
What posseses a designer who invests three months of his life to create opening titles for a movie that's production reality is still a rumour?
"I made this title sequence with only one goal in mind: to show it to Edward Norton and get to work on the official title sequence of the film Motherless Brooklyn, Le Rumeur says. "My aim was to be crazy. I wanted to surprise and especially to have fun with it. People have told me that Edward Norton would never see my work, and that's possible, but I want to believe otherwise. If he makes this film he'll end up seeing it eventually." Le Rumeur bought the book Motherless Brooklyn years ago, after hearing that Norton would be creating a film adaptation of the novel. "I wanted to read the book before seeing the film because I wanted to know what Edward Norton, who I really appreciate as an actor, found inspirational in the story."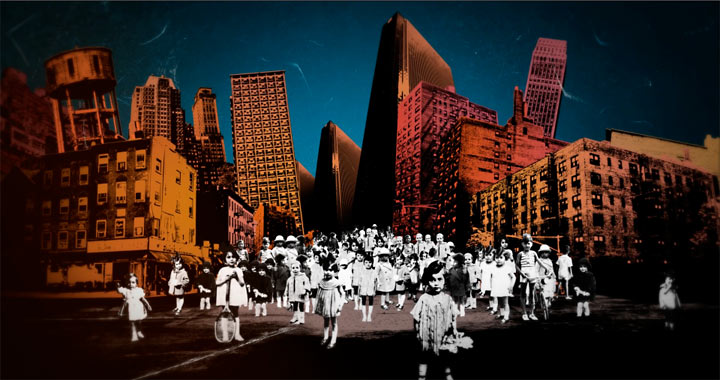 Motherless Brooklyn, still
"Last year I decided to take the book off the shelf and make a poster. But somehow, the idea didn't seem crazy enough… It was only after seeing the work of Daniel Kanemoto on the title sequence for Walking Dead that I decided to create a proposal for a title sequence instead. I wanted this work to show my abilities as a graphic designer as much as a motion designer."
Motherless Brooklyn: Storyboard art
Did Edward Norton see it yet?
"No news from Norton just yet. I sent him my work, to him and his associates, but haven't received an answer. One of his assistants told me that maybe the film would never be made. But thanks to this title sequence I've received several work proposals, so the experience has been positive so far."
For the visual style, Le Rumeur took inspiration from sources as disparate as the Dadaist art movement – known for its experiments with collage and photomontage – 'Batman Year One,' and the Brooklyn cityscape.
According to Le Rumeur, Motherless Brooklyn is going to be a 'film noir,' but the story is also a platform for some comedy because of the Tourette syndrome that the main character in the book, Lionel Essrog, suffers from. "To symbolize this "madness" I tapped into Dadaist imagery. I wanted to create Lionel Essrog's Brooklyn – a Brooklyn with many facets, in order to reflect the multiple faces he has: the orphan, the Tourettic, the detective."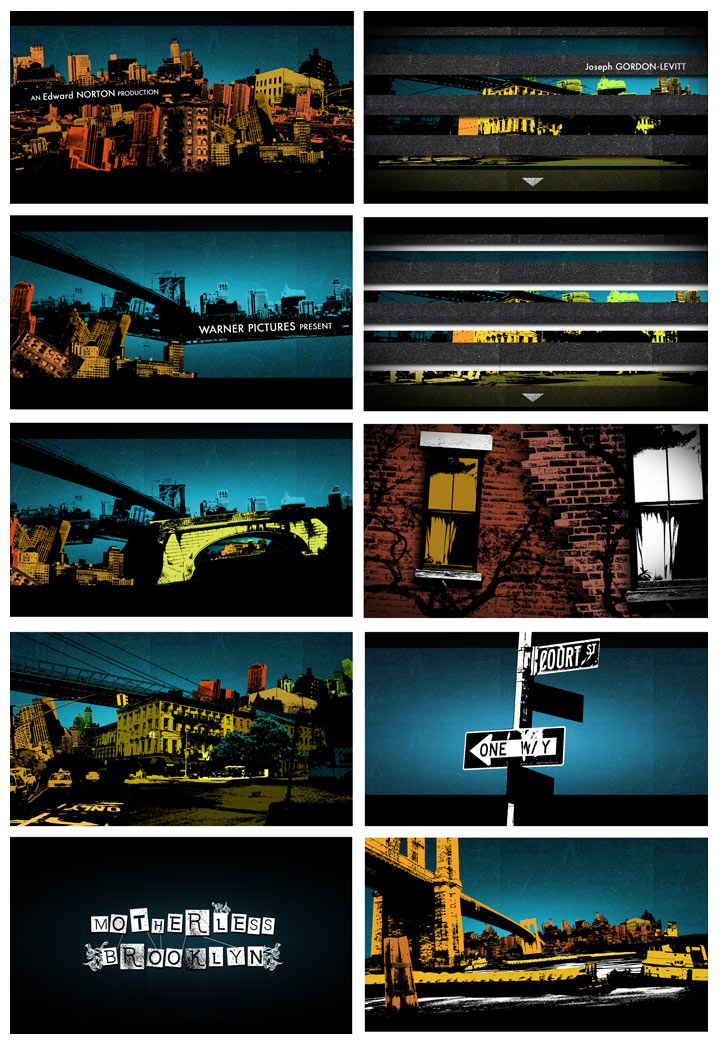 Motherless Brooklyn, research
The graphics are partly inspired by American comic book auteur David Mazzucchelli's artwork for Frank Miller's influential Batman Year One graphic novel.
"Especially his rough and colored worlds." Equally inspirational was the work of the French film pioneer George Méliès (A trip to the Moon), who constructed innovative film sets that consisted of several overlapping layers. "And my friends Samantha de Biasi and Manuel Charpy, who advised me," Le Rumeur adds.
What interests you about title design specifically?
"I've loved cinema since I was very young. It was after seeing the title sequences for Se7en, Gattaca and The X-Files that I became interested in title design. What I like about it is its link with the film, the fiction."
Favorite designers are Kook Ewo (Splice) and Laurent Brett (Intimate Enemies), says Le Rumeur. "I also love the titles of Spike Lee's 25th Hour (watch at Art of the Title) and the one for the Carnivale TV series. But my favourite title sequence is the one for The Kingdom (watch at Art of the Title), designed by PIC. What I like to see in title sequences, like in all works really, is the research put into them, which is often an indication of quality."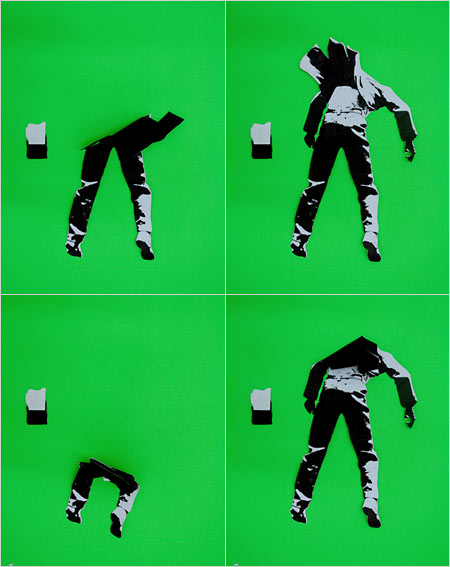 Stop motion animation of one of the characters in the titles.
What are your plans for the near future?
"For now I'm looking for a job in New York or somewhere in the US. But if I were to start a new personal project, I would again do something related to cinema."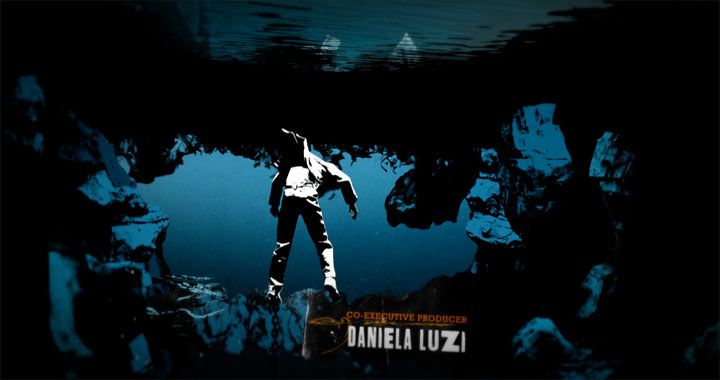 Motherless Brooklyn, still
Article: Rani Nugraha and Remco Vlaanderen, © Submarine Channel, 8 August 2011.
About Remy le Rumeur
Remy Le Rumeur is a French graphic and motion designer. He studied a BA in graphic design & multimedia at the Lycée Jacques Prévert of Boulogne-Billancourt before working at web agencies such as Fullsix and Wunderman. He is currently freelancing.
Full credits
Title designer
Remy le Rumeur
Special Thanks to
Samantha De Biasi, Mickaël Pavlidakis, Manuel Charpy, Jérôme Tailhades, Bruno Sussi, Déborah Buret, Maxime Rimbert, Hassiba Azizi, Vincent Duquenoy, Philippe Keang, Alexandre Monteiro and BA graphic design & multimedia Lycée Jacques Prévert of Boulogne-Billancour.