Rama Allen, The Mill (2012) The atmospheric main title for Vikings is a dark and lucid stream of impressionistic images that seem to have been pulled straight out of the cauldron of our collective unconscious.
We got in touch with The Mill+'s Creative Director Rama Allen for a most inspiring interview. You might remember his stylistically related and much-lauded True Blood Titles. Rama talks about our "vestigial need" for legend and myth, his holistic approach to pitching. And he offers three priceless tips -more life lessons, really- on how to get those creative juices flowing. Plus a unique behind-the-scenes video…
Vikings Main Title: Atmosphere is King
"Atmosphere is the primary responsibility of a good title sequence," says Rama Allen, Creative Director at The Mill+. "It is our job to ease the viewer into the bath so to speak. We need to build a tonal ramp that transports viewers from their everyday reality into the reality of the show, so when the first frame of the show flickers into their living room they're already emotionally primed.¨
Set around the 8th century, at the dawn of the Viking Age, Vikings is an historical drama series by the History Channel inspired by the stories about Ragnar Lodbrok, a legendary Viking hero that appears in many ancient Norse sagas. The show centers on Ragnar and his unstoppable ambition to explore uncharted territories and his subsequent rise to power. The Viking's tribal values and their ideas about life, death, honor, family, and bravery, and the clash of cultures are some of the underlying themes that are explored in the show.
Before even thinking about a title concept, Rama spends time to find the heart of the show. "It's like squinting your eyes at a painting and discerning the impression of its color and form. I try to do that with scripts and conversations with the show creators to define what viewers should feel, making the result of that my end goal. Not only does it allow for making something that feels tonally correct, but also something that can live through season after season of a show.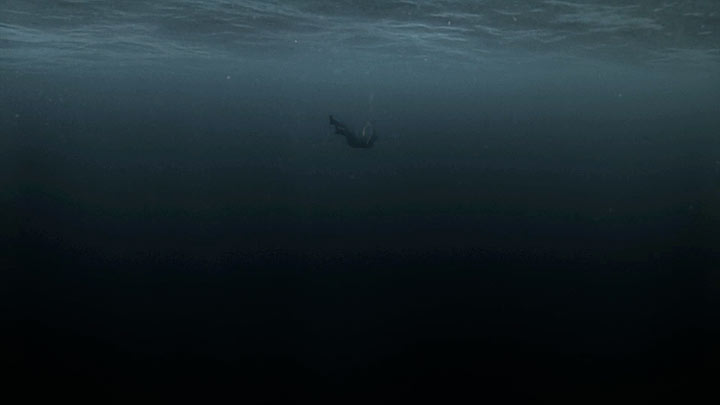 One of the 5 'keystone' shots: a lone sinking Viking small and isolated in a vast ocean
"At the heart, this title sequence is about the space between life and death, and one person crossing that gap. Our goal was to put the viewer in a cold, lonely, primal, violent, ancient, supernatural, sensual and haunting world, and build in intensity, so we roll into the show at full tilt. The arc was then created around that slow separation and growing distance from light peppered with mythic images, and then the reveal at the end that it all centers around a raid, which was core to the Viking way of life."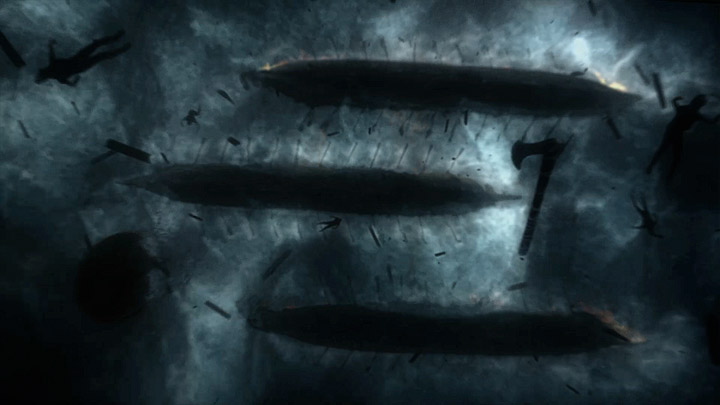 Keystone shot: war ships crawling overhead
Rama says that the idea was borne from a track he was obsessing over at the time. "I always begin a project by building a playlist of music that captures the tone that I'm looking for and listen to it endlessly while developing ideas. After an evening of writing to the Fever Ray track 'If I Had A Heart' on loop I had a weird drowning dream that ended with the silhouettes of boats on the surface above me. The Art Director on the job, Audrey Davis, came to the table the next morning with a really similar idea… a drowning sequence! We had also been researching the Vikings beliefs in deaths and the sensual relationship to goddesses in transitioning to an afterlife when we stumbled across some stories in the Sagas about the Nine Sisters of the Sea, the daughters of Ran."
"It just all clicked. Music. Transitioning from life. Loss. The sea. Underwater sexy time with a death dealing goddess… seemed just right!"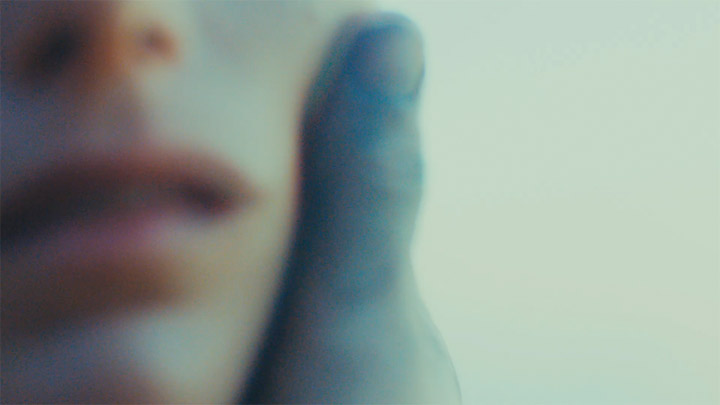 Keystone shot: the smearing of blood on the cheek of a lover left behind at home.
Rama, who shares the credit of Creative Director on the True Blood title sequence with Matt Mulder, says he is fascinated with myth. ¨
"I find comfort and connection in tapping into old stories that reveal a darker, harsher but more vivid and imaginative existence. Our predecessors developed incredibly rich stories and images to explain their worlds that were ingrained into all of us for thousands of years. These stories have slowly eroded over time and modern science casts a bright light into all of those murky mysteries. Contemporary life makes ghosts, legends and gods feel irrelevant. Regardless, I think we connect to them intuitively because they resonate with our vestigial need for legend and myth, particularly in contrast with our well scrubbed, easily google'd contemporary existence."
"At the heart of it I think everybody deep down likes a ghost, god, ancient story. They're fun. They make our lives richer and I really dig spooky stuff. It's a favorite place for me to go to."
What's the appeal of the Viking mythology you think?
"The Vikings, in particular, exhibited a powerful connection with their environment. Their relationship with the sea and fire and storms and ice and earth was communicated through an ornamented and beautifully supernatural collection of stories. Their feelings about death and family and sex and empire building are all right there. They reveal a people that lived passionately and that made for an absolute wealth of emotive and imaginative material to work with."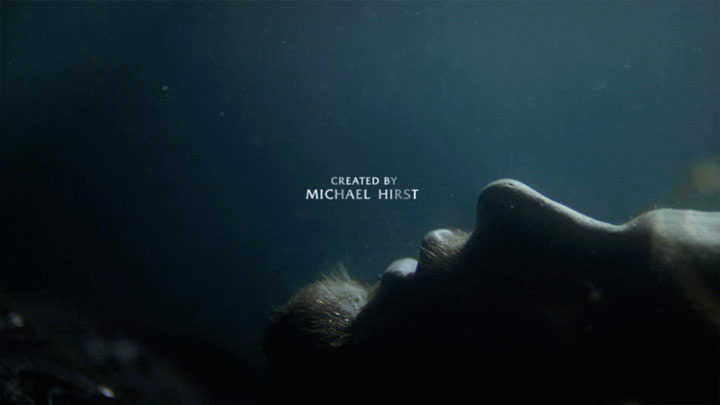 A Holistic Approach to Pitching
The pitch was more of a director's treatment. Rama presented mood boards and a central concept, rather than formal design frames.
"I approach pitches like this holistically," says Rama, "particularly when I'm working in an abstracted metaphor rich direction. I want to get ourselves and our clients on the same page about the core concept, and very importantly, the emotional voice of it. For me, the pitch is an encompassing collection of idea, visual sensibility, editorial style, and great music that gets us there."
Art Director Audrey Davis helped refine a look vocabulary around the concept. "We collected and remixed images that would communicate tone, color and suggest some compositional devices we wanted to employ… "
Vikings Main Title: Behind the Scenes
Vikings Main Title: Letting Go
"One of my mentors," says Rama, "Matt Mulder once taught me an invaluable lesson. He showed me that rigidity prohibited seeing creative opportunities right in front of you, and that trusting in a process that allows for being free results in intuitive and meaningful responses that can lead to more rewarding work.
"Essentially, be clear in your head of what you want, then trust your gut and don't be afraid to wing it."
Rama and Matt have got a point. I find that the most interesting title sequences are often the product of such an open creative process. It's a tried and tested process –Kyle Cooper's best works were created in a similar way– but one that requires a very trusting client who understands this kind of 'creative mayhem.'
In the case of the Vikings title sequence, Rama worked with a loose framework of five mandatory keystone shots he needed to communicate the arc of the piece. Outside of that, he says it was coverage and experimentation, "playing with objects in water, from axes to fish food; seeking out odd combinations of light, shadow and symbol; walking around a beach looking for cool rocks; plunging a camera into crashing waves; shooting stuff sideways with broken glass in front of the lens; buying some dead fish and rippin' em apart because at the moment it seems like that might look really cool. Fun stuff!"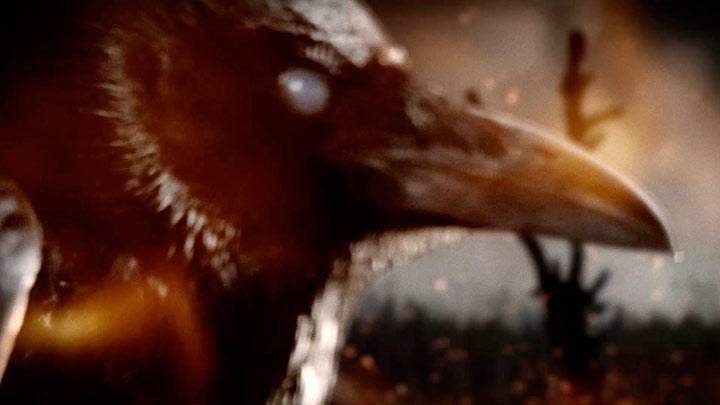 With these kinds of works, the proverbial magic happens in the editing room, explains Rama, who loves the editorial process. "I have just a couple of editors I work with in this way with whom I seek out the rhythm and juxtaposition of images that FEELS right and could never be planned. Your heart skips and you know you have something powerful. It's a great feeling."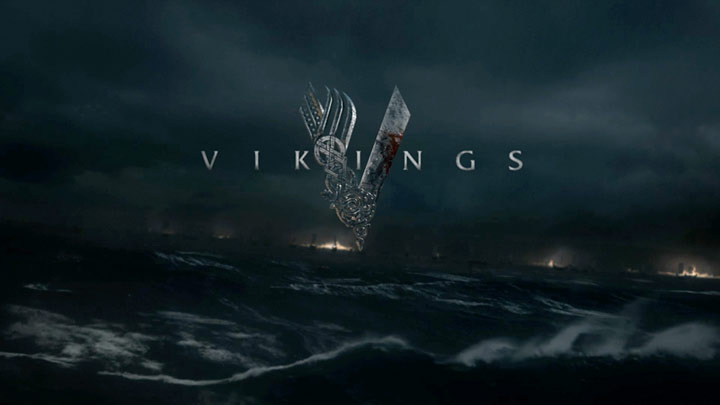 Keystone shot: a big reveal of a raid on a dark coastline.
Vikings Main Title: Words of Advice
"Without sounding too flippant or cliche, here are a few things I remind myself of or have picked up over the years."
Make work outside of work
"If you don't express yourself or experiment creatively outside of your deadlines and day to day, you'll stand a chance to lose the love.
– Experiences lead to ideas
"Travel. Concerts. Random explorations of unknown neighborhoods. Weird food. Late night runabouts with crazy folk. Whatever it is that puts you somewhere your five senses are engaged in something outside the norm builds an emotional library of memory for you to pull from to develop concepts. I think you need to build your own stories to create new ones.
– Ritualize your process
"I have very specific actions that put me in a place to think. I have a place where I write. I have my coffee, my music, my walk, my chair, my desk. Where you develop ideas and how you do it is sacrosanct, and everyone has their own way. By discovering your own actions and defining a set and setting for thinking and making you'll find that ideas flow more easily when you set these in action. Ideas can strike anywhere, but when you operate under schedules that require thinking under pressure, these comforting physical processes and spaces can help you find them when you're lost."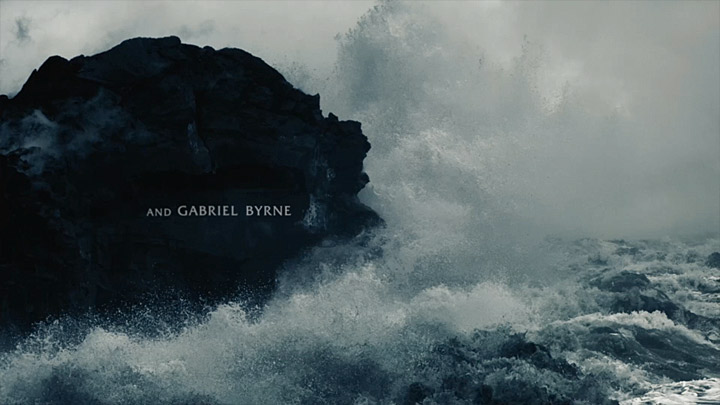 Until next time, be legendary.
Article: Remco Vlaanderen, © Submarine Channel 26 June 2013.
About Rama Allen
Renaissance Men – they are becoming a rare breed. Rama Allen specializes in live action direction, development and strategy for multiple platforms, and has a nag for leading creative teams through the process of thinking and making stuff. But Rama has dabbled in animation, editing, sound design, music, cinematography, interactive…
Full credits
Creative Director Rama Allen, Art Director Audrey Davis, Production co. The Mill+, Music Fever Ray "If I Had A Heart" Series written and created by Michael Hirst Network History Channel