A Fistful of Dollars
designer: Iginio Lardani • 1 comment
about
the designer
links
comments
show all info
One of the most iconic title sequences ever made, A Fistful of Dollars (original Italian title: Per un Pugno di Dollari) was the first spaghetti western to gain widespread international recognition. After the film's initial release in Italy, it took three years until the film was released in the US, but director Sergio Leone's revolutionary take on the western would ultimately change the genre altogether. The Dollars trilogy catapulted the careers of Leone, a young actor named Clint Eastwood, and composer Ennio Morricone, whose enigmatic score still resonates today.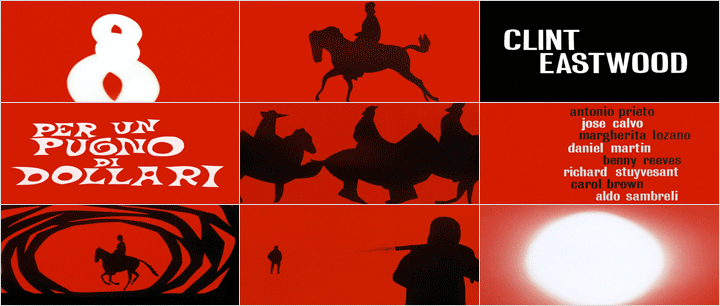 A Fistful of Dollars (1964) was the first film in Sergio Leone's 'Dollars' trilogy that also includes For A Few Dollars More (1965) and The Good, The Bad and The Ugly (1966). The opening title sequences for these three films were made by Italian graphic designer Iginio Lardani. Unlike Leone, Eastwood, and Morricone, Lardani did not win a one-way ticket to stardom. The designer who created one of the most iconic film title title sequences of the 20th Century, and whose bold, graphic, pop art-inspired main titles continue to inspire designers, animators, and filmmakers today (see for instance Paul Donnellon's opening titles for Smokin' Aces), remains relatively unknown outside the Italian film industry.
Iginio Lardani passed away in 1986, but his son Alberto Lardani told me this anecdote: "Sergio Leone's reaction when he first saw the title sequence for 'Per un Pugno di Dollari' was of great gratitude. Not only for its extraordinary iconic impact but also because it was designed for free."


Article: Remco Vlaanderen, © Submarine Channel, 31 October 2007. Update: 11 August 2011. Last update: 7 August 2013.
Title designer

Not so much is known about Iginio 'Gigi' Lardani, the designer of iconic title sequences such as The Good, The Bad and The Ugly and A Fistful of Dollars. After a long search, I managed to get in touch with Iginio's son Alberto, a film editor, who has worked with his father for more than twelve years. In the email interview, Alberto tells me that his father didn't attend any kind of graphic design school. "He was an autodidact with a great interest in painting. He entered the film world as a film poster designer and created the Italian poster of 'High Noon', among others."

"Besides the 'Dollars' trilogy, my father designed the title sequences of many other Italian films, but his main activity was the editing of film trailers. His trailers of 'Mogliemante' by M. Vicario and 'Una Giornata Particolare' by Ettore Scola were awarded first and second place among five hundred trailers within the Cannes film festival of 1978. And Iginio created TV ads. He was allowed an entirely free hand when designing title sequences and film trailers and he worked from his own study."
Alberto also clarified the confusion surrounding Lardani's name, who was sometimes mistakenly credited as Eugenio Lardani. "My father's name was not Eugenio, but Iginio Lardani, but everyone called him Gigì."
Since 1986, the year my father passed away, I have continued his work," Alberto concludes. He also mentioned that he was working on a website about his father's work, as well as his own. Alberto Lardani sadly passed away in 2010.

Text: Remco Vlaanderen, last update: July 14, 2011

Full credits
Director (film)
Sergio Leone
Title designer
Iginio Lardani
Music
Ennio Morricone
Whistler
Alessandro Alessandroni
Production Companies
Constantin Film Produktion, Jolly Film, Ocean Films

Links
A Fistful Of Dollars on Wikipedia
show website