Here's to the ones standing in the wings, the support teams in the background, the quiet achievers. Their names are often overlooked but without them not only would nothing get done, but significant contributions to arts and greater mainstream culture would surely be lost…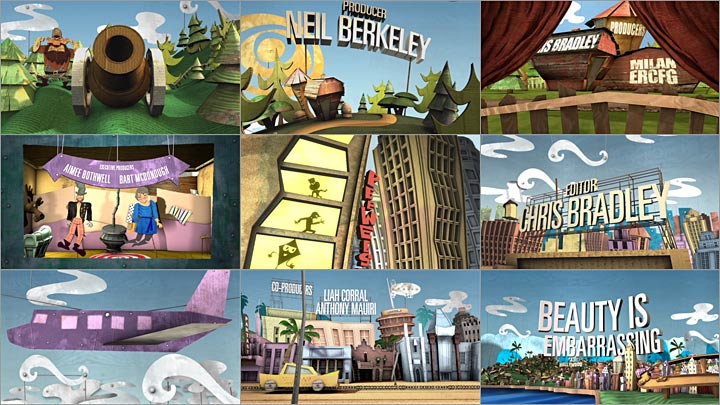 Director and self-proclaimed "fan boy" Neil Berkeley seized the opportunity to shine 10,000 mega watts of recognition on the formidable artist and set designer of Pee-Wee's Playhouse Wayne White with his feature documentary Beauty is Embarrassing (website). With his opening titles as well as with his end credits, Berkley pays glowing tribute to Wayne White's "wacky" world.
A CHANCE ENCOUNTER
"The more I think about it, the documentary was in the pipeline ever since I met Wayne. I was sort of like this fan boy that stuck around, after we met.
"At that time, he had done Pee-Wee's Playhouse, Beekman's World and all these music videos. I got to know him and he's very cool, very engaging, very magnetic, and very funny, and I knew that that combined with his work, it would all make a good story."
OPENING TITLES
The opening titles are something else completely, offering the viewer a first glimpse into Wayne White's "clever and warped" universe through a wild sequence of original artworks and illustrations – from ink drawings to Wayne's famous word paintings. The superimposed credits set in an elegant sans-serif font allow for the expressive artwork to really shine.
A PUNK ROCK ATTITUDE
"Like most people, Wayne has such a huge resume and a massive, massive body of work, but he's one of those people that have done all these amazing things but you never get to see in the spotlight. They are always kept in the back, and they're always the secret weapon of the people that get famous and become popular.
"The work that Wayne has done has had tremendous influence, epecially the likes of Peewee's Playhouse and Beakman's World. There was almost a punk rock attitude that he and his creative peers took on when creating these shows. That kind of attitude was influenced by the design, and the construction of everything in the shows, but just the attitude alone they adopted probably influenced a lot of people, whether they knew it or not. Just to try things, take risks and be experimental. It was definitely influential to me."
STORIES WITHIN STORIES
When Berkeley initiated this project, he didn't intend to make a feature documentary. "I wanted to create something that would show off my company, so we were going to create a short and animate Wayne White's artwork. Then I started shooting so much and learning more and more stuff about him. There were storylines, things with his parents, his wife, his best friend that I didn't know about until I got into the shooting process. So everything started to evolve slowly.
"I definitely knew the storyline of the end credits and how they should look. All of the objects have an organic texture to them and they really look like something Wayne would have built."
THE WAYNE WHITE TOUCH
"The idea is that we follow puppet versions of Wayne throughout various locations in the movie. Once we had the script we roughly boarded it out and then got to work.
"Wayne drew the characters, clouds and a lot of illustrations that were eventually animated [in the title sequence]. He also art directed… He made a lot of notes about color and textures to make sure we were getting it right.
"We built all of the 3D in Cinema4D and the compositing was done in After Effects."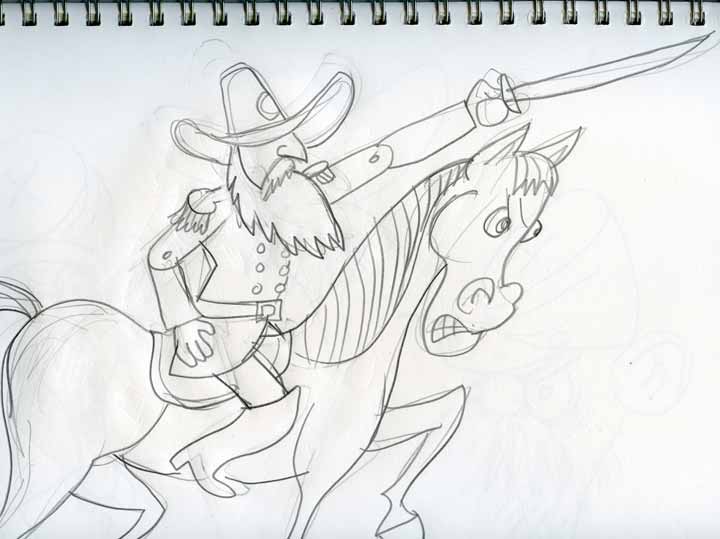 Beauty is Embarassing, title sequence, Wayne White character drawings
SOUNDTRACK
"It was created by Wayne's very good friend, Mike Quinn. Mike is actually a very important character in the film. It's a tune he wrote for a puppet show a long time ago and he was just playing it one day while we were shooting. The song is perfect for the movie. Once we had the concept for the titles it was a no brainer that that's where it'd go."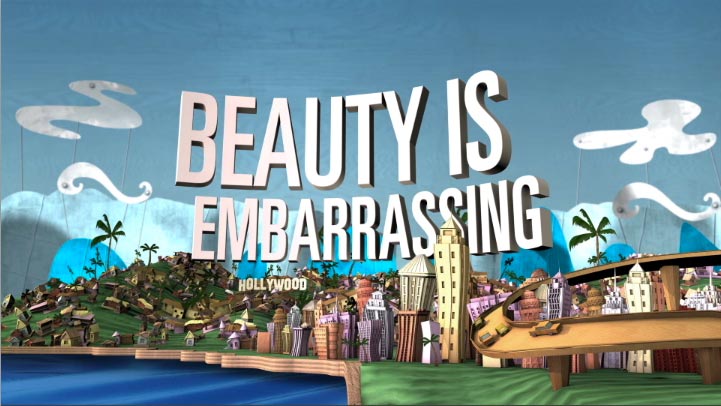 "The end pulls out to the logo and that shot starts on Wayne's house in the hills.
TITLE LOVE
"I love titles. I really do. People want to see their name up on the big screen so you do it in the most creative, memorable way you can. It's a way to honor their hard work. And also, I wanted to have a memorable ending to the movie… Just something playful and unexpected. I'm very proud and we really stretched ourselves creatively to get it done."
WAYNE WHO?
Believe it or not, we have met people who have never heard of Wayne White. Watch the Titles editor Remco Vlaanderen highly recommends Pee Wee's Playhouse Christmas Special. He watches it every December.
Article and interview: Rani Nugraha, © Submarine Channel August 28, 2012. Last update: 23 May 2019.
About Neil Berkeley
Neil Berkeley is an LA-based director/producer and owner of BRKLY productions. With a degree in broadcasting from Oklahoma City University, Berkeley established the company in 2009 and they have created title credits for the likes of Real Housewives of Beverly Hills, Project Runway, Fashion Star, and the Top Chef franchise. "Beauty is Embarrassing" is his first feature length film.
beautyisembarrassing.com
Full credits
Director/Producer/Title designer
Neil Berkeley
Creative Director
Milan Erceg
Art Director
Wayne White
Animator
David Kerman
3D Models and Textures
Michael Wynne
3D Character Design
Noah Rappaport
Animator
Mike Murdoch