The title sequence for

is a rare treat. Nine different sets were used in the filming of the opening sequence, which features twenty-one credits embedded in the scenes. The names are integrated into everyday objects. The kind of stuff you'd find in a teenage girl's bedroom (except for the beer, maybe). A perfect job for Amsterdam-based prop designer and animator Balder Westein. A Watch the Titles exclusive.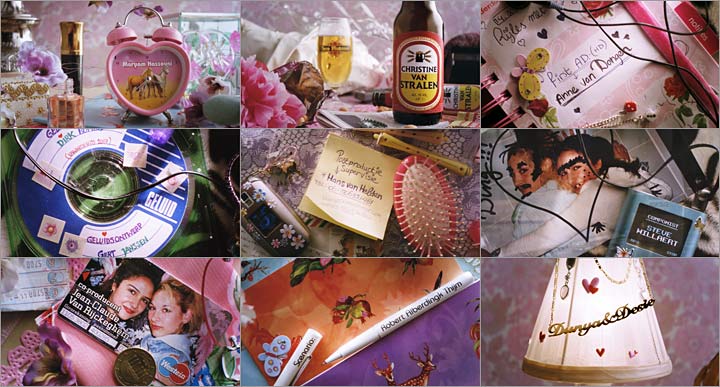 Dunya & Desie, the movie, is a follow-up to a popular Dutch TV show of the same name about the lives and experiences of two girls from Amsterdam. They are best friends and come from completely different cultural backgrounds.
We met with title designer Balder Westein in his home studio in Amsterdam. Westein –the kind of guy who is always cheerful and up for a laugh– talks us through the production process.
"Dana Nechushtan, the director, approached me and said, 'The title sequence needs something special. It shouldn't just be the titles, but it should also tell the story about a friendship between two girls for those who don't know Dunya and Desie yet.' We needed to emphasize the friendship between the two girls. And not in an overtly obvious way, but subtle. We also wanted to show that the two girls have known each other their whole lives."
"One of the problems was that the film sets had already been dismantled, so we couldn't use those. We couldn't use the lead actresses either. It came to a point where I was thinking, damn, how am I going to tell that whole back story? That's when it came to me. Objects!" Westein grins. "Objects can really bring a message across. So we made photo albums, mobile phones, scribbled notes, we even made a magazine called 'Girlfriends'. We created a lot of these small elements for the title sequence that together tell a story."
Westein says he made all objects himself in just two to three weeks, except for the message on the iPod. "That was done in post-production. And Amsterdam designer Martin Draax helped with some of the props."
"My main concern was making all the different props and creating the set. Minka Mooren helped me a lot with dressing the sets. She did the production design for the Dunya and Desie TV show, so she knew exactly what style it had to be. Her name is on the tea bag label." Westein put his own name on the cash card. "That was just a small joke. They were okay with that."
Not everything went according to plan, as Westein found out soon after the shoot. "It was shot on film… twice! The first time it went wrong. We used a very special lens from a certain make, but, as it turned out, it wasn't compatible with the camera. The images came out severely vignetted. But the set was already gone, so everything had to be redone. In the end that was a good thing. We ended up changing certain shots and camera movements."
"All in all, we had nine different sets and twenty-one names to film. That's quite a lot. And because the set was quite small, the camera movements had to be really calm and steady. But everyone loved doing it. I also loved the fact that they wanted to take things a step further instead of make a simple title sequence. There is a new wave of interest for title sequences in Holland and it's becoming more important," Westein concludes.
There are too few title designers that have worked with credits embedded in the scenes, perhaps due to the higher than average production costs and limited production time. Two of the most notable examples are the brilliant and much-revered opening sequence of Delicatessen (1991) and, more recenly, the memorable opening sequence of Ex Drummer.
Thanks to Jan Pieter Ekker, film journalist of Volkskrant and Skrien magazine, for bringing this to our attention.
Article: Remco Vlaanderen, © Submarine Channel, 3 June 2008. Last update: 15 November 2019.
About Balder Westein
Westein founded ThreeDoubleYou – a one-man animation company in 2001. ThreeDoubleYou means "Westein's Wacky World". He directs commercials, title sequences, short animated films and animation series. As a self-taught animator, Westein learned the art of prop-making and stop-motion animation by studying the work of other directors.
Full credits
Title designer
Balder Westein
Production companies
Lemming Film
Production design
Minka Mooren
Props
Balder Westein, Martin Draax
Music
Dennis "I Rely on You"
Director (film)
Dana Nechushtan