A distinct departure from the picture perfect, highly stylized animations we have come to know and love from Deubal, the live action sequence for Holiday, a French comedy, zooms in on excessive human debauchery and its gloriously slovenly consequences.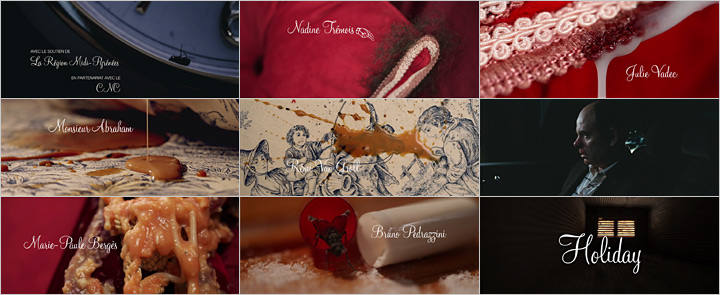 A sinister series of bodily fluids accompanied by somewhat incongruous happy music, invites us on a journey through vomit, cigarette butts, and other murky substances adorning sumptuous fabrics and bespoke wallpapers, conjuring up an opulent decadence gone wrong.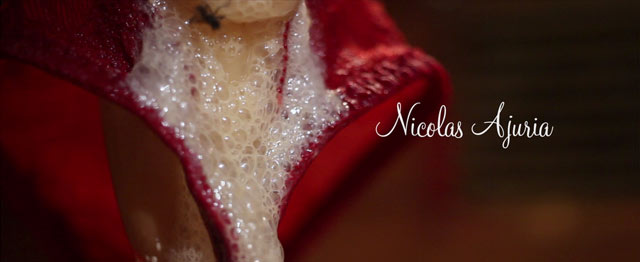 Says creative director Olivier Marquézy, "We wanted to make like a crime scene, the result of a night of excess in which we looked for elements, with the idea of painting portraits of the actors with these fluids." The brief was funky too, says Marquézy, as the movie's director Guillaume Nicloux, declared, "OK, I love your titles, they are beautiful and everything, but I don't want that! I want something trashy and weird."
And trashy/weird he got! With a production schedule spanning just fifteen days, the Deubal crew (Olivier Marquézy with Mathieu Decarli) gathered a bunch of beautiful fabrics from vendors near their Paris studio – which they proceeded to destroy with meticulous precision, "testing different recipes for fake vomit, sperm, super champagne foam, and so on. It was great fun, but after two weeks locked up in our studio with the spot lights, some strange smells appeared, and we were happy to finish it!"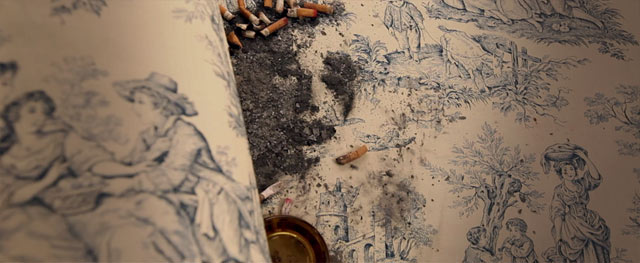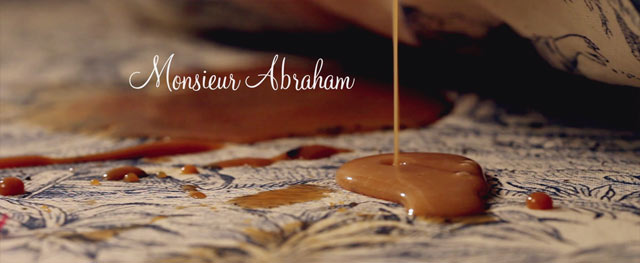 Marquézy describes the movie as an, "offbeat comedy, two days in a luxury hotel where everything goes wrong and a murder is committed. A lot of sex, alcohol and cigarettes, and all the characters are caricatures – but things don't happen the way you expect…" The movie's narrative is entirely in flashback, and the shot placed somewhat surprisingly in the title, is taken from the end of the story. "We wanted the titles to be like a reminder in the hero's hazy mind", concludes Marquézy.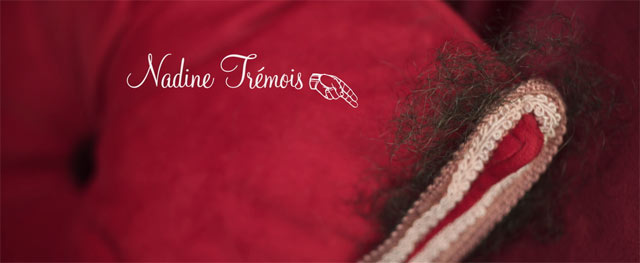 Text: Lotje Sodderland, © SubmarineChannel
About Deubal
Deubal is a Paris, France-based creative agency founded by Stéphanie Lelong and Olivier Marquézy. Specializing in illustration-based motion design, print and animation, Deubal creates film title sequences, short films, music videos, children's books, poster designs, and theater sets. Their work is often character-based.
Full credits
Title direction and design
Olivier Marquézy and Mathieu Decarli/Deubal
Director (movie)
Guillaume Nicloux