The first edition of South by Southwest's (SXSW) Excellence in Title Design competition resulted in 18 strong finalists. Wowie's stood out because of its original idea combined with a lo-fi, analogue approach – somewhat reminiscent of the title sequences of Ex Drummer and – one of Craig's favorites – Napoleon Dynamite (over at Art of the Title).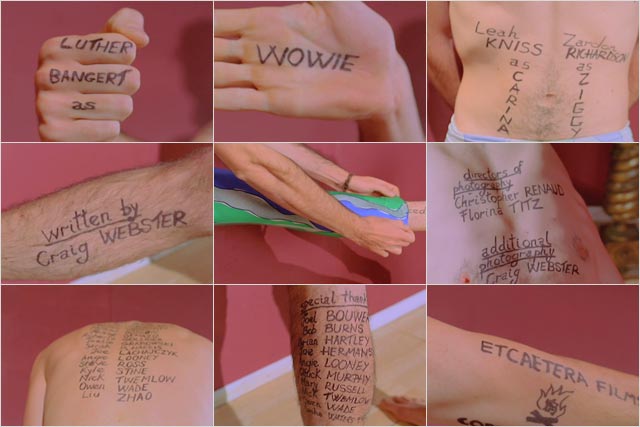 Directors Florina Titz and Craig Webster put quite a bit thought in the title sequence. Remarkable, considering that Wowie is an indie short, shot on 16mm and made on a tiny budget.
How important is a title sequence for an indie film?
"Especially in indie film it seems to me that people don't pay enough attention to credits as they should be," says Florina Titz. "Often times it appears that big production films have amazing titles, while independent films lazy their way out of having interesting titles – I think both are equally responsible for having great titles, regardless of the budget."
"Especially when working with film like 16mm you are forced to think creatively instead of laying a Final Cut Pro default font plate at the end. I think fonts are such an important part of the look of the movie. It is interesting to me how fonts can be either "bad" or "good" for no apparent reason.
How did you come up with the idea to use the body of the main character as a canvas for the credits?
Craig Webster: "Wowie is played by Luther Bangert. We began with the idea of writing "Wowie" on Luther's hand. It seemed natural to follow the ink-on-skin trajectory to the rest of his body, and we had a lot of fun trying out ideas and finding new places to display names. For instance, the back bend title for the Director of Photography was created on the spot. Luther said, "I can do a back bend," and we wrote the titles upside down and shot it.
"We were particularly interested in filming his body at uncomfortably close distances… In part because Luther's body is well-shaped and fascinating to observe. He's a circus performer and loves yoga. But also, because it echoes the claustrophobic atmosphere of the film – the titles are written on the inside of his thighs, his chest, his back – parts of the body that are intimate and revealing. At one point, Florina suggested that we write the title, "Wowie," on his penis. Maybe next time.
THE COMPLETE SHORT FILM, WOWIE PT 1
Article: Remco Vlaanderen, © Submarine Channel, 6 April 2010.
About Florina Titz and Craig Webster
Florina Titz has been awarded a Fellowship at the University of Iowa Film and Video Production department. She is currently working an a web series with fellow MFA, Craig Webster.

Craig Webster is currently writing and shooting "Wowie," a series of short film installments about a delusional postman. He also acts as the sole character in the web-series "DaiDaiiRo".
Full credits
Florina Titz: "Craig shot the title sequence and I wrote it on Luther's body with a Sharpie."
Actor
Luther Bangert