The Invasion
designer: Danny Yount • studio: Prologue Films • comment
To view any of the title sequences you need the latest version of Flash Player 10 plugin or higher. You can download the Flash Player plugin from
Adobe.com
about
the designer
links
comments
show all info
The Invasion is the fourth movie adaptation of the classic 1955 sci-fi novel The Body Snatchers, in which an alien species invade the earth attempting to infect all of human kind with a virus that turns people into stone cold humanoids devoid of emotions. The end credit sequence by Danny Yount, creative director at Prologue, visually relates planetary bodies in outer space to the macro world of cells, blobs of blood plasma and floating particles inside the human vascular system – a world that we've only recently become aware of by way of the electron microscope, but remains quite alien to us nonetheless. The title sequence evokes memories of the 1966 sci fi movie Fantastic Voyage.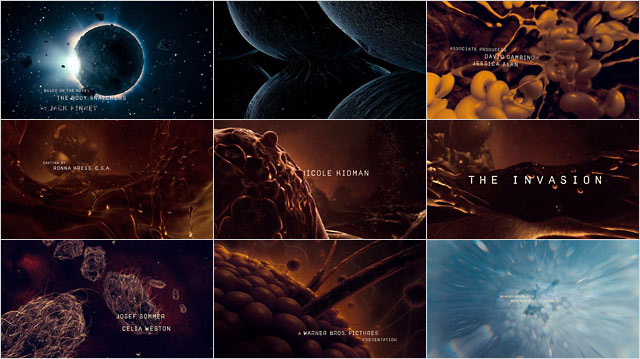 "It's the most ambitious CG project I've ever worked on," says Yount. "We had to bring in a medical animator slash illustrator – we did all this in 3D – from Harvard, Eric Keller, who wanted to get into show business. He did a lot of work in ZBrush. There was a lot of good thought and engineering on Eric Keller's part in order to pull this together."
Title designer

As a self-taught designer, Danny Yount learned everything he knows the hard way. It was the work of Kyle Cooper that lead him in the direction of main title design.
"It wasn't until I heard about what Kyle Cooper was doing with Imaginary Forces that I was able to get a clear sense of what I wanted to do," Danny told Desktop in an interview, "From that point on I made it my goal to design main titles. To me it was like gravity – it seemed to be the most logical thing to do. I spent a year building a reel and refining my skills."

Full credits
Creative Director
Danny Yount
Design
Danny Yount, Dongho Lee, Eric Keller, Peter Harp
Visual Effects
Eric Keller, Dongho Lee, Dave Rindner
Compositing
Alex Hansen, Danny Yount
Editorial
Gabriel Diaz
Producer
Unjoo Byars
Director (movie)
Oliver Hirschbiegel
Production co. (movie)
Silver Pictures/Warner Brothers

Links
Prologue
show website

The Invasion
Official movie site
show website

The Invasion
on Wikipedia
show website