London-based motion design studio Momoco created the opening titles for SKY1's military action drama series Strike Back. The concept, says creative director Nic Benns, was "human, gritty, and informative." But when HBO came on board as co-producer from season 2 onwards, the execs demanded a rebrand. Ergo, new titles. What changed? "They wanted sex," Nic says.
The (happy) end of this story is of course that this 'sexified' version for Strike Back on HBO got nominated for an Emmy. Continue to read a Q&A with Nic Benns, or just to drool over the storyboards.
Strike Back title sequence, SKY1 version, 2012
ONE TV SHOW, TWO TITLE SEQUENCES, AND AN EMMY NOMINATION
Or, make that two…
Momoco was nominated twice for a Primetime Emmy Award in 2012 in the category Outstanding Main Title Design. They won for their work on Great Expectations. Congratulations, and it was about time, after being nominated several times over the years. But more about that Emmy later.
Nic Benns confirms that title design is Momoco's 'core business' now. The company, which he runs with creative partner Miki Kato, had nine different title projects cooking on the stove simultaneously, in 2012. Both for film and TV. "Commercials fund the firm and give us creative breathing space."


Two different typefaces were used for the Main Title. HBO version (left) and Sky1 version.
"IF YOU'RE PAYING TO SEE A MOVIE, YOU ALREADY KNOW WHO'S IN IT"
On designing titles for a TV show versus a feature film
Nic Benns: "In TV, the titles become the branding and need to be memorable and ideally iconic. Occasionally we're asked to make a main title frame that encapsulates all these things AND forms a great poster.
"The execs often want to include images of the stars to immediately sell a show, so the sequence becomes an introduction to characters, or a prologue. So later, certain origins need not be retold.
"In film it's much more open as the preview trailer may have done the work – if you're paying to see a movie you already know who's in it. And in film we have the freedom to explore the world of the story, reference themes and time periods, set the mood. We can be more abstract! Great Expectations is one of the few times we got that freedom in TV.
"A recent development with TV is that minor supporting actors are contractually being included in the sequence and have to change each week. For a 3D build like Ripper Street that meant modelling different sets of credits for eight episodes. On Strike Back that's twelve different sets of animated credits. In film there's usually one creative delivery and a broadcast ratio version."
"IT WAS HUMAN, GRITTY, AND INFORMATIVE AS A PROLOGUE"
Storyboards and Styleframes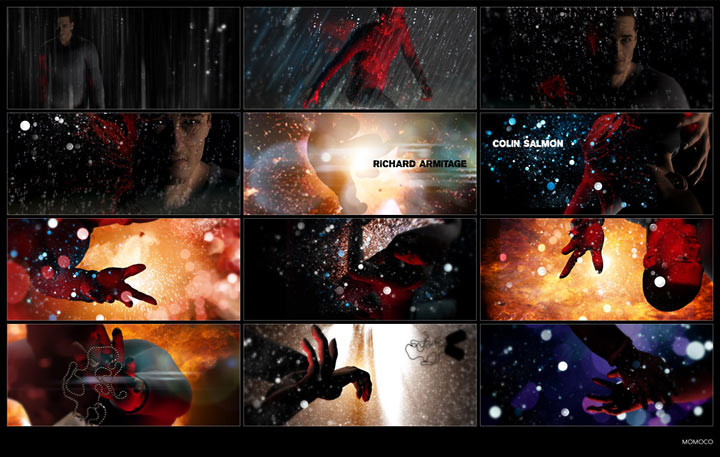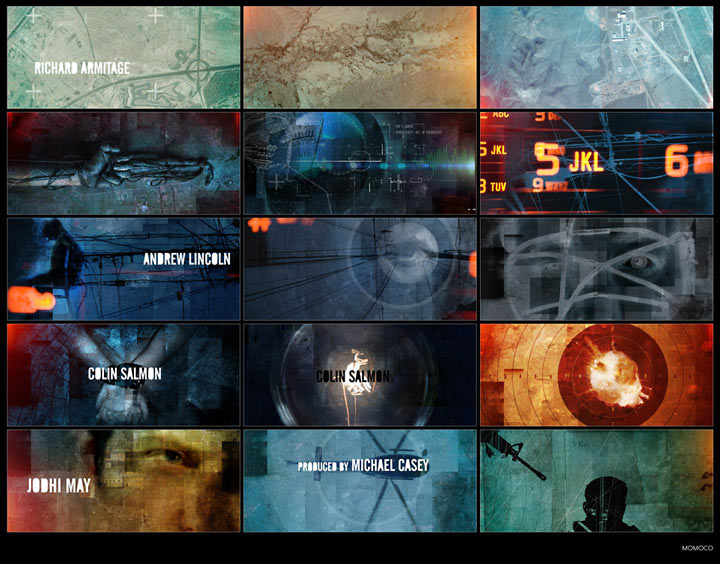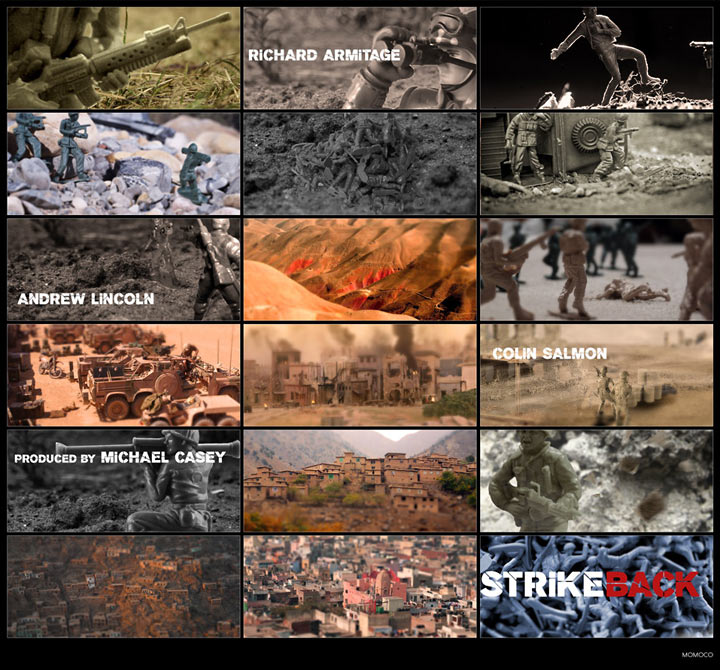 Boards by Momoco, 2010-2011
NB: "We created the titles for Zen and Father & Son for the producer previously, so we were invited to pitch.
"We presented nine boards in 2010 based on what we'd seen from an early version of the show starring Richard Armitage. The new series is more covert and established new heroes so some of the ideas, like the toy soldiers direction, didn't work. The archive idea of the characters growing up on different paths with one of them being dishonourably discharged was presented as style frames with a written treatment. It was human, gritty, and informative as a prologue."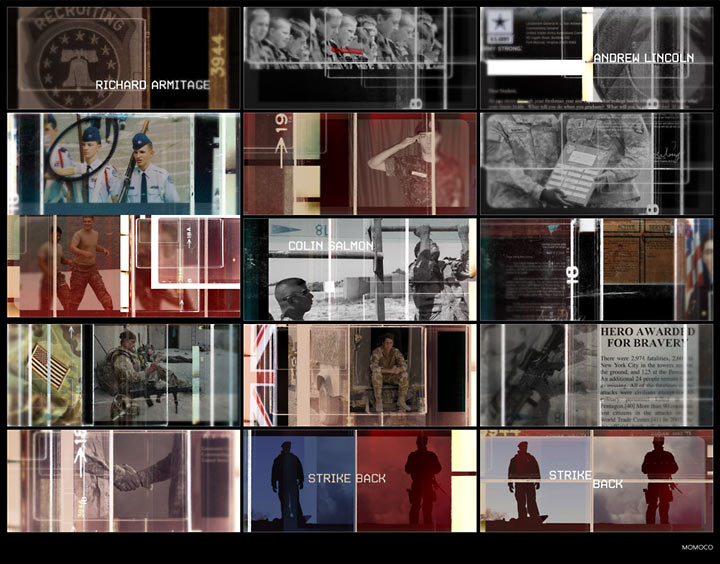 "One of our animators had a friend in the army so some images were donated and we switched out backplates and heads. We were in touch with the US Military for others while the actor's mums gave us photos of them growing… er… they're still in the drawer! I should have returned those two years ago."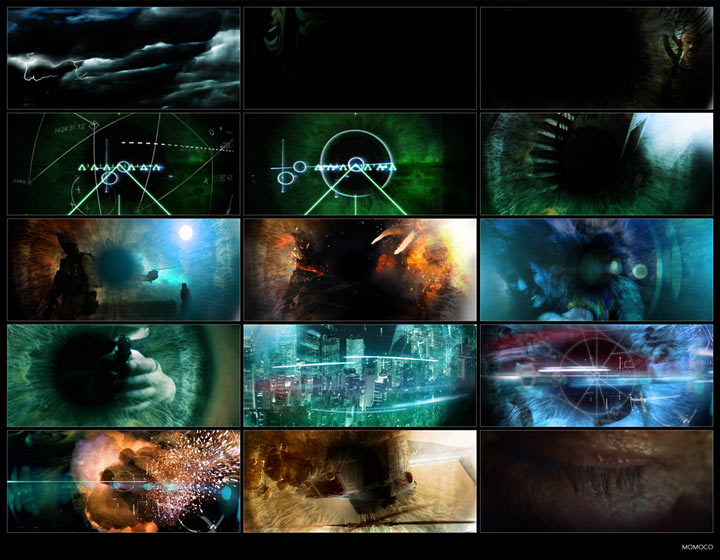 Strike Back, Storyboards by Momoco, 2010
"The execs wanted sex"
Why HBO commissioned a new title sequence for the show
"They wanted a piece that was more comic book and graphic without the burden of telling a prologue. A big brand piece!"
"We created new scenes, took figures from the show and recontextualised them. The element from the Sky1 version they liked was the credits building on screen like satellite data decoding. The execs wanted sex. Everytime we tried to show tasteful silhouettes they came back to us wanting more. I recall the producer saying "Do what you have to do, I can't get this signed off without more bosom. See a priest afterwards if you must, but we need knockers!!"
"We were given a week to re-pitch and animate a test draft. The storyboard was originally quite stencilled, more 'Banksy'.
Strike Back title sequence, Style frames, 2011 on Vimeo.
"I ENJOYED THE 40 SECOND COUNTDOWN FOR MAKING THE SPEECH"
Momoco was nominated for an Emmy Award for two TV titles they created, Strike Back and Great Expectations. Nic and Miki were flown over by HBO to attend the ceremony.
NB: "We didn't know we would win. We've been so close before at other award shows, with Misfits and Luther.
"The ceremony was overlong but I enjoyed the 40 second countdown for making the speech – racing down the aisle and thanking everyone in time. I really loved seeing old friends and meeting up with my former boss Garson Yu at yU+co after 12 years."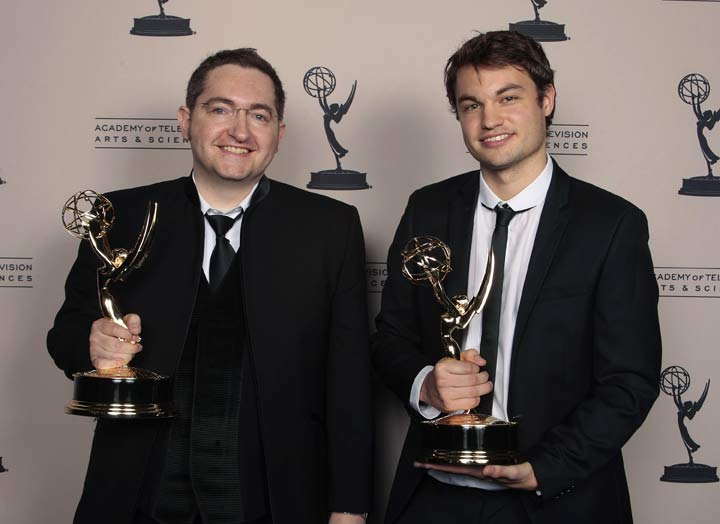 Nic Benns Nic Benns with Tom Bromwich with Emmy's for their titles for Great Expectations.
Momoco is currently busy with several title projects, and Nic is developing a feature film project – a follow up to their impressive independently produced short sci-fi film The Shell (a.k.a. Copelia). Benns released
The Shell on Vimeo
last week. And after you watched it, check out the extensive Making Of we did on
Copelia
, which includes pages from Nic Benns graphic novel, VFX tests, storyboard art, and much more.
Article: Remco Vlaanderen, © Submarine Channel 13 March 2013.
About Momoco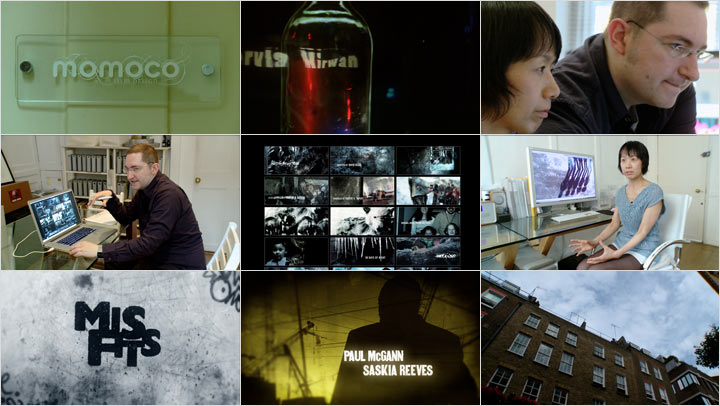 Watch the 10″ mini-documentary we made about Momoco featuring Miki Kato and Nic Benns, shot on location at their tiny London studio.
Full credits
Title sequence by Momoco, Creative Director/Designer/Animator Nic Benns, Art Director Miki Kato, Compositor/Animator/Editor Joe Lea, Storyboards Nic Benns, Svenja Frahm, Music The Heavy, Commissioning networks Sky1, Cinemax, HBO.