IMAGINARY FORCES KEEPS IT ANALOGUE FOR "MAGIC TRIP"
One a beautiful day in 2009, Karin Fong received a phone call from Alex Gibney, an academy-award nominated documentary filmmaker, who told her he had the perfect project for her – designing the main titles and special sequences for a movie about a great American road trip. But not just any old road trip. This "Magic Trip" marks the starting point of the counterculture movement of the 1960's and harbored the somewhat naive beginnings of the revolutionary cultural and social changes of an era that we now commonly identify as "the sixties."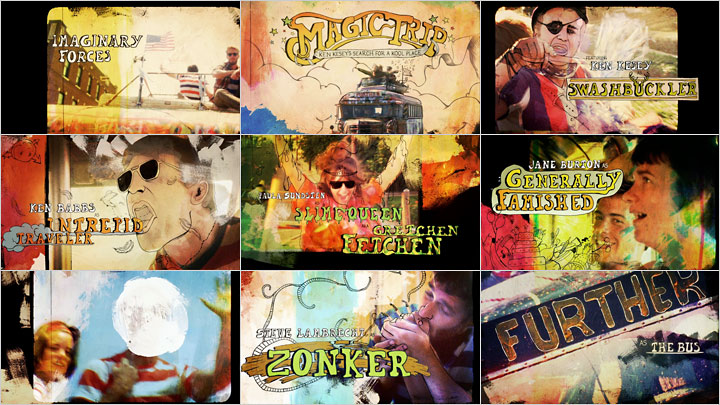 In 1964, American author Ken Kesey and a group of friends who named themselved The Merry Pranksters took the now legendary cross-country trip from California to New York in a painted school bus named "Furthur". Tom Wolfe documents this trip in his influential novel The Electric Kool-Aid Acid Test.
"Kesey wanted to make a feature film of this bus trip, so he bought the best equipment," explains Karin Fong. "He was a real gearhead. He loved technology, and he loved film. But if you watch the footage, it's often not shot on a tripod, and it's framed all crazy," she adds, laughing. Kesey never finished his feature film. It took almost half a century before Alex Gibney and co-director Alison Ellwood took on the daunting challenge of digging through mountains of footage to turn this historical bus ride that Kesey and The Merry Pranksters had filmed into a cohesive story for their documentary film Magic Trip – Ken Kesey's Search for a Cool Place.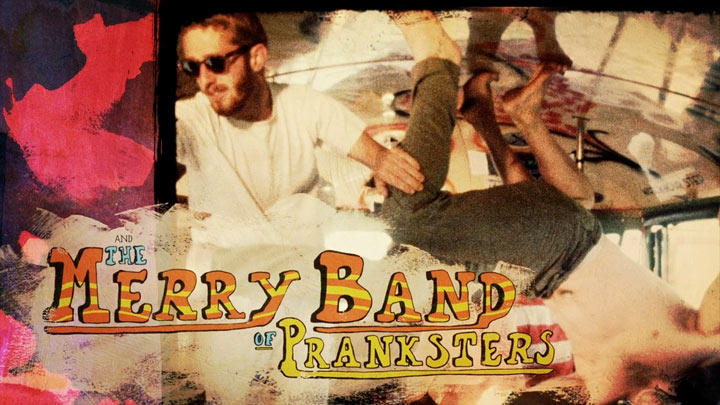 Most of the footage used in the title sequence is archival film shot by Kesey and his "Band."
Ken Kesey was studying Creative Writing at Stanford University in California during the same time that the CIA were measuring the effects of LSD and other drugs on test subjects at the Menlo Park Veterans Hospital. Kesey volunteered. His novel One Flew Over the Cuckoos Nest is loosely based on his experiences during the time he spent taking the drug trials, and later working at that hospital.
"Alex said, 'Listen, I found this audio tape when I was rooting around Kesey's archive. It's a tape of him taking part in actual government drug trials,'" Fong recalls. "Kesey would be taking the drug, and then you'd hear the nurse come in and ask him about it. There were no visuals whatsoever for this. Not even a photograph." Gibney asked Fong to imagine how Kesey could be experiencing these drugs. "That's what really hooked it for me," she says. "He wanted the aesthetic of his film to grow out of how we'd visualize this altered state. We created special sequences. But more than that, we worked on a language that would be inseparable from the body of the movie. Alex really encouraged us to take part in the whole thing. That's how Imaginary Forces became associate producers on it."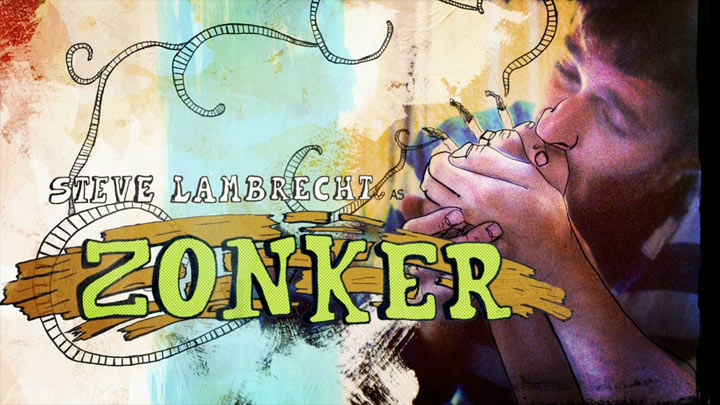 CULTURE SHIFT
"Kesey's bus ride predates a lot of what we know of the 1960's," comments Fong. "The Beatles' Magical Mystery Tour hadn't happened yet. The early 1960's was an era with still a lot of innocence. Kind of a turning point between the beat generation of the 1950's and the hippies of the 1960's. There's a scene in the film where the Pranksters are pulled over, and the cops just think they're these crazy kids and let them go. It wouldn't even have crossed their minds that these kids were high on acid, because it wasn't part of the popular culture. Of course by the late 1960's LSD had infiltrated popular culture."
"Ken Kesey and the Merry Pranksters were on their way from the West Coast to the 1964 New York World's Fair. They wanted to see what the future was going to be like. Ironicaly, it was The Pranksers and Ken Kesey and that kind of counterculture that became the future. The change that happened between those years '63-'64 and '68-'69 is just incredible – culturally and historically. Especially when you know that it was just the beginning of a major movement."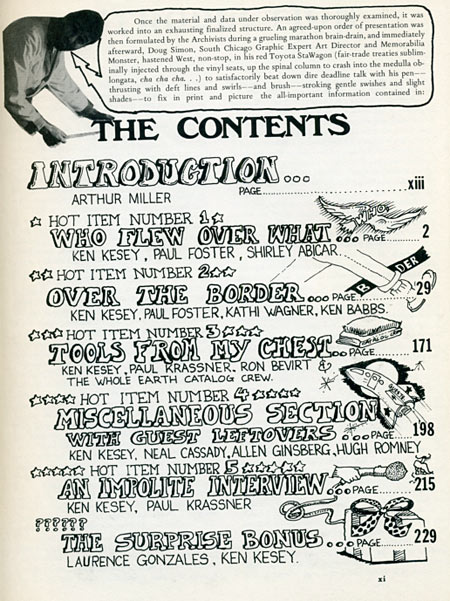 Some of Kesey's lettering and doodles from a page from the book Kesey's Garage Sale. His handiwork influenced the hand-drawn typography by Daniel Farah throughout the film.

TUNING INTO KESEY
"Kesey was obsessive about comic books. He was a fan of superheroes and pop culture, and he loved to doodle," Fong continues. "Later in the decade, Kesey was imprisoned. During his time in jail, he kept these amazing jail journals. It was fun to learn about him that way. After all, I was supposed to be him. I had to get inside his head and imagine the world as he saw it."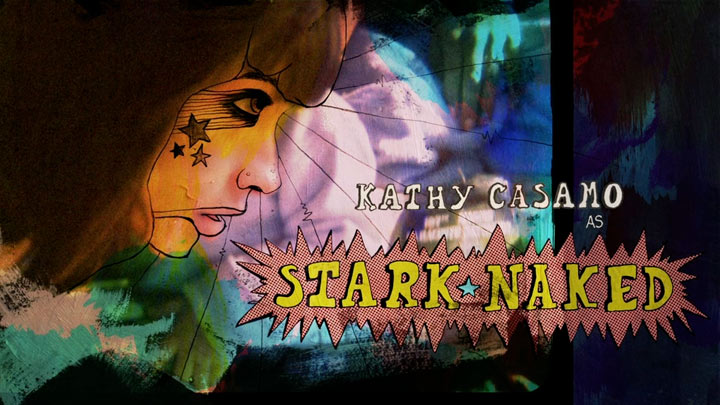 All the Merry Pranksters have their own names. Like Stark Naked and Always Famished. It's almost like they all have alter ego's, like you see in the main titles.

TRIPPING OUT
I asked Fong if she tried LSD to familiarize herself with the effects of the potent psychoagent. "I'm a pretty straight arrow," she laughs. So the answer is no. But she and Gibney did have very specific ideas about where they did not want to go with the movie. "Believe me, I love Yellow Submarine," says Fong, "but that's the cartoony version of tripping out. The last thing that Alex and I wanted to do is make it this crazy rainbow CG flying unicorn sort of place. We both wanted something that's visceral and we spoke about an analogue way of creating these images. Things that might reference how Kesey would obsessively draw something ."
VA Sequence (exclusive on Watch the Titles). The voice is Ken Kesey's, recorded when he was taking part in government drug trials.
Fong says the key sequence she and her team designed takes place in the VA [Veterans Affairs] hospital. "Kesey is trapped in a hospital room with a simple bed, a clock and one of those big, vintage Wollensak tape recorders. He's starting to feel the effects of the drug. Kesey starts to speak to the Wollensak. 'You look like a toad,' he says, so we wanted the Wollensak, even if just for a moment, to look like a toad. Pretty soon into the sequence things start to alter and we start to draw on top of the images. Trying to keep our idea of tripping out as low tech as possible."
It was hard to find a hospital that looked vintage enough for the scene they had in mind. Eventually they found one in Brooklyn, which is where they set up a shoot. "The very first thing we did was the VA Hospital sequence. Once we got the animation language down we started working on the other sequences for the film."
ANALOGUE PLAYGROUND
During the production, the Imaginary Forces studio was temporarily transformed into somewhat of a creative playground. Fong admits that it was a lot of fun. "We got a spin art machine off Ebay. One of our interns made a stack of spin art because we were going to cut and animate between the frames. Other times we just took big brushes and paint." Fong laughs, "It was very much like kindergarten! Of course then we would layer these things later and composite them in the computer. But a lot of the raw material was analogue."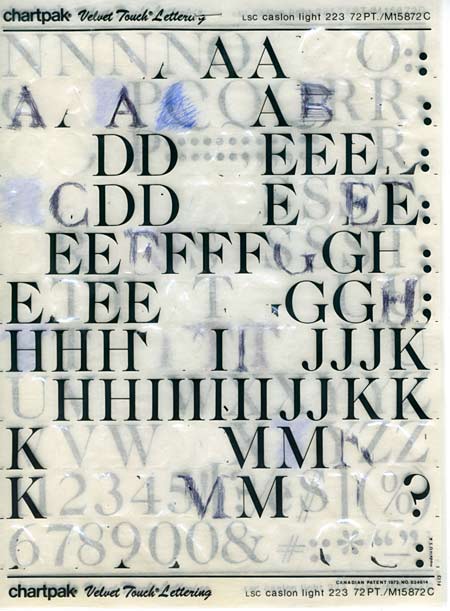 Chartpak letters. We looked at the technology of the time and we used rub-on letters and screens — analog ways of print production. We used some old stock that one of the designers, Jeremy Cox, had hoarded. I liked the non-perfect aspects of the type, as well as the after-images of the rub-on process.
Since the telecine process, which allows you to transfer film to video, has become very expensive, Fong used "the poor man's version," as she calls it. "We'd paint on acetate and scan that so it would have a paint-on-film sort of feel."


Stills from the movie version of One Flew Over the Cuckoo's Nest. The images of the mental institution and the nurse inspired how we imagined the hospital and nurse for the VA sequence and styled our shoot of the environment.

INFLUENCES
The paint-on-film aesthetic was informed by the films of experimental filmmakers Stan Brakhage and Len Lye. Brakhage would sometimes scratch or draw directly onto film, explains Fong. "I really enjoy the surprises, the imperfections and the exuberant colors of the paint, and how it moves and weaves as it goes through the projector. Even if you tried to do a straight line down the center of a film frame, it will wobble, because of your human hand. And when it goes by at 24 frames a second, it will have its own natural energy."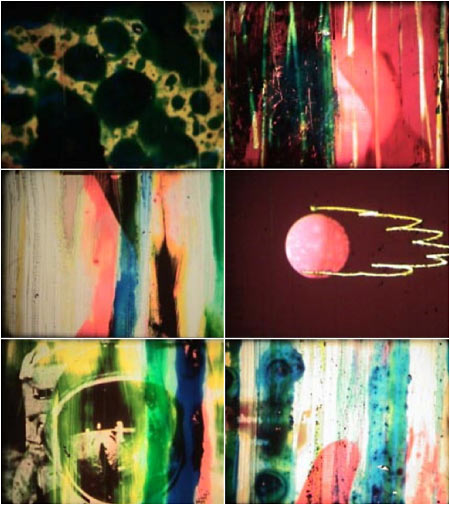 Frames from a Stan Brakhage film paint on film technique.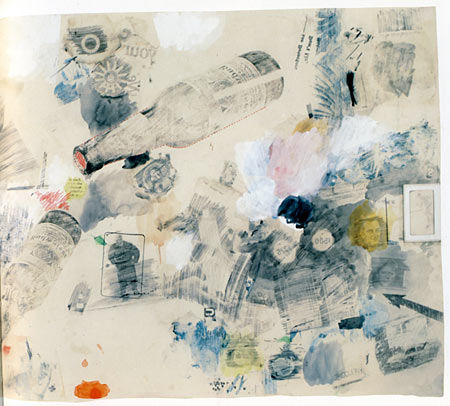 A Rauschenberg transfer drawing from the early 1960's. I started by looking at the art of the time. In this series, I liked the idea of how, as the mind became altered, images could layer on, some leaving an impression, but others fading… Things coming in and out of consciousness.
"When you look at Kesey's drawings and at the early art of the time, then you start to see how it all emerged into what we now know as the 1960's. But of course it didn't start out as fully formed like that," says Fong, concluding, "What I'm hoping is that people see how tie-dye and the psychedelica of the 1960's emerged. We wanted to show the roots of that."
"Alex showed these sequences to the Merry Pranksters, who now live in Oregon. They were enthusiastic and said that it was real to their experience. That was a high compliment indeed!"
Article: Remco Vlaanderen, © Submarine Channel, 28 September 2011. Last update: 1 October.
About Karin Fong
Karin Fong is one of the most prolific and versatile title designers of the last three decades, often referred to as the "Saul Bass of her generation". She's a chameleon able to adapt to almost any style, often alluding to metaphorical or surrealist interpretations of the film or TV show's narrative to great effect.
We met with Karin at Imaginary Forces in L.A. to discuss her Main Titles for Tell me a Story, Counterpart, South Park, Jack Ryan and Lost in Space.
Full credits
Main Title, Character IDs, Maps and special Acid Trip sequences
(VA Hospital, Wikieup, Stark Naked & The Truckers)
Imaginary Forces
Creative Director
Karin Fong
Art Director
Jeremy Cox
Executive Producer
Anita Olan
Producer
Cara McKenney
Designers
Karin Fong, Jeremy Cox, Daniel Farah, Joey Salim, Theodore Daley, Lindsey Mayer-Beug, Eve Weinberg
Animators
Jeremy Cox, Daniel Farah, Joey Salim, Theodore Daley, Leo Marthaler
Coordinator
Kacie Barton
Design Assistant
Andy Chung
Design Intern
Alex Huang
Editor, VA Hospital Sequence
Adam Spreng
Camera Operator, VA Hospital Sequence
Wesley Carrier
Nurse, VA Hospital Sequence
Kacie Barton
Client
Jigsaw Productions
Feature Film Directors
Alex Gibney / Alison Ellwood
Producer
Alexandra Johnes
Post Production Supervisor
Samara Levenstein